Hurricane Michael Spurs Catholics to Action
Diocese of Pensacola-Tallahassee responds quickly to aid those affected.
PENSACOLA, Fla. — The Diocese of Pensacola-Tallahassee was hit hard by Hurricane Michael, the fourth-strongest hurricane to make landfall in the United States. In addition to the devastating property loss suffered by parishioners, seven parishes and a school sustained severe damage.
One church, Our Lady of Guadalupe in Mexico Beach, was destroyed. As locals try to pick up the pieces, the Catholic community is mobilizing to provide relief.
At least 35 people are known to have died as a result of the Category-4 hurricane, with 25 of the lives lost in Florida. Ten more people died in Georgia, North Carolina and Virginia.
The storm exacted a massive economic cost, as well, with analysts assessing the total economic cost at between $30 and $40 billion, ABC News reported Oct. 19. And Mexico Beach was one of the hardest-hit communities, with many of its homes completely demolished by the windstorm.
Sharmane Adams, the director of communications for the Pensacola-Tallahassee Diocese, told the Register that just days after Hurricane Michael, Bishop William Wack traveled to the affected areas, including Our Lady of Guadalupe. Another diocesan employee, Rob Bennett, the director of construction and properties, described the bishop's reaction to the devastation.
"I am very proud to work for Bishop Wack," Bennett said. "We climbed through what was left of the church, ripped back some of the roof decking and climbed through the trusses to get into the sanctuary."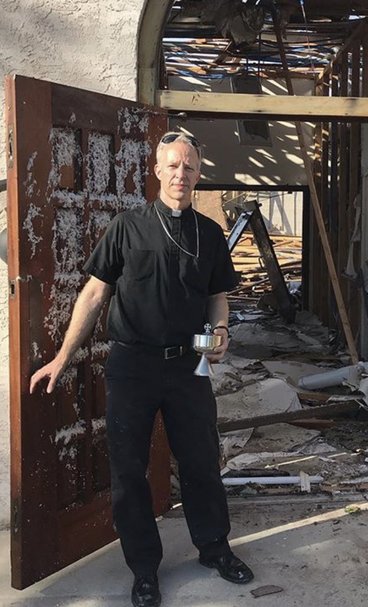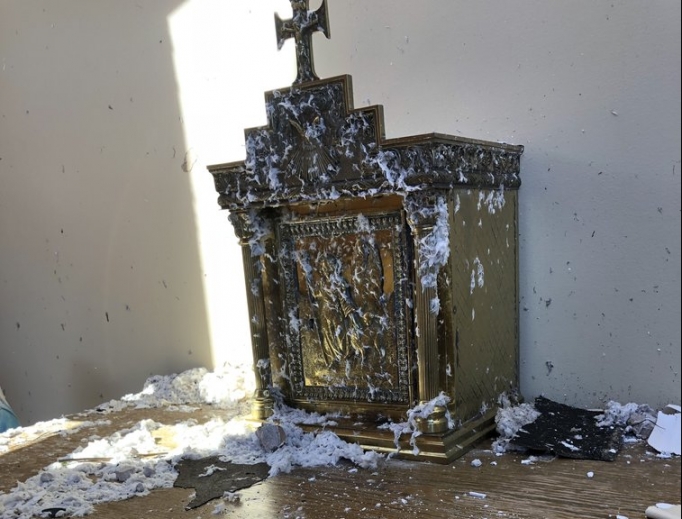 "He didn't stand back and watch; he was crawling through it all," he added. "We saw him providing for his people with actions and personally with words."
Bishop Wack's desire to provide for his people is a sentiment shared throughout the diocese and surrounding area.
Adams said that in the storm's aftermath the pastoral staff collected donations from the surrounding parishes, and "in less than a week, five large trucks of donated items were transported to the affected areas."
'Like a War Zone'
Lori Ubowski, a parishioner and the music director at St. Dominic's in Panama City, told the Register her family's account of becoming displaced by the hurricane. She also described the "beautiful gift" of watching the church community come together to help others.
After evacuating the area as the storm rapidly gained strength, she and her husband found out from neighbors that their roof was mostly destroyed and water had poured into their house.
"It was the most devastating feeling," she said, "just the sinking feeling that we're going to have to show the kids these pictures, and we're going to have to tell them our house is probably ruined."
When they were finally allowed to return and assess the damage, she said it was "like a war zone" or "like a bomb went off."
She also lamented the damage her parish had sustained.
"Our parish hall, our main gathering space — the roof completely tore off," she said. "Our office space which was only renovated a month ago is destroyed, so we don't have anywhere to work."
However, she said the parish community's response was "awesome" and that "the community has just rallied," with "so many people forgetting about their own needs and just trying to help others."
"I'm worried about our priest and our seminarian, but they just dove right in and started helping people," she said. "What started as just trying to be there for people turned into this massive operation where they're serving thousands of people every day coming through that parking lot, and that's all they're doing — that and Mass."
Ubowski reflected that the hurricane gave the parish community an opportunity to share Christ's love with others.
"Our parish for the last two or three years has really been very focused on evangelization," she said. "It's just amazing to me that God has provided this opportunity, kind of as a shining light in our community, and really for us as a staff and a community and parishioners to all come together and to serve in this way."
"It's not just 'here are supplies,' but it's a kind word," she emphasized. "It's 'God bless you. I'm praying for you' or 'Come pray with us.'"
She and her husband were scheduled to perform the music at a parish couple's wedding. After the hurricane, she asked the bride-to-be what she wanted to do now that the church had sustained serious damage.
"That's just the building, and we're going to get married," the bride replied to Ubowski. "We love St. Dominic's, and we want our St. Dominic's family to be there."
"She doesn't even know where she's getting married yet, but we were like, 'Well, we'll bring two guitars, and we won't have microphones, but we're going to be there for you,'" Ubowski recounted with a laugh.
Pastor's Perspective
Father Kevin McQuone, the pastor of St. John the Evangelist in Panama City and a board member for the local chapter of Catholic Charities, told the Register about his experience ministering to his parish in the wake of the devastation.
While there was some damage to the church and the rectory where Father McQuone lives, the parish school was destroyed.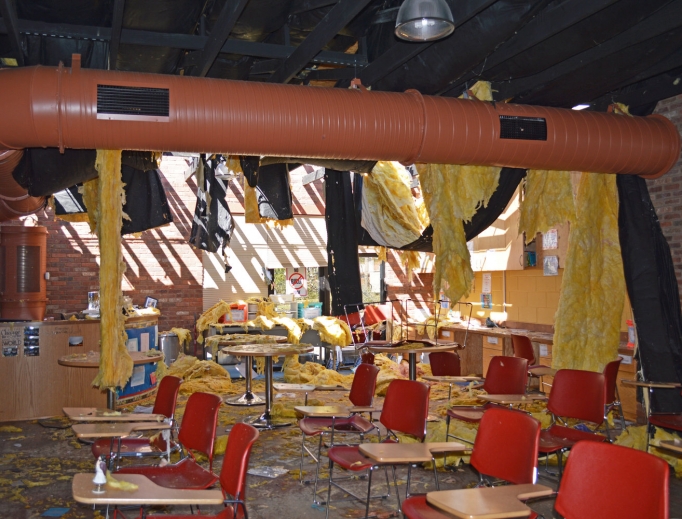 "I celebrate Mass in the morning, and then it is just like a circus after that," he said of his new daily routine.
Father McQuone praised Catholic Charities for stepping "right into action" after the storm. His parish is serving as one of the organization's smaller distribution sites.
"We're getting lots of liquids, lots of water and Gatorade and household supplies," he said. "We have a mobile medical clinic set up right outside of our parking lot, and so as people come for medical services, then we're offering them what supplies we have: food and household items and such."
He anticipated that due to the widespread devastation, "we're still going to be in the disaster-response part of it for several months."
"There's been a few tears for people who have lost so much," he admitted, but added that there's also "a lot of tears of gratitude of just the surprises of people who've come to offer help and offer a lot of resources."
Father McQuone recommended that those who want to assist the recovery efforts should donate to Catholic Charities of Northwest Florida. He said outside volunteers would also be helpful since some distribution centers "need 75 volunteers a day, and they're looking at keeping up that pace maybe for months."
This past weekend, Catholic Charities USA was able to give Catholic Charities of Northwest Florida $1 million in funds raised by donors across the country in just one week. The money will go toward disaster-relief efforts for those most impacted by the storm.
Register correspondent Lauretta Brown writes from Washington, D.C.