How Mother Teresa Inspired Reggie Littlejohn to Battle 'Gendercide'
The founder of Women's Rights Without Frontiers recounts her experiences in Kolkata, which granted her insight into the infinite dignity of all persons — especially abandoned girls.
ROME — St. Teresa of Kolkata, who was canonized by Pope Francis on Sept. 4, had a major influence on Reggie Littlejohn, founder of Women's Rights Without Frontiers, an organization campaigning to end forced abortion and gendercide in China.
In an interview with the Register in May, Littlejohn pointed out that, despite the implementation in China of a two-child — rather than one-child — policy at the beginning of the year, forced abortions, mostly of baby girls, will continue on an enormous scale. She also explained how her organization's "Save a Girl" campaign has saved many lives and how International Planned Parenthood Federation is working "hand in hand" with China's population-control machine.
In this new interview with the Register in Rome, Littlejohn explains how her experience of working in one of Mother Teresa's homes for abandoned children taught her the infinite value and dignity of all human life. She also recounts how her first encounter with gendercide took place in India.
What brought you to India to help Mother Teresa in Kolkata?
My husband and I went to Kolkata as part of a trip around the world. I was a student at Yale Law School; he was a student at Yale Divinity School. We both took a year out of school to travel around the world with money I had made as a summer associate working for a big New York law firm. It's amazing you can make enough money in a summer in New York to go around the world for a year. In any case, we were in Kolkata for six weeks, and Mother Teresa was there the whole time.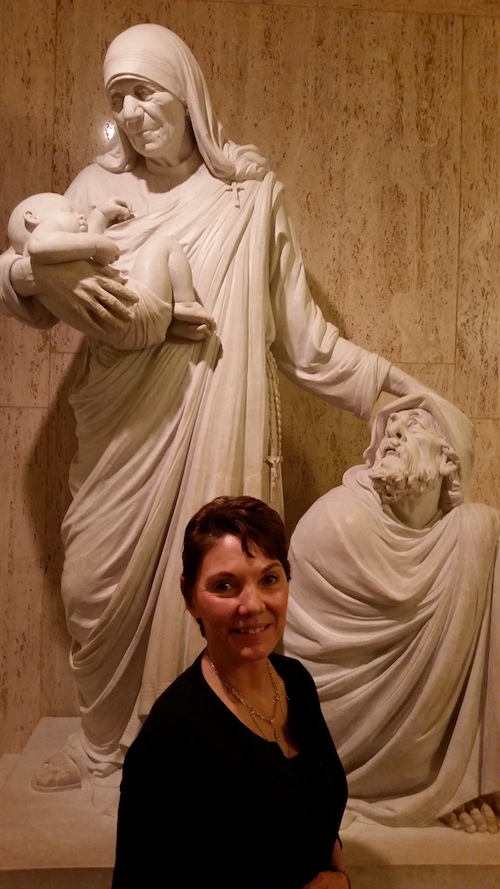 How did she influence the work you do now?
Mother Teresa began this home, Shishu Bhavan, for babies by picking a baby girl out of a trash can. [Mother Teresa opened the home for abandoned street babies and children in 1955.] In fact, my first contact with gendercide was in India. I was there years before I took my husband. I was there alone in Varanasi, and I wanted to take a boat ride on the Ganges. Just as I was stepping into the boat, I looked down into the water and, there, saw a fully formed, perfectly beautiful baby girl just floating, dead in the water.
How did you react?
I was utterly appalled, and I pointed her out to the boatman. He said, "Don't worry about it. It's nothing; it's nothing." I will never, ever forget that little baby girl just floating there in the water and the attitude of: "It's nothing. Don't look at that; it's nothing." So that was my initial encounter with sex-selective abortion or infanticide. This was infanticide; she looked as though she had been born, maybe a month old or something — I don't know. Mother Teresa began her home for baby girls by picking up one little girl out of a trash can, these lives that are considered to be worthless.
What memories do you have of volunteering there?
I remember working one morning at Shishu Bhavan, and I was given the job of feeding this child who was about three-feet long, weighed about 20 pounds, and her spine was twisted like a dish rag. All of her limbs were going off in different directions. I thought she was maybe about 3 years old. I asked the sister how old she was, and she said about 21 or 22 years old. Her jaw had never really formed, so I was trying to feed her this porridge. She was lying up in bed; I held her head up and the porridge — she'd eat some, but most of it would pour down her chin and rest on her chest. So if I put her head back, the porridge would go out of the sides of her mouth and into her ears and into her hair. A sister was walking by, and I said: "How do I feed her? I don't know what to do." The sister said: "You're doing just fine; that's the way she eats."
Then the sister said: "Why don't you talk to her?" And I realized that, in my mind, because her body was so racked, I just assumed her mind would be the same way. But the sister said she understood English and Bengali, so I thought, "What am I going to say to this young woman?" I couldn't think of what to say. I finally said: "So how did you find your breakfast?" And she broke into the sunniest smile — there was so much joy and so much love radiating in her smile, and I immediately saw that she was a spiritual giant; and I was a spiritual midget because, in those circumstances, I would never have been smiling like that. She had a smile that could light up the world.
Then I understood Mother Teresa's position: Every single life, no matter what the circumstances, no matter what the disability, is infinitely precious, and everyone deserves to be saved. And I'm so glad I can talk about this young woman because I want her witness to be out there. Her life was worth living because I'm telling you about this, and maybe you'll tell more people about it. But that's a huge inspiration for me.
It underlines the dignity of every individual.
The dignity of every individual, and the determination to save them, and that is the bedrock of my determination — to save these girls in China. It's the impetus. They have an equal dignity to boys and have infinite value. They are infinitely precious, every single one of them.
And that inspiration goes back to Mother Teresa.
Yes, it goes back to her.   
Edward Pentin is the Rome correspondent for the Register.
Photo: Reggie Littlejohn in front of a statue of St. Teresa of Kolkata at the National Shrine of the Immaculate Conception, Washington D.C.