Boston Mall Chapel Installs Relics of Three Saints
Sts. John Paul II, Faustina Kowalska and Maximilian Kolbe find permanent veneration in downtown church.
BOSTON — At the heart of Boston's busiest shopping center stands an unusual storefront. Through the glass wall, passersby see a crucifix, tabernacle and, now, reliquaries of three saints — Pope John Paul II, Faustina Kowalska and Maximilian Kolbe.
This chapel, dedicated to St. Francis of Assisi, has served as an oasis of mercy for nearly 50 years, and the new relics further its mission overseen by the Oblates of the Virgin Mary. Often called the Marian saints of mercy, the trio are notable for embodying God's infinite mercy. The example they set calls everyone to a heroic love of their neighbor, according to Bishop Peter Uglietto, vicar general for the Archdiocese of Boston.
"There is a great hunger for God's mercy in this time," he said. "Each one of us is called to be mercy incarnate in our day."
Bishop Uglietto spoke with the Register Oct. 16 after a Mass at St. Francis Chapel and the installation of first-class relics of the three saints, which will be on permanent display at the chapel at Boston's Prudential Center.
The crowd that attended the Mass and first public veneration of the relics filled the chapel, which seats 200. People stood in the aisles and in rows behind the last pew. Dozens lined up after the Mass to venerate the relics.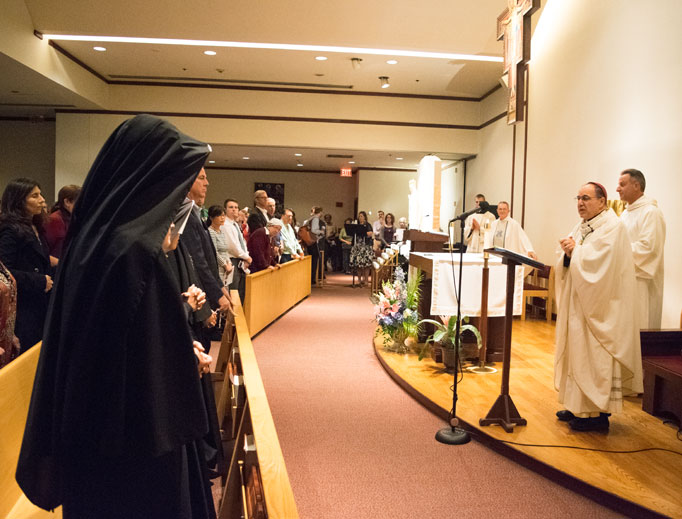 As they left, many commented that St. Francis Chapel has long been an oasis of mercy and the new relics will enhance its ability to follow this mission. They praised its reverent environment, close-knit community and dedication to bringing the sacraments to many people.
Peace Amid Daily Intensity
The well-known shopping center covers over a half-million square feet of retail floor area, including more than 75 shops and restaurants. It contains Boston's second-tallest building and connects to the city's largest parking garage, two hotels and a convention center. More than 60,000 people visit every day.
St. Francis Chapel, built with the mall in 1969 and run by the Oblates of the Virgin Mary since 1983, offers three Masses every weekday and 10 Sunday Masses. The oblates hear confessions daily. Eucharistic adoration is scheduled for 40 hours each week.
Sister M. Caterina Esselen — superior of the Sisters of Our Lady of Mercy in Boston, the order to which St. Faustina belonged — said that the chapel is located in the hustle and bustle of the city.
"That's precisely where the Lord wants to meet us — in our busy, hectic lives. Jesus is ever ready to bless us with his tender mercy," she said in an interview after the Mass. "The message of Divine Mercy is life-giving. It is spreading rapidly from soul to soul because it is desperately needed."
Many share that sentiment, including Boston Cardinal Sean O'Malley. According to Oblate Father James Walther, U.S. provincial of the Oblates, the cardinal has praised the chapel and urged, "Keep it open at all cost."
Alleviating Suffering
Before the relic inauguration, Father Walther spoke of the great spiritual need that the Oblates see every day.
"So many people come by and are weighed down by sin and guilt," he said. "A lot of people are on the edge of despair. Sometimes they mention it in confession."
He said that the Oblates are called to alleviate suffering by sharing God's mercy, especially through confession. He often reminds penitents of Jesus' words in Matthew 11:28, "Come to me, all you who labor and are burdened, and I will give you rest."
In his closing remarks after the Mass Oct. 16, Father Walther encouraged the crowd to go to confession and joked, "All penances are half-off today."
Father Walther said that the new relics will serve as another reminder of God's mercy at the chapel. He hopes that the saints' lives will inspire others to imitate them and devote their lives to mercy.
Witnesses to the Virtue of Mercy
No saint has shown more radical dedication to mercy than St. Maximilian, a Franciscan priest from Poland. During World War II, he publicly denounced the Nazis and helped shelter 3,000 refugees, many of whom were Jewish. The Gestapo arrested him and sent him to Auschwitz. While there, he offered his life for a fellow prisoner who had a wife and two sons.
Above the gate at Auschwitz a banner reads, "Work sets you free." The custom reliquary at St. Francis Chapel mirrors that with a banner that offers the Christian truth that Maximilian lived: "Truth sets you free."
Because St. Maximilian died in a concentration camp, Father Walther said it is a miracle that any of his relics survived. The chapel has a clipping from his beard, which he had cut off to avoid being identified as a Franciscan by the Gestapo. He told a fellow brother to put the beard in the incinerator, which the man did, but neglected to add that the incinerator should be turned on. The brother, recognizing that Maximilian was a holy man, saved the whiskers.
St. Faustina, also a Polish religious, spent her life communicating the vastness of God's mercy. In her diary, she wrote that Jesus asked her to: "Urge all souls to trust in the unfathomable abyss of my mercy, because I want to save them all."
Pope St. John Paul II canonized both Sts. Maximilian and Faustina. At St. Faustina's canonization, he designated the second Sunday of Easter as Divine Mercy Sunday and praised her deep love of others.
"The message of Divine Mercy is also implicitly a message about the value of every human being. Each person is precious in God's eyes; Christ gave his life for each one; to everyone the Father gives his Spirit and offers intimacy," he said.
Rosemary Gallow of East Boston visits the chapel daily and has been a regular worshipper there for 34 years. She praised the Oblates and St. John Paul II, whom she saw when he celebrated Mass on Boston Common in 1979. The weather was famously bad that day, and the crowd was drenched long before he arrived.
"He captured my heart," she said. "It was a terrible night, but worth it."
Gallow added that she has been inspired by John Paul's mercy: "Mercy is the most important. The world doesn't know how important it is."
Charles Falla, a member of the Third Order of Franciscans, said John Paul showed heroic mercy when he forgave the man who shot him. This witness has inspired Falla to trust God and try not to live in fear.
Falla, a resident of the North End of Boston, has been permanently professed to the Third Order for 15 years. He retired from working to assist recovering addicts and continues to volunteer at a support group. He said that addicts are often in fear and on the verge of despair. One man in recovery told him, "I never lived. I just existed, and now I need to learn to live."
Falla said that the answer to finding peace and joy in this life is to find God.
"God wants us to come back to him," he said. "I ask for God's mercy every morning in the prayers for my day."
Register correspondent Christine M. Williams writes from Quincy, Massachusetts.