Australians to Pray the Rosary, Coast to Coast, on Marian Feast Day
Catholics will gather Down Under in hundreds of locales around their country May 13, the feast of Our Lady of Fatima.
MELBOURNE, Australia — Australians will gather in hundreds of spots around the country, ranging from beaches and headlands to mountaintops, to pray the Rosary together May 13, the feast day of Our Lady of Fatima.
The "Coast-to-Coast Rosary" initiative, also known as "Oz Rosary #53," will see Catholics gather at more than 200 locations to offer the nation to God and pray for the protection of the country and its Church.
Groups of the faithful are set to congregate in every state and territory, from east to west and north to south, with gatherings organized for major cities such as Sydney, Melbourne and Brisbane, as well as remote rural communities. While most of the gatherings will occur on the coast, where the vast majority of Australians live, believers will also congregate in inland areas to mark the day Our Lady first appeared in the Portuguese town of Fatima.
The event, which is taking place under the patronage of Bishop Emeritus David Cremin of the Sydney Archdiocese, is inspired by a mass Rosary organized in Poland last October, during which Catholics gathered along the country's borders en masse to pray for the country's salvation and preservation.
Since then, the idea, which has received the backing of Pope Francis, has been repeated in Britain, Ireland and Italy.
And a similar event is currently being organized in the U.S., scheduled for Oct. 7.
"I think we are responding to the call of Mary to pray and to pray the Rosary, as she asked," organizer Jane Chifley, a former Catholic schoolteacher, told the Register. "That's coming through all the modern apparitions, not just Fatima. And it's a great prayer, too, to pray."
Chifley said that Australian Catholics have a great affinity for Pope St. John Paul II, who was Polish, and wanted to follow the example of mass prayer set by his country.
"I think we are praying for protection of our country, but also our Church and the involvement of our youth," she said. "We have a lot of really faithful people. A lot of laity from all around Australian have really come on board with this."
Unusual Locations
While many of the groups are gathering to pray in traditional places of worship such as churches, others will congregate in more unusual locations across Australia's vast landscape, which is roughly the size of the mainland United States.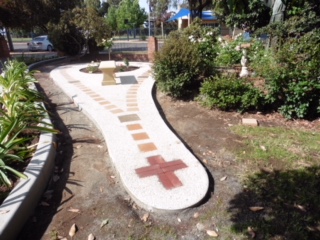 "We've got some young people going on the Harbour Bridge," said Chifley, referring to the iconic bridge spanning Sydney Harbour.
"We're a little bit creative here in Australia; we do it in different places," she added. "There's one priest taking a busload around and going to all different venues in his parish in Tasmania. There's St. Mary's Cathedral in Perth that is doing a 'living Rosary' with all their youth, where each person is a rosary bead."
Chifley said the Rosary has a special place in Australia's history, going back to its days as a British penal colony. In the early days of the colony, there were often no priests available to say Mass. Catholics would instead pray the Rosary as a way to honor the Immaculate Heart of Mary and practice their faith.
"So it's part of our heritage, as well," Chifley said.
Father Stefan Matuszek, assistant priest at St. Augustine's parish in Coffs Harbor, New South Wales, told the Register that he is delighted to be able to join the event and reaffirm the power of prayer.
"The truth is in history," he said. "It works."
Father Matuszek pointed to the example of Father Petrus Pavlicek, a Capuchin priest who called on his fellow Austrians to pray the Rosary until the Soviet army ended its occupation of the country following World War II.
"He got 70,000 Austrians to pledge to pray the Rosary daily for the exit of Russia, for the freedom of Austria," he said. "Three years later, on the 13th of May, the first appearance of Our Lady of Fatima, which is very linked to Russia, of course, they left. They just marched out of Russia."
The Power of Prayer
Father Matuszek, who moved to his country town parish 18 months ago, said it is easy for even devout believers to forget the incredible power of prayer.
The priest noted that many people do not turn to prayer as a first recourse and how people "often try and 'bash our heads,' do something more physical and obvious that seems to have results. There is a temptation for all of us in a materialistic world to forget the power of the spiritual."
Father Matuszek said that he will be praying May 13 for the restoration of faith and devotion at a time of rampant secularization in Australia. Since the 1950s, weekly church attendance among Catholics here has plunged to around 12%.
"Growing secularization and apathy toward the faith are the main threats," he said. "The Church has always survived persecution. When Catholics are being arrested, tortured, killed, we just get stronger. Tertullian  said the blood of martyrs is the seed of Christians. The worst thing for the Church is apathy."
Register correspondent John Power writes from Melbourne, Australia.