New York Yankees Exec Looks for All-Star Lineups in Baseball and Broadcasting
George Rose brings in top players from Asia, outstanding men for Catholic radio show.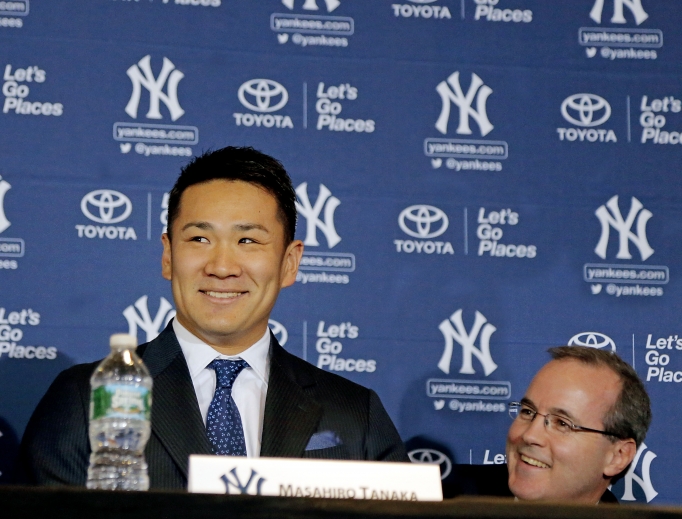 As the 89th Major League Baseball All-Star Game approaches July 17, New York Yankees' executive George Rose is working to get more all-stars, such as pitcher Masahiro Tanaka and hitter Mike Sweeney. While Sweeney never played for the Yankees, the five-time all-star was the first guest on Rose's radio show, Brothers in Arms, created two and a half years ago for Domestic Church Media in Ewing, New Jersey.
The show is the latest installment in what has become a "holy hobby" for Rose — the encouragement of men to become more involved in the Church. The Columbia Business School MBA degree holder has helped to organize the Diocese of Trenton's "Catholic Men for Jesus Christ" conference, the oldest annual men's conference in New Jersey, for the past nine years.
The same year the conferences first started — 1998 — Rose began serving as a translator for Hideki Irabu on a Yankees' team that included five all-stars, a record for regular season wins and a World Series championship. After Irabu was traded to the Expos, Rose went on to become the Yankees' executive adviser for Pacific Rim operations. Under that title, he helps to oversee acquisitions of Asian players and maintains relationships with Asian businesses that advertise with the Yankees.
In addition to all of this, Rose now has lung cancer to battle. He has received the help not only of his wife, Carrie, of 15 years and their son, Sean, but of Yankees' executives, including the team's president, Randy Levine. Rose has even enlisted the intercessory help of St. Faustina Kowalska's spiritual director, Blessed Michael Sopocko (1888-1975)..
Rose, 51, recently spoke to the Register of his star-encompassed career in baseball and in the Church.
Your business career has taken place mostly in baseball. Did you play the sport yourself?
Baseball has always been my favorite sport, and I played it through high school at Maria Regina on Long Island. Even though I didn't compete on an official team beyond that, baseball would come back into play in my life.
After graduating from the College of the Holy Cross in 1988, I taught English to high-school students in Japan for two years. Then I came back to New York to attend business school at Columbia University. In 1997 Hideki Irabu had an up-and-down season with the Yankees. His translator was fired and my friend, who went to The Catholic University of America with Brian Cashman, the Yankees' general manager, told me about the open position. I interviewed for it and got it.
Then 1998 was a great season for Irabu and the Yankees.
That was a fantastic season. Hideki became steadier, and we had the most regular season wins for any MLB team — 114 — up to that point, had five players selected to the all-star team, and then won the World Series. It was amazing to be a part of that. I had my own locker and traveled with the team, so it was almost like being a player again. Other than actually playing on that team, I'm not sure how much better my job could have been. My working relationship with Hideki was even noted by one publication as a key to the Yankees being the greatest team ever.
Did you ever have any major confusion about what one of you was trying to say?
Back then, translators were not allowed to go out to the mound, so I stayed in the clubhouse during games. Our pitching coach, Mel Stottlemyre, once went out to talk with Hideki during a tight situation. Mel told him that he was aiming too much and that he should just relax and throw the ball. Play resumed, Hideki got out of the jam, and we won the game. Afterward, I asked him what Mel said to him. He replied that Mel wanted him to aim better, the exact opposite of what Mel had said! Even though there was miscommunication, it turned out fine.
How did you get started helping to run a men's conference in New Jersey?
Men can sit and talk about baseball or other external things all day long, but we're not naturally disposed to sharing deep thoughts about ourselves or spirituality. Women can do this almost automatically, but most men need a boost by a structured event. When someone like Kellen Clemens comes to our conference, as he did in 2016, and talked freely about his own personal faith experiences, it makes it much easier for the men in the audience to do the same.
Men's conferences are so important, but they need to be followed up by groups that meet on a regular basis, not just for external activities, but for discussions about spiritual matters and for accountability. Interacting with other men who are on the same challenging quest for heaven is vital. It will help men get to the point of not ever considering missing Mass on Sunday, but instead going even during the week and also making sure to go to confession on a regular basis, rather than just waiting until it's absolutely necessary.
Next year's "Catholic Men for Jesus Christ" conference in February will be the 22nd installment for the Diocese of Trenton, and now dioceses across New Jersey have similar conferences. In fact, so many other states are becoming more aware of how important it is to make men realize the Church is really for them — that it has the most relevant things possible for what they're dealing with in their lives.
Along those lines, you've also started a radio show for Catholic men.
Jim Manfredonia — who founded Domestic Church Media, which has four EWTN radio stations in central and southern New Jersey — thought of the concept about three years ago. He was in prayer before the Blessed Sacrament, and it became clear to him that we needed a show for men. We called it Brothers in Arms, and when it started about two and a half years ago, Mike Sweeney was our very first guest. He is a great Catholic man who also happens to be a great baseball player. Steve Duran, formerly of Lighthouse Catholic Media and now with a new Catholic agency called 5 Stones, was on recently, and we plan on having Rich Donnelly, Chris Nyman — who played in Japan in the 1980s — Elvis Grbac, Chris Godfrey and Curt Tomasevicz on this year.
Do you have a patron saint?
I have a bunch. There's St. George, of course, and St. Faustina and her spiritual director, Blessed Michael Sopocko. I also love Sts. Louis de Montfort and Maximilian Kolbe, both of whom are known for Marian consecration — as was St. John Paul II. As a matter of fact, I am a member of the Knights of the Immaculata, founded by St. Max just over 100 years ago.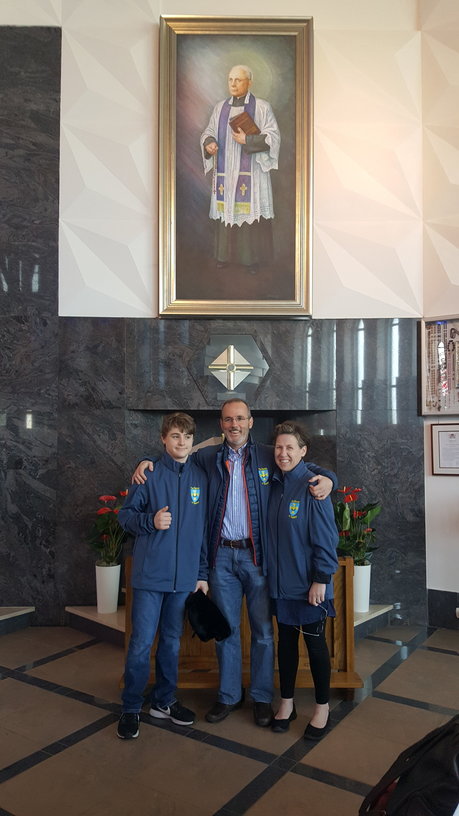 Outside of the Bible and the Catechism of the Catholic Church, probably the book that has had the most influence on me is True Devotion to Mary by St. Louis de Montfort. I was influenced by it even before reading it, since my grandfather was so dedicated to Mary. He would tell me, "Georgie, if you ask the Blessed Mother for something, she will then ask her Son, and her Son cannot deny her request." Totus Tuus, which means "Totally Yours" in Latin, is etched on my grandfather's gravestone. Whenever I visit his grave, I remember John Paul II's plain wooden casket with the letters "TT" carved on it. And, of course, Totus Tuus was the motto of his papacy.
That casket influenced Marcus Daly to start Marian Caskets.
Well, I may ask for one to be put on reserve, but with the caveat that I won't need it for a long time yet. I was diagnosed with lung cancer a year and a half ago. Fluid had built up in my chest cavity, and one lung collapsed. They found I had lung cancer, which was shocking for me, since I had never even spent one night in a hospital before. I started a new treatment, however, and that has gone very well: 80% of the cancer is gone, and this was done through two FDA-approved drugs that are usually used on their own, but that are being used in combination in a clinical trial at Memorial Sloan Kettering Cancer Center.
No one would volunteer to get cancer and go through treatment, but I've found a lot of positives in the process. I realize how fragile life is and how the only thing that really matters is salvation. If we have everything but sanctifying grace, we actually have nothing, and if we have nothing else but sanctifying grace, we actually have everything. This world and everything in it is quickly passing away, but what will remain forever are our relationships with God and others.
Monument Park at Yankee Stadium has bronze plaques of Lou Gehrig, Babe Ruth, Mickey Mantle, Derek Jeter and other players who are among the best ever in the game. It's a fascinating place to visit, but the Yankees are only about 100 years old, whereas the Catholic Church is about 2,000 years old. You could say we have our own "Monument Park" or "Hall of Fame," with thousands of all-time greats based in, but not limited to, Rome. That "hall" is a place that anyone can get to — regardless of athletic ability. We all have opportunities to sanctify our lives and the lives of others. This is seen in countless ways in the lives of the saints, who come from all countries and all walks of life.
Is there a specific aspect of Catholicism you find particularly helpful?
It might sound overly general, but I think having faith in what Jesus and his Church teach is itself the biggest thing. My grandfather always used to tell me the faith itself is a gift. We can take it for granted, as if it were automatic for us, but it's really an immense gift to believe. To understand salvation history and how God is continually calling us back home to be with him, to know the truth of who we are as human beings, is what makes sense out of this world. It is my philosophy in life that drives everything I do.
All we have to do is look around, and we'll see plenty of people who do not have the faith and even struggle with belief in God. We might get upset about specific things that happen within the Church, but we can't forget that being in the Church at all is a priceless thing. It's my overall faith in what Jesus and his Church teach that enables me to ask specifically for a miraculous healing from Blessed Michael Sopocko. He needs another miracle to be canonized, so we can help each other out. The cancer is healing, so it may end up being very beneficial for me and for him.
Regardless of whether the healing is complete and long-lasting, I'm very fortunate to be in the position I am. I've been a part of the greatest baseball organization around, I've been blessed with 15 years of marriage and a son, and I've had many opportunities to grow in the knowledge and practice of my Catholic faith, both inside and outside my family.
Register correspondent Trent Beattie writes from Seattle.
His book, Fit for Heaven (Dynamic Catholic, 2015), contains numerous Catholic sports
                                       interviews, most of which have appeared in the Register.