Catholic Priest and Tennis Umpire to Officiate at 2017 U.S. Open
Father Paul Arinze, the Nigeria-born priest of the Diocese of Madison, Wisconsin, girds himself for America's premier tennis event beginning next week in New York.
The U.S. Open is American's premier tennis event, running Aug. 28-Sept. 10 at the USTA Billie Jean King National Tennis Center, in Flushing, New York. Previous winners include Switzerland's Stan Wawrinka, Germany's Angelique Kerber, Britain's Andy Murray and Serena Williams of the U.S.
But did you know among the lineup of international stars is a Nigerian-born Catholic priest who is responsible for keeping star matches running smoothly and fairly?
Father Paul Arinze is the pastor of St. John Vianney parish in Janesville, Wisconsin. He is also a line and chair umpire who has officiated at every major tennis event around the world, plus several Olympic games. The Register interviewed with Father Arinze just ahead of the U.S. Open.
What will you be doing at the U.S. Open? How many times have you umpired at that tournament?
I have umpired the U.S. Open since 2008. This year, I will be one of the review officials in charge of instant review during player challenges.
Does the U.S. Open have "faith provisions" for players and staff, like a chapel, organized prayers, Catholic Mass, etc.? Do you say Mass there?
That would really be a cool idea, but no. I attend Mass at St. Patrick's Cathedral when in New York for the Opens, since our hotel is close by and I love St. Pat's.
What's the reaction when tennis players find out their umpire is also a Catholic priest?
I would say intrigued, surprised — and [it's] something new for them. However, it's all about the competition for them.
Tell me about some of the highlights of your career so far.
I've been privileged to have worked on all the biggest tennis events as a part-time official. I have worked the four grand slams, namely: Australian Open; French Open; The Championships, Wimbledon; and U.S. Open. I also officiated at the London 2012 Paralympic Games and the 2016 Rio Summer Olympic Games, as well as the World Tennis Association premier events and Association of Tennis Professionals Master 1000 events.
Each of these events are unique in themselves and are challenging, as one can imagine. Being part of the Summer Olympics ranks high in my umpire career because I was one of only seven umpires representing the U.S. as part of the tennis umpiring team.
Do your fellow priests and parishioners watch you on TV or ask you about it? What do you discuss?
Yes, some of my brother priests sometimes tell me if they saw me on TV and ask me questions about my experience at tournaments.
What are your thoughts on religious faith as a support for players and teams?
I think many of the players are very religious. They may not always show it, but you see some of them making gestures of prayers on court, and I have seen quite a few players at Masses.
How did you end up becoming a tennis umpire?
After my ordination in 1999, I was a parochial vicar in a parish just outside of Madison, Wisconsin. In my spare time, I would go and watch the University of Madison tennis team. I became friends with Fred Jungers, who is Catholic and the head referee for the events. It was Fred who asked me to help out one year during the state high school girl's championship — that was my first umpire experience. From there, I would go on to attend a certification school, and the rest is history.
What do you enjoy about umpiring, and what do you find to be a challenge?
Umpiring puts you at the center of the action. You are up close to the best players in the world and in the biggest tennis stadiums. Besides, you get to travel the world and experience new cultures and make new friends.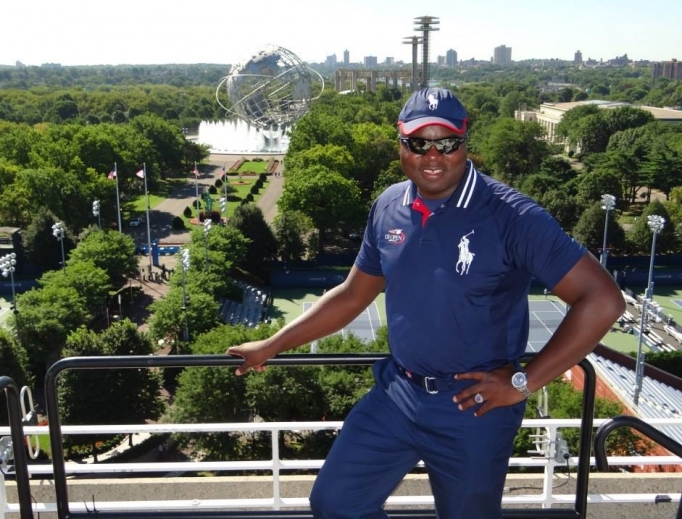 Are there any umpires that you admire, and why?
It would be hard for me to mention names here, because so many have helped at various stages of my officiating career, and I admire them for their professionalism, experience and how they handle situations that come up in the course of officiating.
Do you have some favorite tennis players?
I'd say Boris Becker, Andre Agassi, James Blake, Pete Sampras, Steffi Graf and Kim Clijsters are some of my favorites, to name a few.
Do you find time and opportunities to share you enjoyment of tennis with fellow priests, parishioners and potential vocations to the priesthood?
Yes, I do. I enjoy playing tennis with my brother priests, parishioners and friends. I often ask potential vocations if they play tennis and don't mind being beaten by some youngsters.
Was your upbringing in Nigeria very Catholic? You're one of eight children, correct?
Yes, both of my parents are Catholics. We grew up attending not just Masses on Sundays, but also on weekdays. We all attended Catholic grade schools, and some of us went to a Catholic high school, too. My family was very active in our parish growing up.
Did you have much love of the sport of tennis as a child?
Growing up, I loved watching football (soccer) and tennis. I picked up a liking for tennis and watched a ton of tennis growing up.
When and how did you first come into contact with tennis?
I first came in contact with tennis in fourth grade, when we were "ball kids" for our parents when they played tennis. When they were done playing, my friends and I would normally go on court and swing away.
Why did you leave Nigeria for America?
A good chunk of my vocation was influenced by the Irish missionaries who worked in our parish. They inspired me to want to work as a priest outside of my birth country. After college, I made my choice to continue my priestly formation in the U.S. primarily because I have family ties in the U.S., but also, I would not need to learn a new language.
Why did you want to be a priest?
I wanted to be a priest because I wanted to devote my life to the service of God and his people as an ordained priest. Thinking of my parish priest growing up, he was a very kind, holy and prayerful priest. He came into my classroom in grade school, visited our homes and truly knew all of the parishioners.
Priesthood offers one the opportunity to reach people in a way that most other professions could not. Most importantly, you make the presence of Christ in the Eucharist available to people and are able to heal their souls through the sacraments.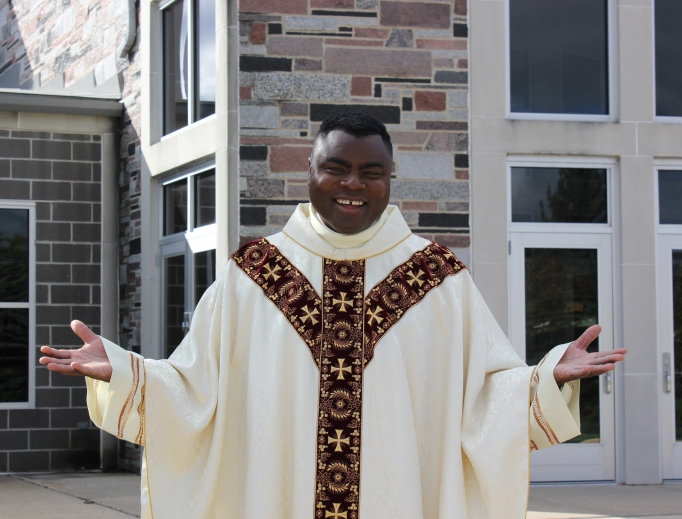 Register correspondent Daniel Blackman writes from London.