People Look East: Catholics in the 13 Colonies
BOOK PICK: Pioneer Priests and Makeshift Altars
Pioneer Priests and Makeshift Altars
A History of Catholicism in the Thirteen Colonies
By Father Charles Connor
EWTN Publishing, 2017
272 pages, $19.95
To order: ewtnrc.com or (800) 854-6316
If your new year's resolution is to read more, and brush up on your history of the Church, a new book makes it easy to keep that pledge.
Father Charles Connor, well-known to the EWTN audience for many years, has written Pioneer Priests and Makeshift Altars, an engrossing look at Catholicism in the original 13 colonies, leading up to the American Revolution.If your new year's resolution is to read more, and brush up on your history of the Church, a new book makes it easy to keep that pledge.
Father Connor's history reads like a travelogue, with stops in Philadelphia, Baltimore, northern Kentucky, New York City, New England, the Carolinas and Georgia. He shows that Catholic history is a great adventure, and the reader is happy and secure as he takes us along for the thought-provoking ride.
The complicated saga of Catholicism at our founding explains the contradictions that characterize the Church in the United States today.
Father Connor's history also particularly addresses the issues of religious liberty and freedom, which have been themes from the beginning. He is an enthralling author, weaving the past and present in this page-turning chronicle.
Father Connor explains why the oldest Catholic churches in New England — St. Patrick's (1808) in Newcastle, Maine, and Old St. Mary's (1824) in Claremont, New Hampshire — are about the same age as the youngest of the California missions, San Rafael (1817) and Sonoma (1823). He shows how Maryland and Pennsylvania were exceptions in tolerating Catholics. Furthermore, Father Connor discusses how "another significant story in eighteenth-century Catholic life in Maryland was a migration of substantial numbers of Southern Maryland Catholics to Kentucky — a replanting of the English Catholic faith, as it were. … Kentucky would also be the scene of the missionary efforts of Father Stephen Theodore Badin, the first priest to receive all minor orders and be ordained in the United States."
Before Daniel Boone made Kentucky famous as "king of the wild frontier," Maryland Catholics traveled along the Ohio River into what was then the "Wild West." All of these fascinating paradoxes and surprises inform and inspire the reader.
The harsh New England Puritan climate of anti-Catholicism led to what Father Connor calls "Empty New England." On the other hand, Catholics enjoyed greater freedoms in Quaker-led Pennsylvania.
While Lancaster County is famous for its Amish community, German and Irish Catholics found religious freedom in Philadelphia. He vividly illustrates how New York allowed Catholics to live and worship freely, but that the current issue of spiritual "Nones" was as applicable in the 17th century as it is now.
Thomas Dongan, an Irish Catholic from Kildare who was New York's first colonial governor in 1683, noted the varieties of Quakers and Anabaptists — and how, "in short all sorts of opinions there are some, and the most part, of none at all."
In contrast, New Jersey had the first constitution to specifically single out Catholics for discrimination. In recounting New England's history, he explains why it has continued to be the region ranking as one of the lowest in church attendance and religious belief.
Father Connor discusses not only Maryland's famous Carrolls, but the daily life of everyday Catholics. He lists the various Catholic manors, discusses the Jesuit missions, and highlights how Catholics kept the faith when priests were few. Jesuit lending libraries became an important source of spiritual nourishment. As  Father Connor explains, "If there were not sufficient missionaries to go around — some areas waited several weeks for a priest — Catholic families were expected to gather together for prayers, for the mutual discussion of an agreed-upon book, or for other devotions." Jesuit missionaries acted like the Methodist "circuit riders," traveling from one rural settlement to another.
Jesuit Father Joseph Mosley vividly described his journeys, saying, "We ride almost as much by night as by day, in all weathers, in heat, cold, rain, frost or snow. Several may think the colds, rains to be the worst to ride in; but I think to ride in the heats far surpasses all, both for man and horse."
The rigors of Catholic obligations created a disciplined Catholic laity. Along with the daily life of Maryland Catholics, Father Connor recounts the remarkable story of Sister Theresa of the Heart of Mary, the first woman to be a religious in the United States. She joined the Discalced Carmelites in Port Tobacco of Charles County, Maryland, at the age of 47. She had been secretly baptized Catholic in Hopton Park when sacramental life was illegal. Sister Theresa described her Carmel as "pleasant, rural and healthy, being on top of a large hill," seemingly echoing the famous line about the United States as a "city upon a hill."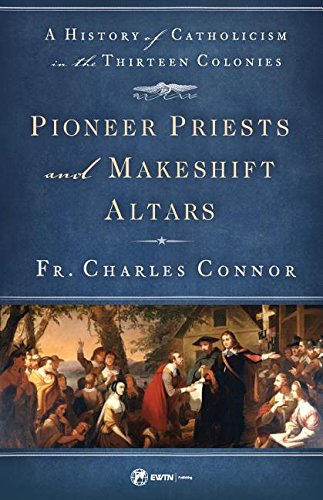 However, Father Connor hints toward America's "original sins" of racism and slavery when he mentions that it was a "large farm that produced wheat, corn, and tobacco and was worked by slaves. Besides the normal work associated with monastic life, the sisters also did spinning, copied and bound prayer books, and did their own watercolors." Maryland would be the site of Antietam, the bloodiest battle in the Civil War. The story of this first convent in the United States had almost slipped silently into the pages of history, but Father Connor protects its challenging lessons from obscurity.
The most fascinating figure to emerge is Jesuit Bishop John Carroll, the first bishop and archbishop in the United States, and of Baltimore specifically. A statue of Bishop Carroll sits proudly in front of Georgetown, the university he founded. He was also a trustee of St. John's College in Annapolis, Maryland, for whom its admissions office is named.
Bishop Carroll helped build America's first cathedral. He also desired a vernacular liturgy, like many of his fellow Jesuits. Father Connor relates the breadth of Bishop Carroll's diocese as "extending from the border to Canada to the border of Florida, and from the Eastern Seaboard to the Mississippi River."
In the early history of America, Catholics were denounced as loyalists to the Crown, despite the fact the United Kingdom had harsh anti-Catholic laws beginning with Henry VIII.
New England Puritans fled for the sake of religious freedom, yet the region cracked down on Catholicism; for example, New Hampshire's anti-Catholic laws wouldn't end until the mid-19th century. In 1641, it was the Catholic colony of Maryland that would have the first religious freedom and toleration laws in the United States, despite the fact Catholics were associated with bigotry and bloodshed. For many Catholics, freedom of worship was something to be cherished; Boston wouldn't have its first public Mass until 1788.
Father Connor instructs readers on how precious religious freedom is — and how it is worth defending. In documenting the history of the Church in the original 13 colonies, Father Connor shows how ordinary Catholics lived and endured, persevering to the end. Father Connor's history can be best summed up with the words of Bishop Carroll.
In 1790, after the American Revolution had ended, Bishop Carroll said, "It is no longer enough for me to be inoffensive in my conduct and regular in my manners. God now imposes a severer duty upon me. I shall incur the guilt of violating my pastoral office, if all my endeavors be not directed to bring your lives and all your actions to a conformity with the laws of God; to exhort, to reprove, to enter into all your sentiments; to feel all your infirmities; to be all things to all, that I may gain all to Christ."
Anna Abbott writes
from Napa, California.