Legendary Los Angeles Dodgers Announcer Leads Popular Rosary Recording
Vin Scully and Catholic Athletes for Christ collaborate with Immaculate Heart Radio on album.
The 2017 Major League Baseball season was a very successful one for the Los Angeles Dodgers, as they came just one game short of winning their seventh World Series title. While Vin Scully was not around to call games this season (he retired in September 2016 after 67 years with the team), he is still around to lead the Rosary at any time. This is possible through a two-CD audio recording called The Most Holy Rosary of the Blessed Virgin Mary, organized under the direction of Catholic Athletes for Christ (CAC) and recorded in conjunction with Immaculate Heart Radio.
Scully's familiar voice can be heard reading from Pope St. John Paul II's 2002 apostolic letter on the Rosary, Rosarium Virginis Mariae, introducing all four sets of mysteries, and praying the beginning of each Our Father, Hail Mary, Glory Be and "O My Jesus" Fatima prayer. A group of 10 people, including former Major League Baseball pitcher Jeff Suppan, responds by finishing each of the prayers.
Another of the responding voices belongs to Kevin O'Malley, coordinator of Major League Baseball Ministry at CAC and creator and executive producer of the recording. O'Malley said he "brought up the idea to Vin in the summer of 2015, and his immediate response, as a longtime supporter of CAC, was: 'Whatever you need.'"
O'Malley was elated, but soon realized he would need a place for recording. After thinking about it for a while, the father of six called Doug Sherman, president of Immaculate Heart Radio (which has since merged with Relevant Radio). Sherman was happy to help make the recording possible, and a venue was secured — Catholic radio host Joe Sikorra's house in southern California, which he uses, rather than a separate studio, to broadcast his daily show.
Historic Recording Takes Place
The following winter, O'Malley and Scully collaborated on the texts introducing the mysteries, which were taken from the Gospel of Luke. With the wording set, the recording took place in March 2016. O'Malley described the scene: "As we were praying the Rosary tracks, it did not get past anyone involved in the project that we were producing a product that would last forever and allow those who grew up listening to Vin call games — as well as those in the future who will not have the opportunity to hear him do that — to enjoy his ability to make a story come alive and bring people closer to Christ."
The importance of the recording might not have gotten past anyone, except Scully himself. Antelope Valley Press writer Brian Golden, who was in the responding group, said the legendary broadcaster was humbled by the experience: "During a break in the recording, Vin turned to me and said, 'Brian, this isn't blasphemous, is it — I mean me, leading anyone in prayer?' I replied, 'Vin, people are going to buy this recording for a very personal, treasured memory of your voice, which is the soundtrack of summer in all our hearts. The Blessed Mother will take it from there. People will fall back in love with the Rosary, our greatest source of power and peace, aside from the Eucharist.' And that is exactly what has happened."
Although the album was originally scheduled to be released around the All-Star Game in July 2016, it was not released until September of that year — closer to Scully's last game called at Dodger Stadium.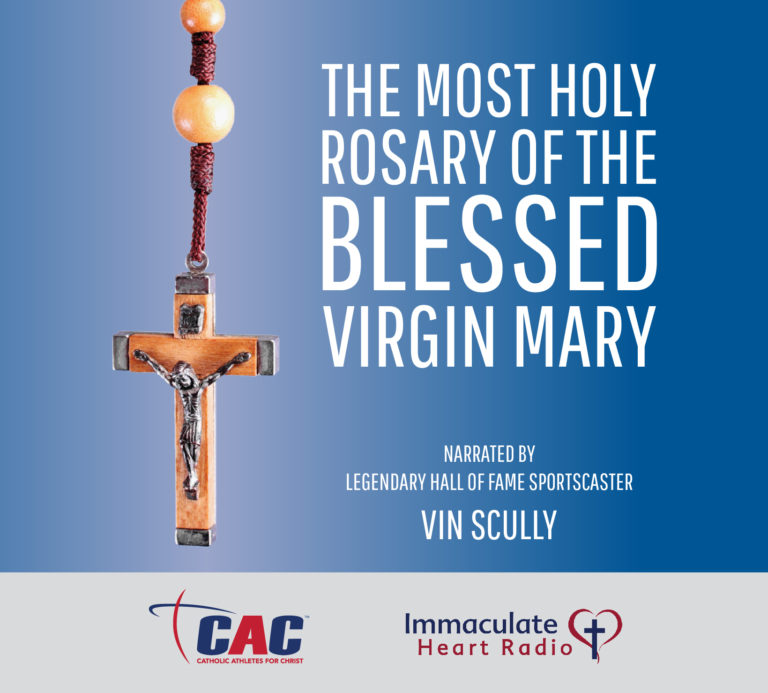 "The timing couldn't have been more perfect," O'Malley claimed, explaining, "There was a tremendous outpouring of love for Vin and his 67 years broadcasting baseball, so people were very happy to get something that would remind them, not only of Vin's connection to baseball, but of his connection to the Catholic Church."
The Most Holy Rosary of the Blessed Virgin Mary was so popular that the initial inventory sold out within three weeks of its release. Sales (and selected free distribution) have continued to be good, with nearly 8,000 copies (including both CD and digital formats) delivered in a little over a year. The recording has even been sent to Pope Francis, and CAC received a response thanking the organization and Scully for promoting the Rosary through the project.
O'Malley has heard many other laudatory comments from listeners worldwide — especially from men who are baseball fans. Some had not prayed the Rosary in years, but were brought back to the practice by the recording. He said, "Men naturally gravitate toward sports, so when the Catholic faith is presented to them through sports figures, they are more likely to take hold of it and see it as a part of their lives, rather than an awkward extra. This is why wives who want their baseball-loving husbands to be more prayerful would do well to get a copy of the recording."
Pittsburgh Pirates pitcher Trevor Williams has found the recording to be very helpful for prayer in his family. He said: "For me and my wife, the Rosary and [overall] devotion to Mary are vital to our spiritual life. As a lifelong fan of baseball and someone who looks to grow in my faith every day, there is nothing better than praying the Rosary led by the greatest voice to ever broadcast the game of baseball."
Williams believes Scully's narration of the mysteries brings a new perspective to Gospel stories that many have heard many times before and thought they were totally familiar with. Williams sees the recording as one of the tools CAC uses to bring "not only MLB players, coaches, broadcasters and front office staff closer to Mary," but also many others outside of baseball.
Someone who knows the spirituality of Major League Baseball and other professional sports as well as anyone is Ray McKenna, founder and president of CAC. He has tirelessly integrated faith and sports in countless ways, so he is pleased to see the success of the recording.
McKenna said, "Like a lot of Catholics, I've prayed and heard the Rosary prayed many times, including recorded versions, but I've never heard a recording of it quite like the one with Vin Scully. He captures the essence of the mysteries like I've never heard before."
McKenna sees the Rosary project as very beneficial to the mission of his organization, which is to bring the faith of the apostles into the sporting world. Venerable Pope Pius XII, whose quotation regarding the value of sports can be found at CAC's home page, also made clear his approval of praying the Rosary. He stated in 1951's Ingruentium Malorum: "We do not hesitate to affirm again publicly that we put great confidence in the Holy Rosary for the healing of evils which afflict our times."
He pointed out the subtle power of the Rosary by saying that, through "the frequent meditation on the mysteries, the soul, little by little and imperceptibly, draws and absorbs the virtues they contain, and is wondrously enkindled with a longing for things immortal, and becomes strongly and easily impelled to follow the path which Christ himself and his mother have followed."
Generous praise for praying the Rosary has been given by other popes, one of whom was Pius IX. He said: "Among all the devotions approved by the Church, none has been so favored by so many miracles as the devotion of the Most Holy Rosary." One of the most important aspects of the miraculous apparitions at Fatima was Our Lady's endorsement of the Rosary as a means of obtaining peace in the world.
Highway to Heaven
Although the Los Angeles freeway system has been named the most congested in the world, this has been a blessing as far as getting people to pray more.
"I've had so many people tell me," Golden said, "that when they see the red brake lights on cars ahead of them, one of Vin's Rosary CDs goes on. Then when they finally get to their destination, they take a few extra laps around the block just so they can complete the Rosary."
Some of Golden's friends have told him that they hadn't even thought about the Rosary in years, but now it is a part of their daily lives because of the recording. Whether on the way to work, on the way home, or before bed, they can pray as part of a group, even when there aren't people physically around them. They are also now much more likely to pray the Rosary on their own and in a live group when the occasion arises.
This increase in prayer is very pleasing to Golden, who has been an avid promoter of the Rosary since 2001 and one of Scully's friends since 1982. "I have known Vin for 36 years. As great a broadcaster as he is — the best — he is an even greater Catholic man. Everywhere he goes, people make a fuss over him, yet he has never allowed the adulation to make Christ fall from the pedestal in the center of his life."
Both Golden and O'Malley remarked how humbled Scully was by the prospect of leading people in prayer. O'Malley said, "In terms of Vin Scully the person, what you see is what you get. Being with him for even just a few minutes makes you want to be a better person. He has proven that you can be successful and happy without lowering your moral standards. He is truly a living example of preaching the Gospel at all times and, if necessary, using words."
As a boy growing up in northern Virginia, O'Malley wanted to be a baseball announcer like Scully. While a career in Major League Baseball announcing did not materialize, a friendship with Scully did, and O'Malley says he wouldn't have it any other way: "I've been able to live my major league dream, but in a very different way than previously imagined. Yet this way is much more fulfilling because it is centered, not just on the game, but on Christ, who is the way, the truth and the life. The Most Holy Rosary of the Blessed Virgin Mary is a physical reminder of that — a reminder that I, and other Catholics worldwide, will always treasure."
Register correspondent Trent Beattie writes from Seattle.
His book, Fit for Heaven (Dynamic Catholic, 2015), contains numerous Catholic sports
interviews, most of which have appeared in the Register.
INFORMATION
The recording is available for purchase from CAC (CatholicAthletesforChrist.org/rosary) or can be downloaded from most major digital distribution sites, including Apple iTunes®, Amazon Music® and Google Play®. Proceeds from sales of the recording are used to fund CAC's operations, including the expansion of its "Cathletes" high school and college chapter program.