Learn Benedictine Humility by Reading This Book
BOOK PICK: Humility Rules
Humility Rules
Saint Benedict's 12-Step Guide to Genuine Self-Esteem
By J. Augustine Wetta, O.S.B.
188 pages, $18
To order: ewtnrc.com or (800) 854-6316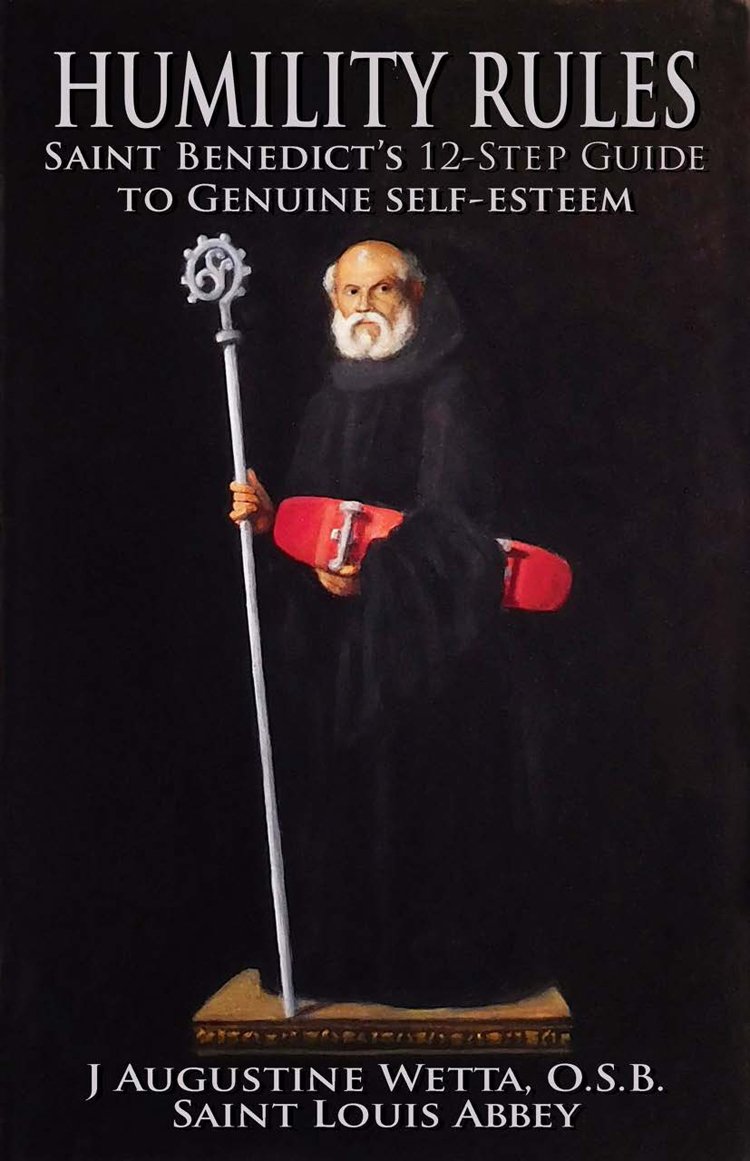 As a Catholic, I am often confronted by the difficulty of being "in the world but not of the world." In our struggle to remain holy despite earthly temptations, it can be easy to subscribe to the "Benedict Option," as described by Rod Dreher, which suggests that in order to sustain a good Christian lifestyle, Christians must remove themselves from the culture. Although St. Benedict retreated into seclusion to escape the lures of wealth and immorality, following in his footsteps does not necessarily require total rejection of the world. In his book entitled Humility Rules, Benedictine Father J. Augustine Wetta suggests another way of life inspired by St. Benedict, one that is compatible with modernity. He describes it as "a little known but highly effective twelve-step program that folks all over the world have been using for more than fifteen hundred years." The program is called "The Ladder of Humility" and can be found in St. Benedict's Rule.
A high-school teacher and rugby coach who surfs on his vacations and whose students call him "Father Dude," Father Wetta is the ideal guide for those who might be intimidated by St. Benedict's centuries-old writings. His casual, matter-of-fact tone and self-deprecating anecdotes make Benedict's teachings on humility seem far more accessible to the average person. Humility is difficult to achieve, often misdefined as self-loathing, and in that context understandably unpopular, but Humility Rules tackles the subject with candor, good humor and reassurance that, with God's help, this daunting virtue is possible for the layman and woman. Father Wetta paraphrases Benedict's instructions in ways you wouldn't expect from a self-help book: "Put your worst foot forward," "keep your chin down," and "be afraid," to name a few. However, he points out that humility is not about making yourself look bad, but finding genuine self-esteem, recognizing your strengths and weaknesses, and relating to God and others in your life.
Having worked with high-school students, Father Wetta knows his audience well and speaks to their often-oddball sense of humor. In addition to practical and simple advice about simplicity, he includes humorous commentary on his favorite parts of Benedict's Rule: "Saint Benedict wrote a handbook. It was chock-full of great advice, from who should apologize after an argument, to how many times a day you should pray, to what you ought to do with old underwear, and whether you should sleep while wearing a knife." Throughout the chapters, Father Wetta has inserted handmade collages that juxtapose monastic art and modernity with Monty Python-esque silliness. Some examples of this include monks on surfboards and roller coasters, monks crowding together to take a selfie, and my personal favorite, a monk wearing a baseball cap that says, "I love my hood." I'm not ashamed to say that flipping through the pages and laughing at the artwork was what initially interested me in this book.
While reading, I decided that the next time a young person I know receives the sacrament of confirmation, Humility Rules will be my gift to them. A lot of people are wary of religion because it seems to demand that we be perfect people sequestered from the rest of the world, but Father Wetta's book definitely put that fear to rest for me.
We are all imperfect people, and we need to accept our imperfections. However, as Father Wetta says, "humility should never be confused with mediocrity. Perfect holiness is the purpose for which we were created, so we can't allow ourselves to be comfortable with the status quo. The minimum is not enough." We are expected to achieve great things despite our great weaknesses, because we have a perfect role model in Jesus. This may seem daunting in our modern world. Humility is countercultural, but it does not have to be anti-cultural. Christians striving for holiness are still allowed to go surfing and take selfies.
Hannah Kubiak writes from
Milwaukee, Wisconsin.