Houston's 'Dunkirk' Moment
Catholics of Texas and beyond reflect a country's coming together in a time of need.
HOUSTON — The floodwaters from Hurricane Harvey were rising. Sandra Derby grabbed a few keepsake photos and her insurance information and bid farewell to the piano she had played since she was a high-school student. She prayed one final blessing in the white-brick ranch dwelling that had been her home in Houston and headed out the door.
Large swaths of Houston and other parts of Texas are now underwater due to Hurricane Harvey. Upwards of 100,000 homes and 1 million vehicles are destroyed. As of press time, approximately 40 deaths have been confirmed — a deadly number expected to rise as the floodwaters recede.
But the story of Houston during Harvey is more than the devastation. For days, the eyes of the nation and the world have been on America's fourth-largest city. Just as the British populace banded together in 1940, with civilians sailing whatever seaworthy vessels they had across the English Channel to rescue their countrymen stranded and surrounded by the enemy on the beach at Dunkirk, the towns and cities of southeast Texas found their "Dunkirk" moment, as thousands of civilians have gone out to help neighbors they never met by boat, by truck or by opening their homes, their businesses and their houses of worship.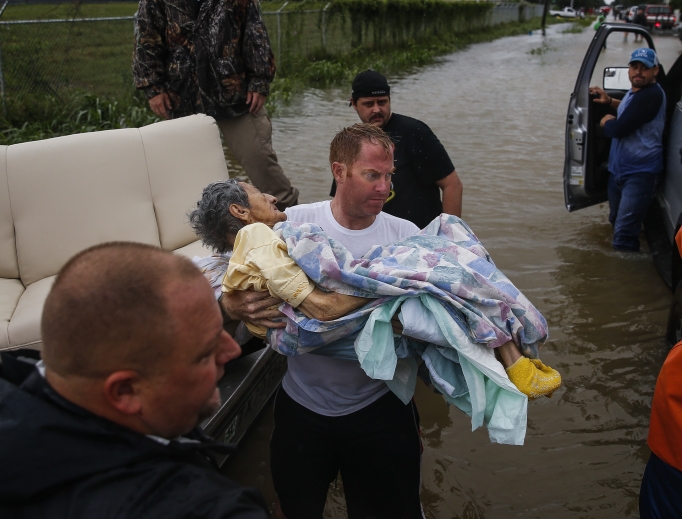 Derby, the music director of St. Angela Merici Catholic Church, said she has lived in Houston since she was 10 years old. Houston is a resilient city that has experienced hurricanes — but nothing like this. The hurricane did not just pass through — it stayed on top of the city and flooded it and surrounding areas with what seemed like a biblical proportion of rain.
"For me, when I see what has happened, I am just grateful to be safe right now," she said.
Catholics and their fellow Texans have gone into action. At the local level, Catholic parishes have turned their facilities into shelters and distribution centers. Volunteers have turned out in droves to see what they can do to help.
Jonathan Cardinal, the youth ministry coordinator of St. Anthony of Padua parish in The Woodlands, spoke with the Register while on a distribution run. He said his neighborhood's Catholic parishes have been working together to coordinate help and assistance.
St. Anthony's, which operates one of the county's largest food pantries, has become a collection and distribution center for donations of food, water, clothing and bedding.
Sts. Simon and Jude's facilities, he said, have become a designated Red Cross shelter. Just north of them, the Baptist church has also become a shelter — one of hundreds set up for people all over Texas displaced by the hurricane and its aftermath.
Neighborly Love
"People are getting out of their houses and seeing what they can do to help," Cardinal said, such as one concerned youth who arrived saying he saw people who needed help over Snapchat, and he came to see what he could do to lend a hand.
Cardinal said that, on Sunday, he got on his bicycle and rode around seeing who needed assistance, as some streets could be dry and others underwater. He stepped into a stranger's house, asking how he could help, and found seven other volunteers who had come to do the same thing.
"I really feel it's given us a renewed understanding of 'Who is my neighbor?'" he said.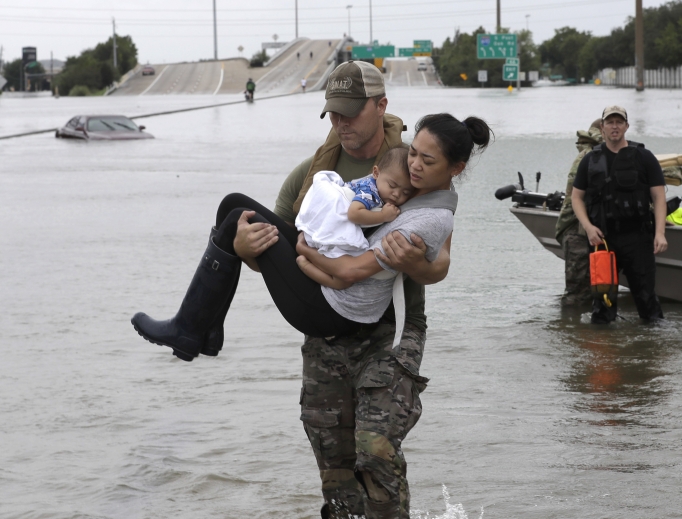 Lisa Pertuso, a Catholic who lives with her husband in Spring, Texas, told the Register that the first-floor apartments in her building complex were flooded. People from the floor were evacuated and bunked with neighbors in three-bedroom apartments until the floodwaters receded, allowing them to get shelter elsewhere.
Pertuso said she and other Catholics felt inspired by the example of a beloved local Catholic businessman, Jim McIngvale, known as "Mattress Mack," who opened up his furniture and mattress stores to shelter people from Harvey's floods.
"He's a big community guy," she said. "He's all about putting your faith into action."
Local Knights of Columbus chapters have also been throwing themselves into the fray, trying to clear neighborhoods of dangerous debris and provide volunteer help where needed. The national Knights organization announced it would direct all donations made through its office to support the state and local Knights' efforts.
Cardinal DiNardo
Cardinal Daniel DiNardo, archbishop of Galveston-Houston and president of the U.S. Conference of Catholic Bishops, said the people of southeast Texas hit by Harvey need both spiritual comfort and material aid.
"Everybody got hit by this. Nobody was spared," he told the Register. "This is an equal-opportunity disaster for the people of Houston."
Cardinal DiNardo is visiting affected areas, meeting with pastors and checking up on how their parishioners and parishes are doing. At least four parishes are underwater, and 40 have reported damage. While Houstonians are generally "resilient," the cardinal said the Church is going to have to accompany people through a lot of trauma.
"What is absolutely edifying, in the best sense, is to watch Houstonians and others help other Houstonians," he said, "whether it's volunteers, in terms of rescue, or bringing help, bringing clothing, bringing aid and, of course, bringing comfort. That's what we can do as a Church on all levels. And I think that's how we handle people in the trauma: always the comforting words of Jesus."
The Texas Catholic Conference has mobilized Catholic Charities to provide relief.
Archbishop José Gomez of Los Angeles, the vice president of the U.S. Conference of Catholic Bishops, gave an impassioned appeal for Catholics to generously support the relief effort. Dioceses across the country and as far away as Alaska began setting up special collections to help, either for the weekend of Sept. 2-3 or Sept. 9-10.
"We also stand with our brother bishops in the region who have the difficult task of providing pastoral care in these most trying times, while managing their own losses," the archbishop wrote, saying, "Our prayerful and financial support is urgently needed."
President Donald Trump signed a proclamation Sept. 1 declaring Sept. 3 a "National Day of Prayer" for the state of Texas in the wake of Hurricane Harvey. Both he and Vice President Mike Pence have visited Texas in the aftermath.
Power of Prayer
Trapped in their neighborhood by rising floodwaters, with nowhere to escape, Emmanuel Nguyen and his family lost count of the Rosaries and Divine Mercy Chaplets they prayed in their home. Their neighborhood had become a virtual island. Surrounding roads had water up to the streetlights, and a small navy of private boats was busy rescuing inhabitants of the surrounding neighborhoods.
"If we had to escape, we couldn't," Nguyen said. "We really had no place to go."
Nguyen said most people in Houston did not expect Harvey to hit so hard. Nyguen said the generosity of Houstonians in the crisis has been inspiring. He said he now wants to watch Dunkirk, the film that recounts what Winston Churchill referred to as the "miracle of Dunkirk," where ordinary British civilians in small, medium and large boats helped their navy rescue more than 300,000 stranded British and French soldiers from advancing Nazi German forces from May 26 to June 4, 1940.
And he truly believes prayers make a difference, and he and other Houstonians are grateful to have them.
"Prayers are just really important," he said.
Pastors have also been comforting their flocks by posting pictures of their churches and the ongoing situation. Derby said she knows parishes have been using "Facebook Live" to pray the Rosary together or allow isolated people to partake of Mass.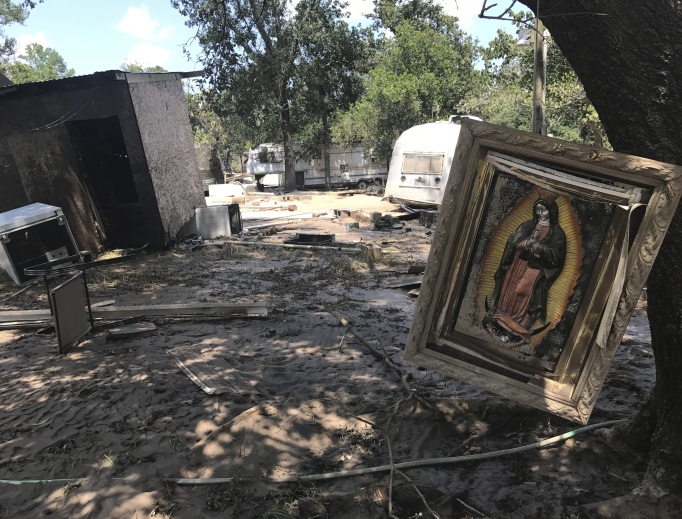 Father Elias Rafaj, pastor of Houston's St. John Chrysostom Byzantine Catholic Church, said since Sunday morning he has received "a deluge of messages, phone calls and emails from around the world."
One woman from war-ravaged Aleppo, Syria, reached out to him over social media and said that she was praying for him and his parish.
"Moved me to tears," the priest said. He had been praying for a long time for the woman — and her bishop, the kidnapped Archbishop Yuhanna Ibrahim.
He said human suffering elicits compassion, adding, "I think we'll be seeing a lot more of that as this disaster unfolds."
Tragedy and Triumph
Initial estimates of the damage from Hurricane Harvey are $20 billion, but the loss of life in Houston and the Gulf Coast is infinitely more costly. The stories are only starting to emerge: Among the dead are Sgt. Steven Perez, who went to work in Kingwood as Harvey raged because people needed him, and Collette Sulcer, a 41-year-old mother and surgical technologist who saved her 3-year-old toddler at the expense of her own life when their vehicle became overwhelmed by the rapidly rising waters in Beaumont. And two volunteers died from electrocution by submerged power lines after their boat was overtaken and capsized in the current.
However, the toll could have been worse. One of the difference makers was how neighbors took to social media to help civilians and authorities work together to rescue people from the flood. Derby said some of her neighbors were rescued because enough people shared their cries for help on Facebook. And rescuers in boats posted: "I have a boat. Call this number."
While Houston and the surrounding area have seen some people take advantage of the situation, either by outright theft or price-gouging, Derby and other Catholic Houstonians said they believe the best of their city and the country was on display for the world to see.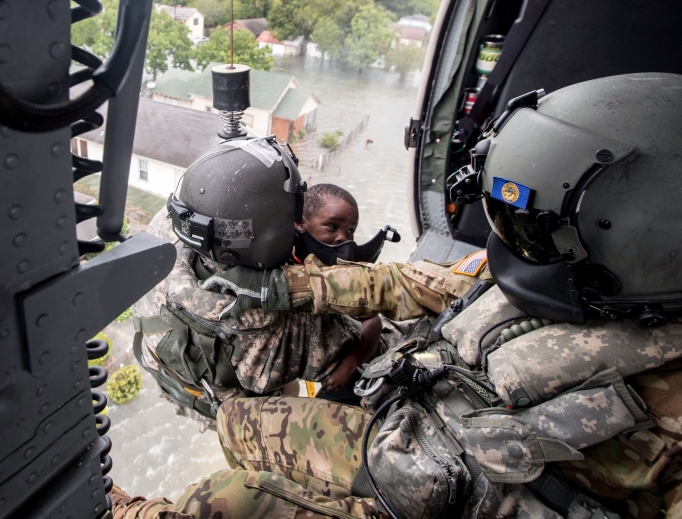 "Nobody's asking, 'Who did you vote for?' before they put you in the boat," she said. People of all races, classes and creeds came together in the crisis, and — together — they will rebuild.
"After we have a little time to think about this, I hope we can say, 'What a little picture of the Kingdom of God.'"
Peter Jesserer Smith is a Register staff reporter.