Catholic Family Goes Back to Nature: Harvesting God's Good Earth — and Faith
Feature for National Farmers Day
Converting to Catholicism was a major life change for Jesse Straight and his wife, Liz, but not in ways they could have anticipated. The couple and family now live on the 80-acre Whiffletree Farm in Warrenton, Virginia, and they use farming to honor God through raising stock and feeding the community. 
Catholicism has profoundly changed their lives. As Jesse Straight noted, their faith supports their goals to seriously reflect on their vocation to family and home, and in so doing, to resist modern culture's disintegrating forces that pull the family apart. They make their home the center of family life, where good and beautiful things are produced, like food and education.
"And in terms of the farm," Jesse said, "it is understanding as much as we can about God's world, how God made the natural system and how we can work within that. In a posture of humility and gratitude and attentiveness, we want to follow God's order, rather than imposing our own."
Why farming? "I was a normal suburban kid," said Straight, who was raised as a Protestant, "and farming was not on my radar." A pre-med graduate from the University of Virginia in Charlottesville, he spent time trying to figure out his life's goal — until he read Wendell Berry's book A World Lost, a critique of the transient nature of modern life that separates families, communities and church and offers a vision of the alternative "good life" that retains an integration of all the people, places and parts of a person's, a family's and a community's life.
"That got me interested in the vision of a good life," he said. "I was born and raised in Warrenton, and I wanted an integrated life. I wanted work, home and community to be the center of my life." To achieve that, he and Liz moved from Charlottesville back to Warrenton — but with a major life transformation. 
"My wife and are both converts," Straight said. After college, the two attended St. Thomas Aquinas Church in Charlottesville. There they learned that Catholicism supported all that should matter in life: the family, the community and "rootedness."
"We came into the Church at the Easter Vigil of 2009," he said. "That next Monday we moved back to Warrenton to start the farm."
Idyllic Whiffletree Farm, located down a country road, is situated among beautiful historic farms and only 3 miles from Old Town Warrenton, where Straight's parents live, and where the only Catholic parish in the county is located. The farm had been on the market for a while, said Straight, so Jesse and his wife moved in. "We were excited," he said. In fact, Father Mark Moretti, the former pastor of St. John's Catholic Church in Warrenton, blessed the Straight's farmhouse. And when he can, Straight participates in the Knights of Columbus and has many parish family siblings working for him on the "Poultry Processing Crew," "Egg Cleaning Crews," delivery and covering the farm store.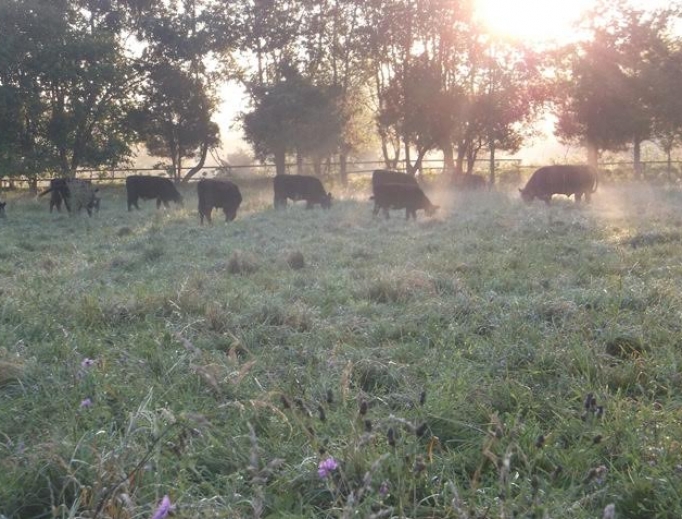 Without any prior agricultural experience, Straight really had to start from scratch. Over the past eight years, however, he has come to the point of raising the following for this year: 700 to 800 turkeys, 12,000 chickens, 160 hogs and 70 cows. A critical development in the business came two years ago, when Jesse's friend Jonathan Elliott joined the team after graduating with a master's degree in theology from the Dominican House of Studies in Washington. They now deliver their products to delivery drop sites, where customers who order and pay online can pick up at a central drop site in their area, and to many restaurants, which account for about 60% of his business. And an on-site store sells Whiffletree's meat and eggs, in addition to other sustainable, local products like organic vegetables, local raw honey, grass-fed lamb and other farm-friendly products.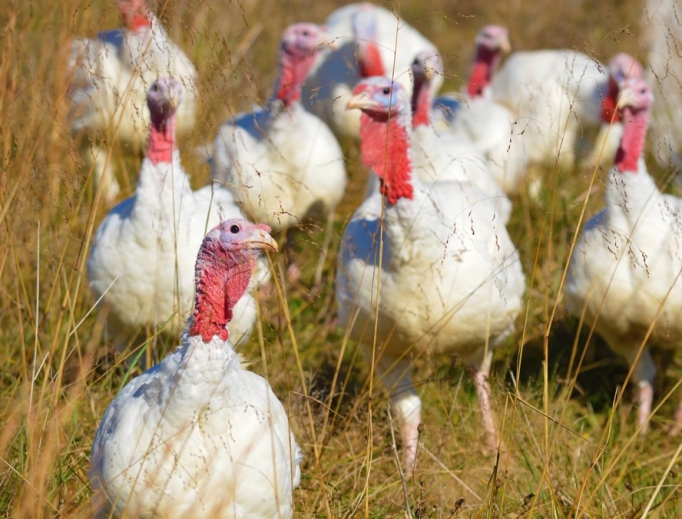 There is also a summer intern plan program for aspiring farmers to learn sustainable farming practices as well as the skills to run farming basics at no cost. "It is a four-month program," Straight said. "They work for us, live the farm life and sometimes eat with me and my family. We provide room and board and a stipend, and they learn the nuts and bolts of farm production. Plus, our program is distinct in that we have weekly business meetings where we teach the interns on how to actually run this kind of business, not just raise the food!"
Straight's life has changed from his pre-med days to his busy farm life. But his most significant lesson has been this: understanding the link between farming and what God intended with the earth. "God has made the world in a particular way," he said, "and it is our duty to pay attention to how he made it work and to not impose our will on nature. This guides us to do good work, to benefit all parties involved, to pay attention to how animals live in nature, and how to live in humble appreciation."
Alexandra Greeley writes from northern Virginia.
INFORMATION
Whiffletree Farm
8717 Springs Road
Warrenton, VA 20186
Online: whiffletreefarmva.com
Phone: (540) 229-5192
Email: [email protected]