A Little (Medical) Embassy of Lourdes — in California
In Oakland, a free clinic ministers to the uninsured.
OAKLAND, Calif. — Fred Pons, 55, has a standing date to volunteer at the Order of Malta Clinic of Northern California.
"They've got some cabinets they want to put locks on," said the house painter. "I'll go to the clinic and volunteer some time."
Volunteers are nothing new at the Oakland free medical clinic. Everyone from the general practitioners to the specialists to the nurses are unpaid volunteers.
What makes Pons special is that he's also a patient.
"I'm a patient that's very grateful for the assistance the clinic provided," he clarified. "I used to have Blue Cross Blue Shield, and I've never been treated this good."
The Order of Malta Clinic opened its doors in 2008 with the goal of serving the uninsured — and, more recently, the underinsured: the unemployed and the working poor.
Earlier this summer, the clinic celebrated its 25,000th patient visit. Many come for treatment of chronic diseases, like diabetes and hypertension, while others need a specialist, like a dermatologist, gynecologist or rheumatologist.
"From the day we opened, we've made it real simple: If you don't have insurance, come on in," said John Christian, president of the clinic's board of directors.
"When we opened up our doors, we didn't know if we'd last two years," he said. "Now, we're too big to fail!"
The Little Clinic That Could
"Big" can be a relative term.
The clinic is a scant 1,800 square feet, located on the campus of Oakland's Cathedral of Christ the Light. Its annual budget is $550,000, and it's open three and a half days a week — at a cost of $3,600 a day. It accepts no funding from government agencies and no payments from patients, surviving strictly on donations, proceeds from an annual fundraising dinner, and grants from several charitable organizations, as well as an annual grant from the Western Association of the Knights and Dames of Malta.
"If we were to go full retail, as to the value of services and labs, analytical tests and prescriptions that we do support, our budget would be measured in seven figures annually. And not starting with a one, I assure you," reported Christian dryly.
On this shoestring budget, the nonprofit clinic survives thanks to the devotion of its volunteers — about two dozen volunteer physicians and about three dozen volunteer nurses, as well as several volunteer nurse practitioners. The tiny paid staff includes one paid nurse practitioner, a receptionist, a scheduler and a medical director.
Interim medical director Dr. Vona Lorenzana currently serves in that capacity — and she describes her work at the clinic as the culmination of her professional career.
"It's like a call finally being answered. Maybe there is a reason I went to med school!" she said.
She points out that the clinic serves the wider community, reaching into San Jose, Napa, Sacramento and even Contra Costa County. The need continues to grow: Patient visits this year are up 20% over last year.
"Our health care system is probably the best in the world, but it is still far from being perfect. While we're trying to make it better, there are so many people who fall between the cracks," explained Lorenzana.
"It would be a wonderful thing if we could get more grants or donations to open longer hours. We have patients who get sicker when we're not open because we're just not there."
Pons is a case in point. The El Sobrante resident had known he had hepatitis C, but the clinic he used to visit closed. After that, years passed without any regular health care visits or treatments. After learning about the Order of Malta Clinic, he visited. Staff found that Pons could apply directly to the pharmaceutical company for treatment — so he received a three-month course of pharmaceuticals, which would normally cost six figures, at no charge. And just four weeks in, tests revealed no further sign of hepatitis C.
It's not surprising that Pons is a big fan of the clinic — nor that it would be his first stop when he experiences a health issue. But the clinic's schedule doesn't always make it easy.
When his arm swelled dramatically after he was bitten by a spider on a Wednesday night, the clinic was closed. He reached out to a couple of other local clinics, trying to determine how much it might cost him to seek treatment there, but they were reluctant to give him any numbers, and he hesitated to visit without knowing how it might impact him financially. On Friday morning, he stood in front of the Order of Malta Clinic doors, waiting for them to open.
"They were able to treat me," he said simply.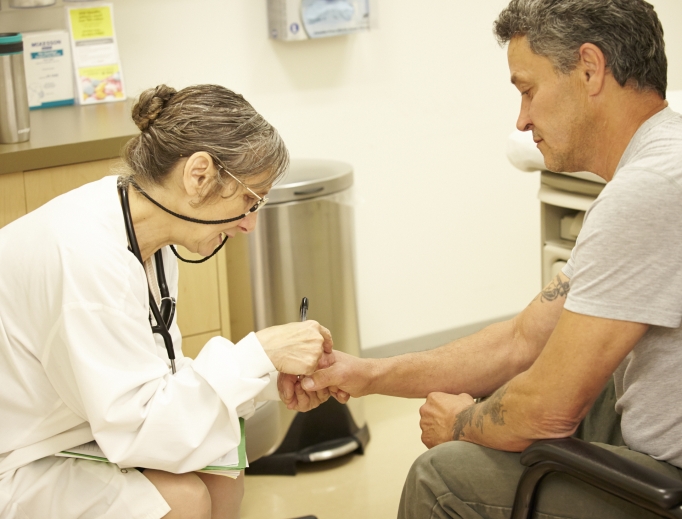 A Service and a Ministry
Many of the clinic's volunteers are not Catholic, and patients come from any and every faith background. But the clinic's roots are both ancient and firmly Catholic. (A lay religious order of the Catholic Church since 1113, the Order of Malta got its start when the Knights of Malta — then known as Knights Hospitaller — established a hospital in Jerusalem.) And it's not unusual for volunteers to speak about how their work at the clinic impacts them spiritually.
"It's a pretty joyful situation," said Dr. Tom Wallace, a Knight of Malta­ who has practiced medicine for 60 years.
He describes his work at the clinic in simple terms: There is no money exchanged, no regulations dictating which patients can be treated — or how. Each patient is scheduled for a 30-minute visit, he added, "and sometimes it takes even longer than that."
It is medical care for the sake of caring.
"This is a great way to practice [my] nursing skills and to do some volunteer work," said Nancy Cecconi, a Dame of Malta who has been a nurse for 40 years, "but most of all, to follow the mission of the Order of Malta, which is to care for the Lord's poor and sick."
For Jesuit Father Javier Diaz, work at the clinic is part of his priestly vocation. After being ordained a Jesuit one year ago, Father Diaz — who completed medical school in 1998 — was in search of an opportunity where he could exercise medicine as part of the works of mercy in his vocation as a priest. The Order of Malta Clinic was that opportunity: He says Masses and hears confessions at the cathedral and provides medical care at the clinic.
"The clinic is trying to do a lot of things, but still, there are so many needs out there," he said. "We are ready to respond with whatever we can to serve God and to seek an opportunity to do that work of charity."
Lorenzana phrased it differently. "I love the way we preach the Gospel without words. No words here: just action."
That includes expanding on the volunteer core. One of the newest additions is a urologist — which Pons discovered on a recent visit to the clinic. Knowing that he has kidney stones, clinic staff told him about this new addition to the team and scheduled an appointment for him.
"The clinic is awesome," he said. "I can't say enough about it."
Register correspondent Elisabeth Deffner writes from Orange, California.
INFORMATION
To learn more or donate, visit OrderofMaltaClinic.com. Or make a check out to Order of Malta Clinic of Northern California and mail c/o Sara Cumberlich, 33 Bellevue St., Piedmont, CA 94611.