Seeking 'Mama Mary'
PHOTO ESSAY: The Blessed Mother Always Leads Us to Her Son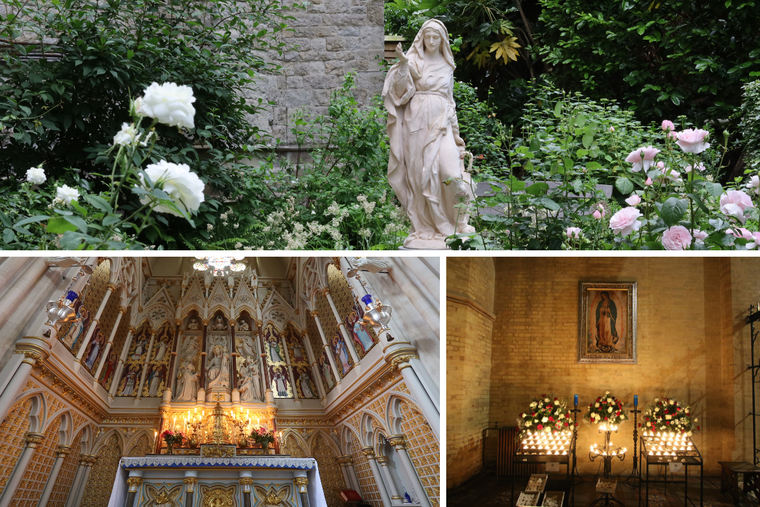 Having been brought up in an evangelical household, Marian devotion was foreign to my initial experience of Christianity. Hence, even when I became a Catholic in my teenage years, I said to my classmates in the Catholic school I attended in Singapore that I was going to be a Trinitarian Catholic. I did not need Our Lady, I thought. However, Mary is always a gentle and kind mother, and, thankfully, she forgave my rash and youthful boast, and she has become an integral and necessary part of my Christian life.

Gradually, I grew in understanding that Mary always leads us to her Son, our Savior. Thus, one of my favorite hymns in school began: Mary the Dawn; Christ the perfect Day. This gave me a sense that all Mariology and Marian devotion is at its core Christocentric. So, as St. Cyril said at the Council of Ephesus, which gave the title Theotokos (God-Bearer) to Mary: "Since Our Lord Jesus Christ is God, how can the Virgin, who gave him birth, not be the Mother of God?" Even as a catechumen, I recall my catechists asking me to explain this doctrine to my fellow Protestants who were struggling with this. My knowledge of Mary was doctrinal and docile to the magisterium, but it lacked devotion, which is a warm love of Mary as my mother.

Such maternal love came to me when I was a lay missionary in the Philippines, a country that loves Mary with great warmth and fervor, and they call her simply "Mama Mary." The Filipino people taught me by their example to have a simple faith, to trust in God, and to love the Blessed Mother. Through various signs, in my year in the Philippines, Mary showed herself to me in a personal way. In particular, I discovered the marvel of the sacred tilma of Guadalupe, and Mary's words to St. Juan Diego resonated in my heart:
"Let not your heart be disturbed. … Am I not here, who is your Mother? Are you not under my protection? … Are you not happily within my fold? What else do you wish?"

The promise of Our Lady's protection under her mantle was especially powerful, and in 2010, I experienced its reality in a dramatic way. On the eve of the feast of Our Lady of Guadalupe that year, I was involved in a serious bus accident; the bus overturned at high speed and came to rest on its side. I walked away from the wreckage unscathed — all the windows had smashed, except the one I had been leaning against. I knew then that Our Lady was protecting me and my vocation. So, in 2011, at my priestly ordination in Oxford, my friend, the composer Sir James MacMillan, conducted a choral piece featuring the words of Our Lady of Guadalupe that he had written at my request. I offered it to Our Lady in thanksgiving for her motherly love and protection.
Mary continues to guide and help my priestly ministry, calling me to serve in her Rosary Shrine in London as rector and also to preach and promote her holy Rosary throughout the world. Each day I realize how weak and unworthy I am, but I also know how gentle and forgiving our heavenly Mother is.


Dominican Father Lawrence Lew is the rector of the Rosary Shrine at St. Dominic's Priory in London. Father Lew is the author-photographer of Mysteries Made Visible: Praying the Rosary With Sacred Art.