My Wife is Catholic Because of Pope Paul VI
We couldn't be more grateful to those faithful Catholics who brought us sweetly and courageously into the Church, and now, we await the official recognition that Pope Paul VI is a saint.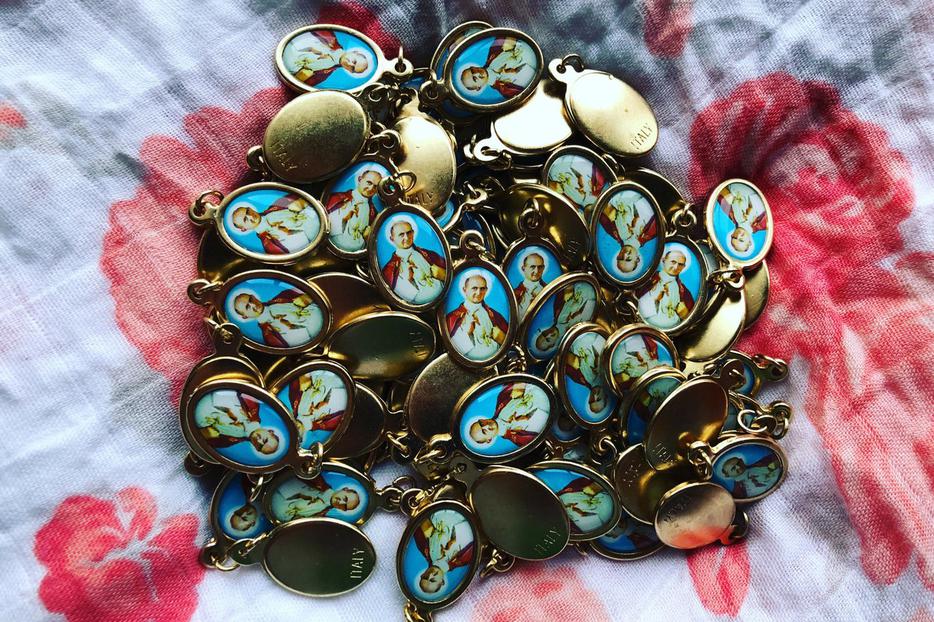 Several months ago Edward Pentin broke the news to the Register audience that Pope Paul VI was being canonized. There is perhaps no greater pope that has made a more significant impact on my marriage than Pope Paul VI. And currently living in Italy, this was exciting news. "Perhaps I can get tickets to the Mass" was the main thought for months. 
But the process of getting tickets to a papal Mass at the Vatican is not a simple one. Actually, yes, it is simple. Maybe too simple. All you have to do is write a letter to the correct office with the name of the person or group, and how many tickets you want. There's no strict provision for who gets a ticket, and actually, nobody really knows if they have a ticket until they arrive to pick them up. This is the common process. I'm sure insiders have a different means, but this is the way I had to get them. Again, pretty simple, but plenty of gray area, too. Imagine showing up to pick up tickets that were never reserved for you.
Well, gratefully, I have tickets. I found that out only a week ago! Train tickets were booked months ago, accommodations have been paid for, and my wife and I are entirely beside ourselves to be part of this glorious event. And again, Pope Paul VI has a significant influence on my marriage. 
The thing is, in a way, Pope Paul VI brought my wife into the Catholic Church. You can see my full story from my appearance on The Journey Home in 2017, but in short, I came into the Church after a months-long feud with a Catholic friend, attempting to prove him wrong on the Catholic Faith. But after countless late nights of reading the Church Fathers and history books from secular and Catholic authors, I was entirely convinced that the Catholic Church of today was remarkably visible in the early Church. In fact, it was the only faith I saw in the early Church—enough said! So I chose to convert and entered into RCIA.
Meanwhile, my wife was pregnant with our first. She had complications up front and was highly un-interested in hearing about my hopes of finding truth in the Catholic Church. Soon, though, God made a path for her by having a friend recommend a specialist. Actually, the specialist. She was referred to none other Dr. Tomas Hilgers, founder of the Pope Paul VI Institute and a worldwide authority in women's reproductive healthcare. I knew we were getting good care, but it was heartwarming to pray for my spouse and see a certificate of papal blessing from Pope Paul VI hanging in the lobby at the Institute. Because of his outstanding teachings provided in Humanae Vitae, Dr. Hilgers named the apostolate after the pontiff. 
Soon, my wife would come home telling me how confident she was in her pregnancy, how heartwarming the physicians were, and how much care they placed into her as a woman and not just a client. Over time, she was overtaken by their generosity and their clear devotion to something deeply important to her: life. Nine months after I entered the Catholic Chruch, her decision was permanent, and she was confirmed on the First Sunday of Advent. All thanks, in a unique way through the wisdom of Pope Paul VI, my wife entered the Catholic Church. 
Now, we have four kids. Oh my gosh—writing that is still a wake-up call for me! 
And today, we're all here, in Rome, less than 15 hours from his canonization Mass. We couldn't be more grateful to those faithful Catholics who brought us sweetly and courageously into the Church, and now, we await the official recognition that Pope Paul VI, born Giovanni Montini in 1897, will enter into a permanent state of recognition for his pivotal life and shepherding of the Church at a critical time in its history. Here are some pics from St. Peter's Square the evening before. 
Oh, also follow me on Twitter (@shaunmcafee) and Instagram (@shaunmcafee) as I cover the canonization live.