Music that Raises Your Mind Heavenward
I always hesitate to accept review copies of music. I don't consider myself an expert on music; enjoying a good album or a certain kind of sound just makes me a fan.
But when I listened to the two albums that were in my mailbox, I knew I had to share about them here. They're simply too good not to.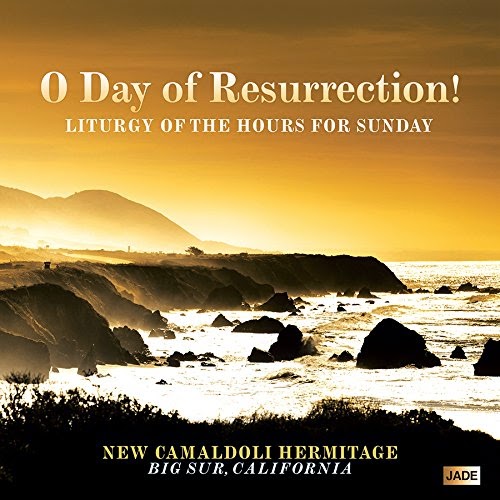 O Day of Resurrection!: Liturgy of the Hours for Sunday (Jade Music) is a 27-track recording of the monks from the New Camaldoi Hermitage in Big Sur, California. The tracks are, specifically, the monks chanting the Liturgy of the Hours in their chapel at the hermitage.
It's divided into the sections corresponding with the way the Liturgy of the Hours is prayed: Vigils, Lauds, Vespers, and Compline. Though it lacks the readings that each hour would have (these change by the specific day), it is a beautiful compilation.
It's an opportunity to hear and participate in a slice of religious life. Though I try to pray parts of the Liturgy of the Hours as my schedule permits, my prayer lacks both the community aspect and the beauty that this album encapsulates. Listening to the chant — which I'm sure is done just as the monks would normally do it, because this is part of their normal routine — takes me deeper into the prayers themselves.
The Psalms come alive, and I can't help but hope that the monks consider making more albums for other days and seasons.
Here's a behind-the-scenes video to give you a taste:
Christmas in Harvard Square (AimHigher Recordings) features the amazing Boys of St. Paul's Choir School. Though this isn't their first album, it's the first nationally released version. (It was featured recently here at the Register.) And, from what I've read, it's doing well: in its opening week, it took the number 2 spot on the Billboard magazine overall Classical Traditional Chart, number 6 on the Classical Chart, and number 4 on the overall Seasonal Chart, which includes all Christmas and holiday albums.
This is the kind of Christmas music that makes me not mind Christmas music before Thanksgiving. "It reminds me of being in church," my mother-in-law said when we played it at her house. "It's great!"
I'm not usually a big listener of Christmas music before about the third or fourth week of Advent. I've found that it just burns me out sooner and feeds my inner Scrooge. However, after listening to this, I can't help but wonder if the the kind of Christmas music influences my negative mindset as much as the fact that it's Christmas music.
Included among the 19 tracks are such favorites as "O Come All Ye Faithful" and "Hark! The Herald Angels Sing." There are also songs I've never heard, but immediately loved, such as "Jesus Christ The Apple Tree" and "A Maiden Most Gentle." 
This album really captures the Advent and Christmas mindset from a Christian perspective. It's beautiful and professional
For more about the school and the album, watch this video: