Images from Rome's March for Life
Thousands of participants from all over the world took part in Italy's 5th March for Life on Sunday. Here below are some photographs of the march which began on the Via della Conciliazione close to the Vatican and ended near Circus Maximus in the center of Rome.  The organizers described the march as an "extraordinary success."
Below the images are comments from some prominent participants: Mary Rathke who was conceived through rape and is now a pro-life activist, Cardinal Raymond Leo Burke, Church historian Professor Roberto de Mattei, and Maria Madise, director of Voice of the Family.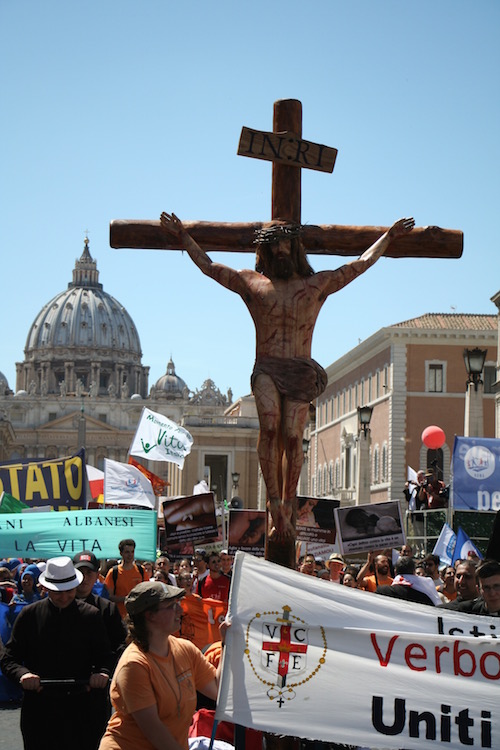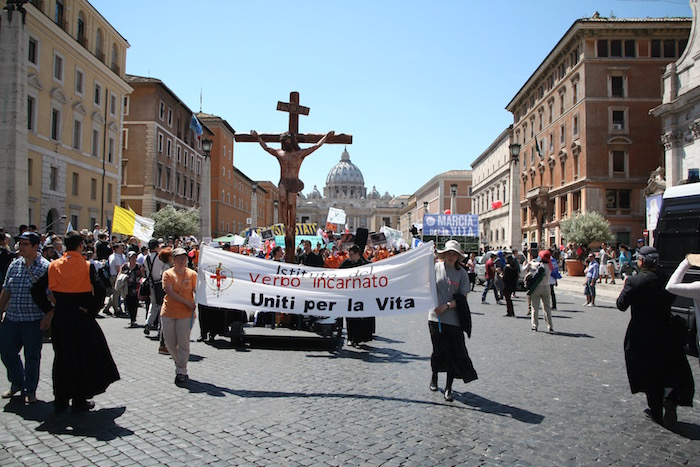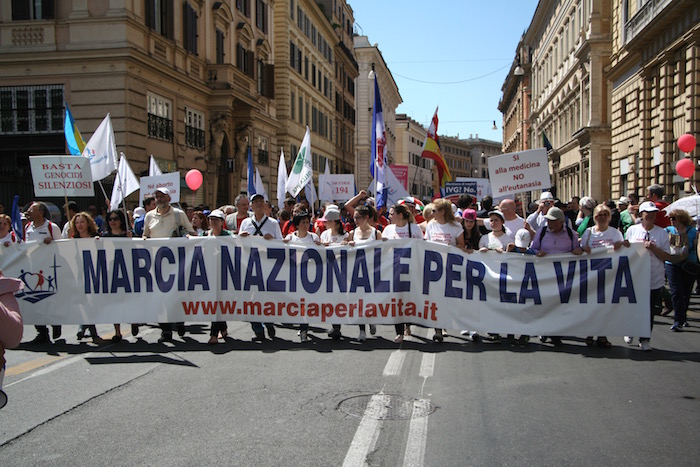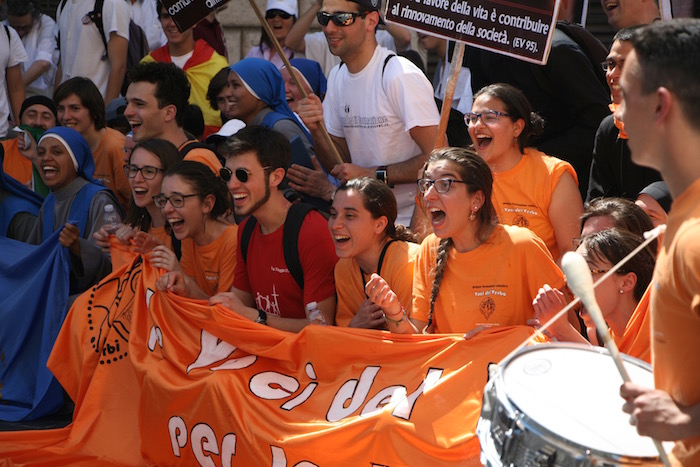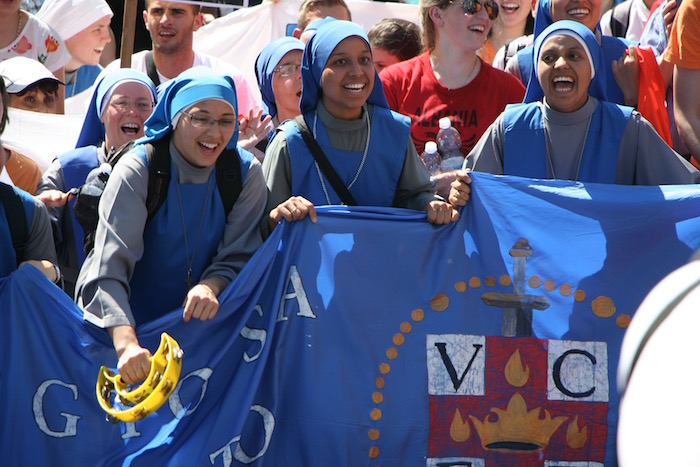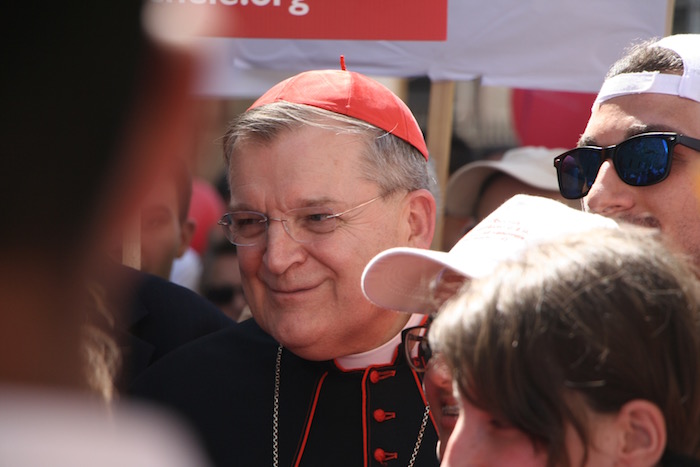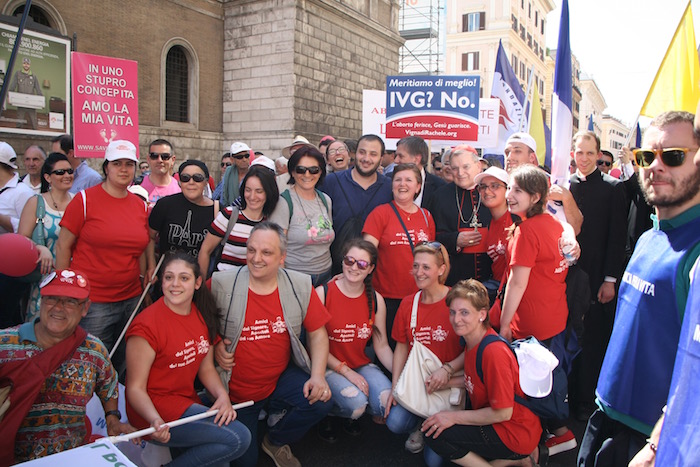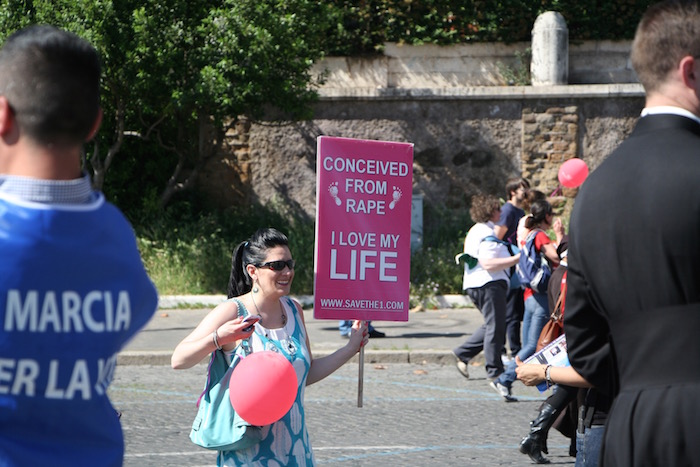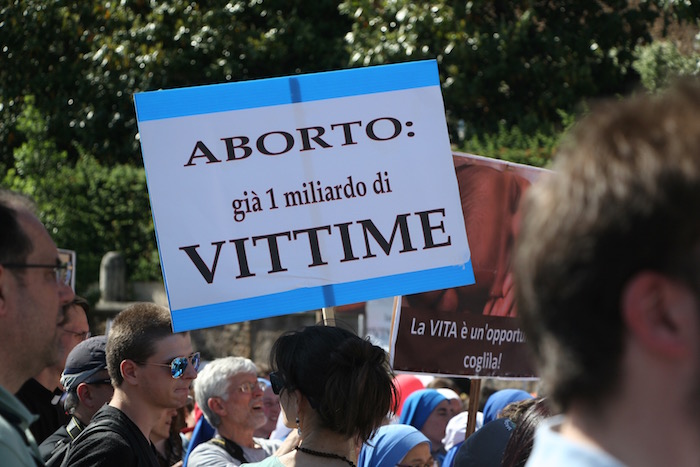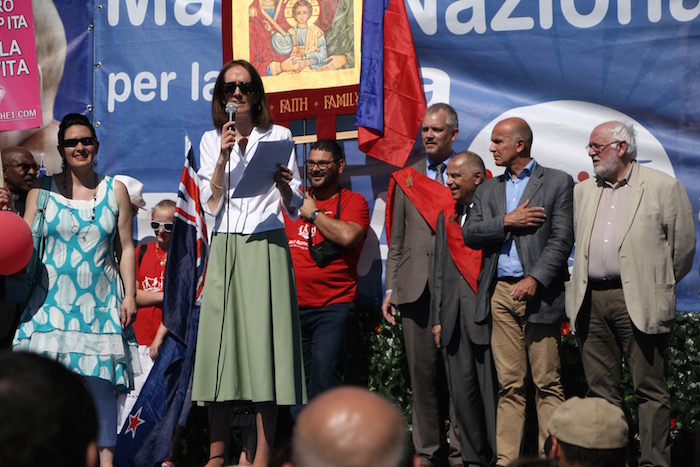 Photos: Edward Pentin
Some comments on the March for Life from some key participants:
Church historian, Professor Roberto De Mattei:
"This march has been a great success, greater than last year, because we have many more people. But the number is not important, rather the fact that there are many groups coming from everywhere: the US, Australia, New Zealand, Croatia, Romania, Russia. And there is great enthusiasm. We are happy to have the presence of Cardinal Burke who is participating for the 4th time, also many priests, Italian and foreign. This shows the public acknowledgement of the rights of God rather than the so-called pseudo rights of man, as abortion is defined. This is a strong protest against abortion, euthanasia, and we are all here to defend innocent life from the very beginning to natural death. So this is a strong message to the political class, to bishops, media and anyone who wants to understand what this crowd signifies."
Cardinal Raymond Burke, patron of the Sovereign Military Order of the Knights of Malta:
"It seems to me that the march grows stronger every year, giving a more powerful witness to the absolute respect to defenseless life. I'm very pleased. I'm no good at judging numbers, but we're covering a long distance here with the marchers.
In Italy and Europe in general there are a number of initiatives that are anti-life so this kind of manifestation is very very important. The spirit is very positive, people are filled with hope and happy to give themselves to this kind of witness."
Maria Madise, director of Voice of the Family:
"I've been really impressed with the presence of clergy and the international presence of prolife leaders. This is a beautiful witness, and shows a great cross section of the whole of society, from children to high ranking people who made the effort to come and be with us here. There's no better time for speaking out… This is the chance to speak the truth to help guide people.
It's not only about the unborn but for all life, no matter how vulnerable, how infirm or how old. We are marching for everyone, for those in the womb, in the hospitals, for those too old to enjoy life, for our children and our grandparents, and ultimately for ourselves and the whole good of humankind.
This is the strongest lay and clerical message to be given to the synod: that the laity and clergy can come together in such a way in such a great crisis, to celebrate life and marriage. To celebrate openness to life, that is the purity that resists the contraceptive mentality, which is the greatest destroyer of families, lives, and parenthood primarily. This really is the best way to urge the synod fathers to concentrate on the gravest issues members of our families face."
Mary Rathke, conceived through rape and now a pro-life activist:
"I'm from Michigan and this is the second time I've taken part in this march. In many places they use the exception of rape to make abortion legal ... There's this social stigma, that if you're raped and have this child, then it's the rapist's child, the monster's child and I can tell you that I'm not a rapist's child, I'm not a monster's child, I'm a mother's child and I'm a child of the most high God. I'm made in His image, and my life matters and if my life matters then we must defend all life. When a woman is raped there are two victims and we don't kill one victim to make the other one feel better. People think that abortion is the answer but honestly it doesn't make the memories of the rape go away. It just compounds the trauma, and women who do have their children say it was the best thing that came out of it. What man meant for evil, God used for good. I was adopted, adoption is a beautiful option. You give the child a family and life, you're not giving them away, you're giving them a gift, you're saying their life matters. So I'm very thankful that my mother had me. She was raped on her way home from work, and I am here to speak for all women who are too ashamed to speak about the pain they have gone through, and for all the children of rape who think it's a shameful thing. They can look at me and see they can love their life, and be happy and proud of their own lives."