Great New Children's Book about the Papacy
Lots of wonderful books for kids coming out of the Ignatius/Magnificat team this year. One of my favorites is Our Holy Father, the Pope: The Papacy from Saint Peter to the Present by Don R. Caffrey (Magnificat, 2013).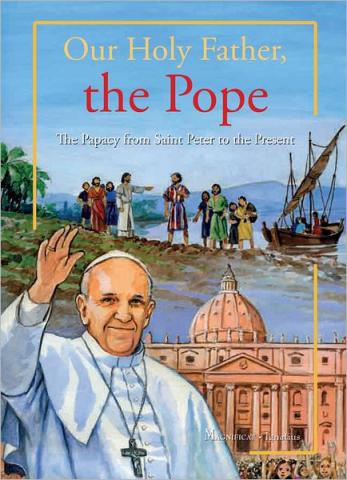 I haven't seen another book quite like this. In very simple terms (suitable for ages seven and up), it gives kids a basic but substantial introduction to what the papacy is:  how it was established, what happened to St. Peter, what it is that popes actually do, how a pope is chosen, and some brief sketches of the lives of popes who will be especially interesting to children.  
The deft, light-filled illustrations by Emmauel Beaudesson show a masculine, compelling Christ. There is an illustration of Peter denying Christ by the glow of a small fire,  while Jesus in the background turns his head to listen, that is especially well conceived -- and also the lamp-lit illustration of the last supper.  These are a cut above normal children's illustrations.  I was especially impressed by how well Beaudesson rendered the extremely familiar faces of recent popes. This is not an easy feat, to make their faces immediately recognizable without resorting to either caricatures or slavishly realistic copies of every last wrinkle and hair.
The book also includes a chronological list of all the popes, From St. Peter to Pope Francis, and an index of all the scriptural verses from which each short chapter was derived.  The book is bright and oversized, 44 pages long. It's an attractive book for kids, and will make a good refresher on the history and meaning of the papacy for adults, too.  It is filled with good information in its own right, and will also make a good conversation starter. 
I have high hopes for the future of Catholic children's books! There will always be mediocre and lackluster books out there, but we seem to be emerging from the silly season where Jesus is a noseless puppet who just wants everyone to get along. The books we read as children make a mark in our imaginations, and this one deserves to be there.