'Forever My Girl' Producer Escaped Religious Persecution in Iraq
This is the 14th movie for producer Peter Shilaimon, including Risen, the highly acclaimed 2016 movie about the Resurrection.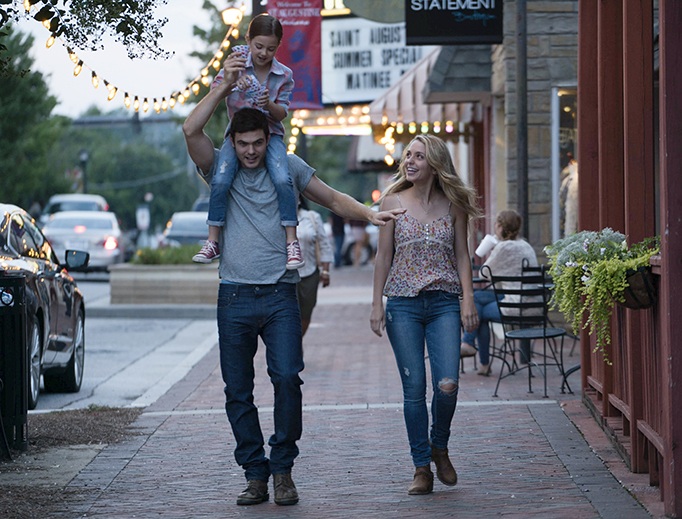 Leaving your bride at the altar would seem to be an irreversible relationship-breaker. In Forever My Girl, country music superstar Liam Page (Alex Roe) left his bride, Josie (Jessica Rothe), at the altar when a sudden opportunity in the music industry opened for him. He left without an explanation but never got over Josie, his one true love.
Too bad for him, right? After all, what sort of a jerk leaves behind the woman he loves just moments away from vowing to love one other until death do they part? It doesn't help that after the scene where Josie's world falls apart, the movie skips ahead to Liam's stardom and debauchery.
When Liam's best friend dies in a car accident, he returns to St. Augustine, Louisiana, for the funeral, the first time since he left years earlier. Liam is suddenly faced with the consequences of all that he left behind. He meets Billy (Abby Ryder Fortson), a precocious 7-year old who he quickly realizes is the daughter he never knew he had.
This is a love story that requires backtracking, catching up and redemption. Liam's dad is a preacher who sets forgiveness in motion, first through a Sunday homily, and then personally, for the bride was not the only one who felt abandoned.
Originally from Baghdad
This is the 14th movie for producer Peter Shilaimon, including Risen, the highly acclaimed 2016 movie of the Resurrection through the eyes of a non-believer. Shilaimon explained that although he's made a variety of movies, he particularly loves working on movies with a heart — movies that tell a story.
No surprise. He has lived such a story himself.
Shilaimon left Baghdad, Iraq as a youngster with his Catholic parents and three siblings in 1980. Things were heating up. Saddam Hussein formally rose to power in 1979, although he had already been the de facto head of Iraq for several years. Some in the Arab world praised Saddam for opposing the United States and attacking Israel, but he was widely condemned for the brutality of his dictatorship. The total number of Iraqis killed by Saddam's government is conservatively estimated at 250,000.
"My parents were very strong, churchgoing Catholics," Shilaimon said. "They didn't feel like having to cover up their faith."
Intolerance for differences in language, religion and ethnicity was increasing. As a sign of his consolidation of power, Saddam' had thousands of portraits, posters, statues and murals of him put up all over Iraq.
"There were a couple of incidents my mom incurred with people throwing stones at her for not wearing a hijab," Shilaimon explained. "And they were on the brink of war with Iran; everyone knew it was coming. My dad pretty much said to his family, 'I need to get my boys out of here or they are going to die.'"
Between the violence and worsening persecution, his parents felt it was time to leave. "There was no plan B," Shilaimon said. "Either go, or stay and die. I have a number of cousins who died so my dad made the right decision."
His father was a chauffeur for the Indian embassy and had inside information that something was going to happen. "There was also the American dream," Shilaimon said. "Going to the U.S. represented freedom to go to church and the chance to become someone."
Nights of Tears
From Iraq, they lived in Athens, Greece, for three-and-a-half years until they received visas to the United States. Regular letters and occasional phone calls from home revealed a high number of loved ones were getting killed. Shilaimon remembers "unbearable nights of tears." They had left so much behind but it was the loss of family that hurt most.
"Each of us had a little bag of belongings," he explained. "I remember my mom saying to us: 'Two things to always keep near you are the cross that you wear and a photo of your grandparents."
The Shilaimon family lived in a one-bedroom basement apartment with an outhouse. Everyone worked and pooled their money together. "My brother worked at a coffee bottling factory and another brother was a carpenter's assistant," he said. "Dad worked on cars, and I cleaned statue molds with my sister. We lived on potatoes and rice. It was a hard but incredible time. We had love. It was the most important thing."
In the U.S., the family settled in Anaheim, California. Shilaimon graduated in fine arts and theater from the University of California, Irvine. He fell into the movie industry by way of a fitness center he had opened in Beverly Hills. "Clients kept encouraging me and telling me I should produce a movie," he said. "As I was turning 40 years old, it dawned on me to listen."
Clients helped him get started with a job managing a movie set. He joined LD Entertainment in 2011 as executive vice president of production. And the rest, as they say, is history.
Shilaimon's father had his first heart attack at age 37, although he lived another 20 years. "He died of a broken heart," Shilaimon said. "He lived every day trying to help his family but missed his relatives in Iraq. He brought us to America and we got off welfare as soon as we could."
His mother is 76 now. "She's the apple of my eye," Shilaimon said. "She lives in Anaheim with my older brother. We take turns having her; she moves around with her kids. I also have two nephews living with me. It's been a good life."
Forever My Girl opens Friday, Jan. 19. It is rated PG for thematic elements including drinking, and for language.