Does Facebook Cause More Shallow Relationships?
What do you think?  Does using Facebook cause a person to have more shallow relationships? Many might assume so. In fact, much of the criticism of online Social Networking (especially from Catholic and religious circles) is that it encourages and supports shallow, superficial relationships at the expense of more meaningful ones. But is it true?
Actually, no. Recent studies, to what may be the surprise of many critics, show exactly the opposite.
A pew study this year revealed that people who use Facebook the most had 9% more "close relationships" than other internet users. This is a fairly trivial and obvious point for anyone who uses Facebook well. But it's one that needs to continue to be made to many parish leaders. Well here's some data to help do that.
Another common criticism of online social networking is that people use it to form a lot of fake relationships with people they've never met in person. This, at least in regard to Facebook, is also not true.
By far, the majority (93%) of most user's "friendships" on Facebook are with people they've met in person. And 90% of their friendships are with people they've met more than once.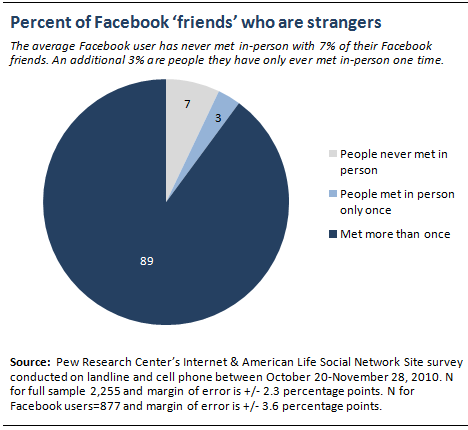 Facebook users are also more likely:
- to get more social support than others
- to have revived old, dormant relationships
- to be more politically engaged.
Click here to read the full study.
Facebook (and other online social networks like it) is not just something to be passively allowed or accepted, but something to be promoted. Keep in mind that these stats are just for the average user pioneering a digital continent where the Church is largely MIA. Imagine how much such stats could be improved if the Church could fully sink her teeth into this stuff even better promoting and encouraging its proper use? This is only the beginning.
When used correctly (and especially with the Good in mind), Facebook (and the like) is actually very helpful and powerful at doing many of the things inherent to the mission of the Church. And thankfully studies like this are confirming that Facebook is not only not the debil, but that it's actually good for something Good.