Countdown to World Youth Day: Singing the Sacred in Krakow
During a research trip to Krakow, I was able to time my journey with the ordination of a good friend. My guest room was across from a noisy bar, so adjusting to jetlag seemed to a fruitless effort. (Travel tip: don't forget your ear plugs.) The morning of the ordination, I slept through my alarm and frantically rushed into the church, still in something of a daze because my body thought it was 3am. 
I will never forget what happened next. The music started and I was suddenly taken to a place of beauty I never been to before. My fatigue vanished and I was completely enthralled with the orchestra's accompaniment throughout the ordination Mass. It was a Mass where the joy of the occasion – new priests – had music to truly match the extraordinariness of the event.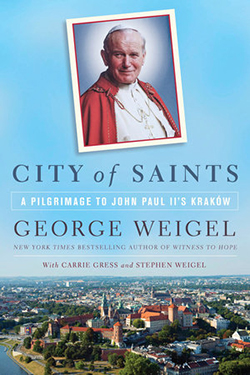 I eventually found out that the composer behind the work was a young Dominican priest, Fr. Dawid Kusz. (The music, featured in the album, Pieśń o nadziei, or Songs of Hope, is available on itunes and spotify) Fr. Kusz is part of a growing renaissance of sacred music happening today in Krakow, much of it spearheaded by the Dominican Liturgical Centre in Krakow founded by Dominican Fr. Tomasz Grabowski. 
Fr. Grabowski, who is finishing up a doctorate in theology focusing upon the 13th century liturgy, spoke with me about this resurgence of sacred music in the city. 
"Today a lot of young people are singing or playing medieval or traditional Polish music in professional or amateur ensembles. In the eighties, Catholic ministries started to emphasize the renewal of liturgical music," he explained. "The renewal was inspired by the Taizé tradition and chant written by Fr. Andreas Gouzes and the Dominicans in Toulouse in France. The rediscovery of renaissance music, and the call of the Second Vatican Council to support and strengthen the Catholic faith have also contributed to the resurgence." 
"A lot of people – mostly without formal musical education – who wanted appropriate forms of liturgical worship turned to Renaissance, Baroque and middle age music. Parallel to their efforts, the Dominicans started to adapt French or orthodox chant to Holy Mass. 
"People who were moved by the experience of beautiful worship promoted our Dominican chant hymnals, while others wrote new compositions in either contemporary styles or those discovered in the sacred music tradition."  
In an effort to share their work and train others in sacred music, the Dominican Liturgical Centre now hosts an annual conference, the Extraordinary Music Workshop (EMW).  
"Music is a profound way to worship God, but it is not easy," the young Dominican priest added. "We are training people from all walks of life, the educated, uneducated, wealthy, poor – anyone who has a love of music – how to chant and play liturgical music in a way that both honors God and the upholds the dignity of the Mass."
Extraordinary Music Workshop
While many of the participants for the EMW come from Poland, Ukraine, and Lithuania, a large number of musicians and singers reside in Krakow. "In Krakow today," Fr. Grabowski continued, "there are now many semi-amateur chant ensembles: Perfugium, Bractwo Lutni, Flores Rosarum, San Clemente, made up mostly of young people who sing because of their love of music, Polish traditions, and God. There are also a lot of professional choirs in churches and in public institutions such as the Wawel cathedral and Mariacki Church." 
In addition to liturgical music, many ensembles are dusting off older works of Renaissance and Baroque music, such as Floripari.(Most of their youtube videos are filmed in the Wawel Castle featured in City of Saints, or the Dominican Priory, which I will feature in a later article.) They have also dusted off an array of period instruments, including the virginal, a transportable small harpsichord; various sizes and types of lutes; and wind instruments, such as the gemshorn, made from the horns of cattle or goats, and the bladder pipe, a simplified version of the bagpipe.
Floripari
One of my favorite Polish chants is an adaptation of the words spoken by St. Faustina and inscribed on the Divine Mercy Image of Jesus, Jesu ufam tobie, Jesus, I trust in you. Pilgrims going to World Youth Day will no doubt encounter this Polish chant.
Jesu ufam tobie