Cardinal Müller: Pope's Words on Intercommunion Misunderstood
Doctrinal chief rejects Lutheran pastor's interpretation of Pope's words as "opening door" to intercommunion.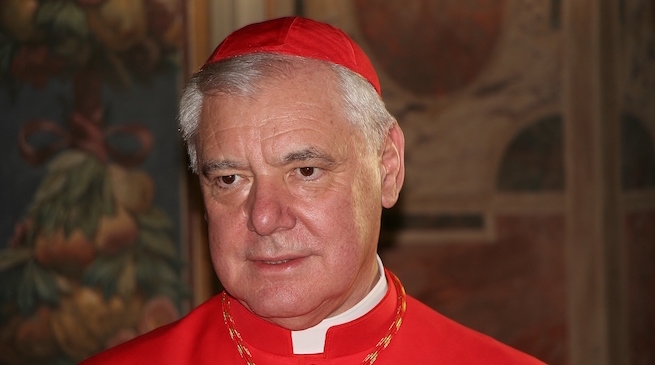 Cardinal Gerhard Müller has said Pope Francis' visit to a Lutheran church in Rome last month was a "sign of hope" for full visible unity, but that his comments were misunderstood as giving the green light to intercommunion because of a failure to take account of the differences between Catholics and Protestants.
In Dec. 22 comments to the Register, the prefect of the Congregation for the Doctrine of the Faith said "misunderstandings come up again and again because of a failure to take account of the fact that, unfortunately, there is actually a different understanding of the Church between Catholics and Protestants." 
These differences, he said, "are not only theological-conceptual, but of a confessional nature." He added that the Church continues in its ecumenical goal to reach "visible and institutional unity" with the Pope as head of the Church.
The Holy Father caused controversy during his visit to Rome's Evangelical Lutheran Church Nov. 15 when he urged a Lutheran woman married to a Catholic to "talk to the Lord" about receiving holy Communion "and then go forward", but added that he "wouldn't ever dare to allow this, because it's not my competence." (The video of the exchange with English subtitles can be found here).
Earlier this month, the church's Lutheran pastor, Dr. Jens Kruse, told the Register that he believed the Pope had "opened a door" to intercommunion, a door that Lutherans thought would be closed forever.
Here is the cardinal's comment in full:
"That [the Pope's visit to the Lutheran church] was a sign of hope, that the day would come when full unity of the visible Church in the profession of faith, of the sacramental signs of salvation and the episcopal constitution with the Pope as her head would be reached. Misunderstandings come up again and again because of a failure to take account of the fact that, unfortunately, there is actually a different understanding of the Church between Catholics and Protestants, and these differences are not only theological-conceptual, but of a confessional nature. But the most important object of ecumenical dialogue, which does not want to stick with the status quo (and use "colorful and nice" talk), is rather to lead the ecumenical movement towards its goal, namely the visible and institutional unity of the Church."
Photo: Edward Pentin/NCRegister.com