A New Comic About St. Finnian of Clonard
There's a new comic book about the life of St. Finnian and it's pretty darn cool.
I've got a small collection of Catholic-related comics and my kids happen to also enjoy some nice faith-based comic books as well. They're actually pretty well made and the writing is good. If you've been reading the blogs at the Register for a bit you've likely seen the work of Philip Kosloski. I got to know him a few years ago and took particular pleasure in his short book about St. John Paul II's visit to Wisconsin. It's been a pleasure watching him grow from that, to Aleteia, and now to a comic book series the whole family may enjoy: Finnian and the Seven Mountains, based on the life of St. Finnian of Clonard. 
This book is great. Like any comic, it can be read in 10-15 minutes and is filled with excellent artwork. Check out this page sample: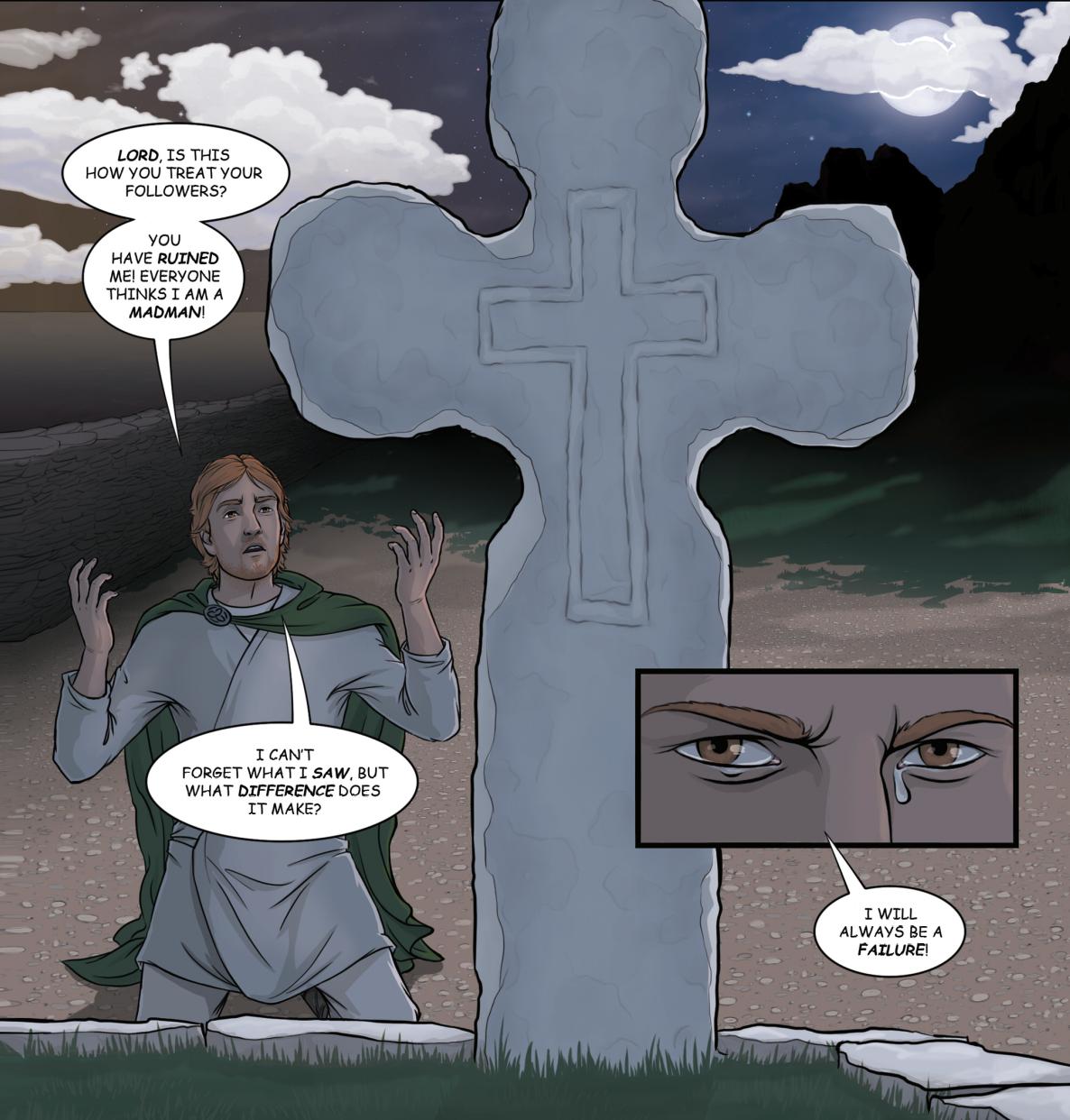 I'm happy with this book and I hope to read more. 
I also caught up with Philip to ask him a few questions about the series.
Shaun: I've followed your writing for years since the first time I saw your name and face at New Advent. I was one of the first to read and review your first book In the Footsteps of a Saint and absolutely loved The Last Monks of Skellig Michael. Tell me what caused you want to write a comic book series?
Philip: As a writer, I am constantly exploring new avenues, seeing where God wants to use my gifts and talents. Besides writing articles and books on spirituality, I felt called to explore fiction. Catholic author J.R.R. Tolkien is a personal hero of mine and I loved how he infused Catholicism into his story. However, at first nothing was working for me. Then I experimented with writing a comic book script and everything "clicked" and it came very naturally. It seemed clear to me that God was leading me in that direction.
Shaun: The first thing that I notice on comic books is of course the artwork. I really love it because it reminds me of the artwork I see in other modern comics and cartoons. Can you tell me more about the style you chose and the artist?
Philip: Since the two primary inspirations for me behind my comic book series are Star Wars and Lord of the Rings, I wanted the artwork to reflect that same epic style and feel, which I see as a blend of reality and fantasy. I was able to enlist the help of a very talented artist Michael LaVoy, who had a similar vision for it. We have also been aided by Marvel/DC Comics veteran Jim Fern, who brought along his 30 years of comic book experience to the table, giving us helpful tips on how best to portray the story.
Shaun: I'm excited about this series because St. Finnian's story is epic in real life, too. But what inspired you to tell Finnian's story?
Philip: The lives of Irish saints have always fascinated me, as the stories we have of them are a blend of the mundane and miraculous. Even St. Patrick's life contains some legendary events. Instead of dismissing these mythical elements, I chose to highlight and expand on them, giving readers a taste of adventure and fantasy from a Catholic perspective.
Shaun: Okay, one more question. Are there any Easter Eggs in this comic? I kind of feel like the puffin was more than a puffin, and the departing words from Abba were . . . special. Any hidden connotations or references here? 
Philip: Especially with the first issue, I chose to add a few elements that any Star Wars fan would notice and enjoy. There are many Easter Eggs hidden throughout the first issue!
Philip is doing something wonderful here. He's engaging modern art with the Catholic tradition and it's fresh and meaningful. I hope you consider checking out the print and ebook versions of is Finnian comicbook series from Amazon, or if you would like to help Philip further, please consider purchasing from his Finnian and the Seven Mountains Indiegogo page, where you may purchase both the first issue and the second.