3 Online Lenten Resources: Lent Calendar, Prayer-a-Day, Holy Heroes
I know Lent has started, but maybe I'm not the only one who still appreciates a good find. Besides, Lent is a long season. These three finds might be beneficial for you and your family.
Who said calendars were just for Advent? The folks at xt3 in the Archdiocese of Sydney, Australia, have pulled together a Lenten calendar for the sixth year in a row. It's online or available as an app for your Apple or Android phone or device.
Each day features a video, podcast, or written reflection, the daily Gospel, and a Lent act, as well as images from around Australia to "tell the Lenten story with an Indigenous Australian voice," according to the diocesan website.
It's a straightforward sort of approach to Lent, and one that offers a different viewpoint than anything else I've found. Part of that is that I live in the United States and I have zero exposure to an Australian Indigenous voice.
I'm excited to use this to supplement my own Lent.

This is a straight website, no downloading needed (unless you want a PDF to print). I first discovered this a few years ago via Creighton University's Praying Lent site.
The idea is that if you only have time for one prayer, here you go.
That's all it is. One prayer each day for Lent.
As someone who is often tempted to try to pack my Lent so full that I burn out by the first Sunday, there's something appealing in stripping it all down to this idea of one prayer. There's something almost too easy about it.
But I know from experience that it's NOT easy to sit and focus and pray. (Not for me, anyway.) It requires a set of muscles that too often get flabby and overlooked in the busyness of life.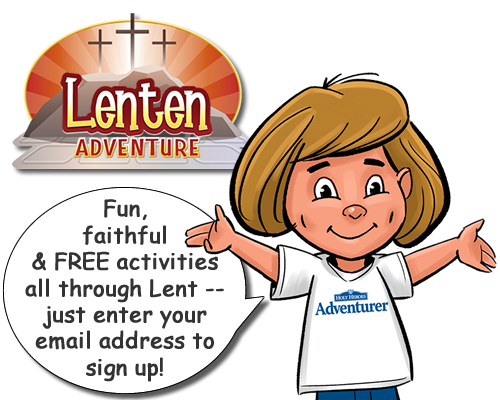 The Lenten Adventure with Holy Heroes
My struggle at Lent as a parent is making it something real for my kids. While I do have a number of books and other ideas, I was particularly intrigued by the Lenten Adventure being hosted by Holy Heroes.
You sign up and get emails on Mondays, Wednesdays, and Fridays throughout Lent. They link you to the video and activity. On Ash Wednesday, the two minute video talked about why it's called Ash Wednesday and what the significance of Lent is, even for kids.
There are printables for each day of Lent, including coloring pages and activities like crosswords and word searches. 
There are also a series of podcasts for each installment, including a decade of the rosary and an installment of the "Glory Story" of Pope Saint John Paul II.
Now, I would be remiss not to mention that this is sponsored by a company, and they do have products they're promoting. Judging from what I've seen of the free resources, I wish I had purchased the little roadmap set (and there's still time, now that I think about it). Even if I don't, though, what's there is enough for this year for my gang.