Professional Football Veteran Now Strives for Excellence in the Catholic Faith
Longtime quarterback Chris Greisen, now a teacher, is passing on what he has learned.
Chris Greisen's extensive professional football experience includes the National Football League (NFL), NFL Europe, the Arena Football League (AFL), the Arena Football League's developmental division (AF2) and the United Football League (UFL).
Greisen was drafted out of Northwest Missouri State in 1999 by the Arizona Cardinals, a team he stayed with until 2001. It was in the middle of his professional playing career that the Sturgeon Bay, Wis., native found his stride, setting touchdown and completion percentage records for the AFL's Georgia Force in 2007.
It was around this same time that Greisen was motivated to commit himself completely to his faith. Although he had converted to Catholicism before marrying his wife, Shannon, in 1999, he says it wasn't until he started listening to Lighthouse Catholic Media CDs that he realized the need to dedicate his entire life to God.
Greisen still gives private lessons to aspiring quarterbacks, but his main focus now is teaching theology and mathematics at Notre Dame de la Baie Academy in Green Bay, Wis. He recently spoke of his classroom and gridiron experiences with Register correspondent Trent Beattie.
You've played in five professional football leagues. What is the best part of pro football, and what is the worst?
I've played in every pro football league there is, except for the Canadian Football League, and I can say that the best and worst parts are the same for each of the leagues.
The best part is the camaraderie and being paid to play a game you love. I enjoyed constantly striving to improve as a player, whether that was in games or in practices. Like any player, I enjoyed playing, but I even enjoyed the things that are generally considered mundane, like watching film on future opponents.
What I didn't like, which is the case for anyone in any profession, is the politics. At times you'd get a clash of egos, and there would be fighting about what needs to be done and who needs to do it. You'd also get a lot of people who would tell you what you want to hear but would do something completely opposite.
When I was first drafted into the NFL for the Arizona Cardinals, I thought, "Wow, I had a great experience with outstanding coaches in college, and now that I'm in the NFL, it's going to be even better." Well, that's not how it turned out.
Generally, professional coaches tend to treat you like a can of beer. They pop you open, see how you taste, and when they're done with you, they toss you to the ground and crush you. It's the same with a Chris Greisen as it is with a Brett Favre — you're only valued for what the coaches think you can bring to the table, and once they stop thinking you have something to offer, you're done. My NFL experience was much shorter and less impressive than Favre's, but the general concept is the same for any player: You're a commodity, not a person.
After your first NFL experience from 1999 to 2001, you played in the high-scoring Arena Football League. Did that help you throw better when you returned to the NFL in 2010 with the Dallas Cowboys?
The Arena League has different rules and a smaller field, so it's easier to score touchdowns. It's basically like playing on a turf-covered hockey rink. The fans are right up close, and you're expected to throw the ball a lot more than in the NFL.
When I was with the Georgia Force in 2007, I was blessed to be with great teammates and great coaches. Everything around me just clicked, so it was like being given the keys to a Ferrari. All I had to do was jump in and go. That's when I set the AFL single-season record for touchdown passes and completion percentage.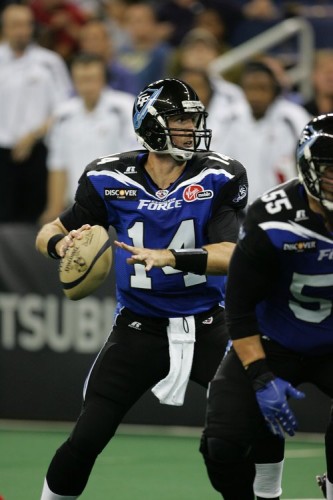 In the NFL, on fourth down and one yard to go, the offensive coordinator is probably going to call a running play. In the AFL, you're far more likely going to throw the ball. [This offensive mindset] brought that feeling of confidence and wanting the ball in my hand at critical times of the game. 
Have you always taken the faith seriously or was there a specific time that you started to do so?
I don't think there was one watershed moment; it's been more of a gradual thing. I actually grew up Lutheran and was taken to church every weekend by my mother. My dad, who was a great dad in many ways, did not go to church with my mom, my brother [former NFL linebacker Nick Greisen] and me.
When I got to college, I basically became a pagan. I said I believed in Jesus, but for the most part didn't show it by following his word and his church. However, when I was about to marry my high-school sweetheart, Shannon, I wanted to make sure our future children would have their dad with them at church, so I became Catholic. 
Then we were asked to join a couples Bible study. We thought it would be fun, considering the people who were in it. That experience got me listening to Lighthouse Catholic Media CDs that started answering some questions I had and even some I didn't have yet. As my football career progressed, I'd drive or fly around the country for games, and I'd take stacks of CDs to listen to along the way. After hearing from speakers like Father Larry Richards, it dawned on me that I was a "cafeteria Catholic" who picked and chose what he wanted to believe.
The more CDs I listened to and books I read, the more convinced I became of the need to let go of my own opinions and become a more complete disciple of Christ. One of the most striking ways this took place was with contraception. In a world where contraception is a given, the Catholic Church is the only Christian church that doesn't budge on the issue [which had been agreed upon by all major denominations until 1930]. I was totally amazed at the Church's ingenious teachings on being open to life, and I couldn't believe I had never heard them before.
As Catholics, we're blessed beyond belief to be in the Church that Christ started, because we have the fullness of the faith and the sacraments. We have every gift Christ wanted to give us. Now the trick is to be totally open to receive all that he wants to give us.
Is it easy to convey that to your students or are they tougher than any defense you encountered on the field?
Sometimes I do think they're tougher than any defense I've encountered, but other times, they are very open to the truth. I can't make anyone believe anything, but I can plant seeds. Whether or not those seeds grow is up to the Holy Spirit, but I'm doing what's called of me in order to fulfill my mission of building the Kingdom. I cherish the opportunity to partner with parents, whether they know it or not, to help their children get to heaven.
It is a joy to work at Notre Dame de la Baie Academy because of the students and because of the overall atmosphere. I get to attend Mass every single day in our chapel. After receiving Jesus in the Eucharist, I try to live out that sacramental grace by attempting to be Jesus to my students. 
At Notre Dame, our students have the opportunity, unlike their public-school counterparts, to discuss what is true about the issues that they deal with every day. I can't imagine going through those formidable years as a student and not being able to ask or hear about the issues at hand. One example is, after hearing Jason Evert speak on the virtue of chastity, I had a young man ask me to help him understand some of the things Jason said. The great thing about this was that it was in geometry class, and I postponed my lesson by one day since this young man started a barrage of questions on how to live a pure life. It was awesome!
Questions like those the students had are great ways to talk about what love (or charity) really is. If I love someone, my goal is not to use them for my own pleasure, but to will what is best for them. What is that "best"? That "best" is heaven. We then talk about how real love (or charity) requires self-sacrifice, not self-indulgence. A lot of times when people use the word "love," they really mean "lust."
The theological virtue of charity is loving God above all else and our neighbor as ourselves for the love of God. This is why my wife and I have the acronym "JOY" written on our mirror: Jesus first, others second and yourself third.
That runs counter to the worldly model of happiness.
Yes, it does. Everywhere in our society we are taught that we need to look out for ourselves, then others, and if we have time left, we give it to Jesus or whatever our faith is. We as Christians often forget that we are called to die to ourselves so that we can be raised to new life in Jesus — and if we do that, we will, like all the saints before us, find true peace and joy.
It is unfortunate that so many people, like I did for many years, try to find our own way to happiness. Now I just try to always remember that Jesus said, "I am the Way, the Truth and the Life …" In trying to live these words, I heard a quote the other day that really makes me think about what kind of teacher/coach I am. It comes from Pope Paul VI: "Modern man listens more willingly to witnesses than to teachers, and if he does listen to teachers, it is because they are witnesses. May all of us be witnesses [like that] to the "Way, the Truth and the Life."
Register correspondent Trent Beattie writes from Seattle.