Persecuted Christians Renew the Light of Faith in America
Catholics from the Middle East have fled persecution in their home countries, but they have brought to the U.S. the gift of faith tested in fire.
SACRAMENTO, Calif. — On a given Sunday, St. George's Melkite Greek Catholic Church is overflowing with Catholics who have suffered persecution for their faith.
The little house of worship in Sacramento is now the place that Hind Hanna calls her church home. She escaped Baghdad in November 2006, after Islamic militants threatened her with torture, rape and death because she was a Christian.
Her mother, brother and children joined her months later, taking a harrowing journey by car to Syria, after militants evicted them from their home and threatened their lives. They all took refuge there until the day came when the United Nations refugee resettlement agency told her that the United States would take her.
Hanna discovered St. George after a Muslim co-worker in Syria put her in touch with her Christian cousins in California, who directed her to the Melkite Greek Catholic parish. For Hanna, the parish led by Father Hezekias Carnazzo, is a "jewel": Catholics singing together the ancient liturgy of her ancestors, surrounded by the familiar sight of icons.
"This is perfect for me and my family," she told the Register. "If you see the church on Sunday — it is like a gemstone!"
St. George's Church is a nearly 40-year-old parish with a diverse number of Christians who, like Hanna and her family, have come from war-ravaged Middle-Eastern countries where they lost everything for their faith in Jesus Christ.
Many are Syrians who fled their country's brutal, ongoing six-year war. Others experienced persecution from Islamists in Egypt; some are Palestinian Christians who experienced persecution from the Israeli military occupation of the West Bank. Others, like the Hannas, were driven from Iraq.
"St. George acts as a home away from home for them," Father Carnazzo told the Register. "And over the years, it has become a real home for them."
But St. George's sanctuary is now too small. The 140-strong congregation is not just "wall-to-wall on Sundays," Father Carnazzo explained: They are pouring out of the door in a building designed to comfortably accommodate 30 people. On feast days, the priest added, they see nearly 250 people.
Father Carnazzo has put into motion a $1-million campaign to build or purchase a new church for his burgeoning flock, but his parishioners have few resources since so many have to build their own lives from scratch as refugees. The priest is concerned that without a new place to worship and hold Sunday school, his parishioners will worship elsewhere and lose the spiritual patrimony of their ancestors, the Church of Antioch, where the followers of Christ were first called Christians.
"We've all received this gift from the Church of Antioch," he said. "And it's important that we support the Church of Antioch as it goes through a difficult time."
Syria's Gift of Faith
The Melkite Greek Catholic Church's heartland is in Syria, but it is spread all over the Middle East, with communities in Lebanon, Jordan, the West Bank and Gaza, Israel, Egypt and Iraq.
Melkite bishops will elect a new patriarch at the June 11-24 synod in Beirut to replace Gregory III Laham, who retired on May 6. His successor will have to navigate the challenge of keeping the Melkite flock together through Syria's civil war, calling for peace and reconciliation and attending to the pastoral needs of a Church that is growing worldwide in part due to the migration of Melkites out of Syria's war zone.
Bishop Nicholas Samra of the Melkite eparchy of Newton, Massachusetts, which covers the entire United States, told the Register that more Melkites are coming to the U.S. from Syria. He is trying to make sure they don't fall through the cracks and lose their Catholic identity by getting lost in the broader U.S. culture.
He said he heard of a large group of Melkites settling in Allentown, Pennsylvania, after another Syrian bishop mentioned that area as the destination of a group of families.
"We're also looking at other areas for new outreaches," he said, such as Las Vegas and Palm Springs, California. California is an area of growth, with new outreaches in Mission Viejo and Covina.
Ordaining married deacons with proven pastoral abilities to the priesthood — part of the tradition of Eastern Churches — has helped provide Bishop Samra with the priests he needs to serve these communities.
Part of the Church's role involves helping Melkite refugees from the Middle East learn how the faith is lived in the American scene: the need to tithe to build their own churches and the need to have English in the Divine Liturgy as well, so their children do not lose connection with the faith as they grow up in American culture.
But Bishop Samra said his priests are helping families to cultivate liturgical worship at home, and pray together. Some priests are teaching their people how to set up "icon corners" in their homes, where family members can pray before images of Jesus and the saints.
The eparchy has produced an abridged form of the Melkite Liturgy of the Hours, designed for laypeople to experience a form of Morning and Evening Prayer (lasting about 15 minutes). It has sent 50,000 copies to parishes.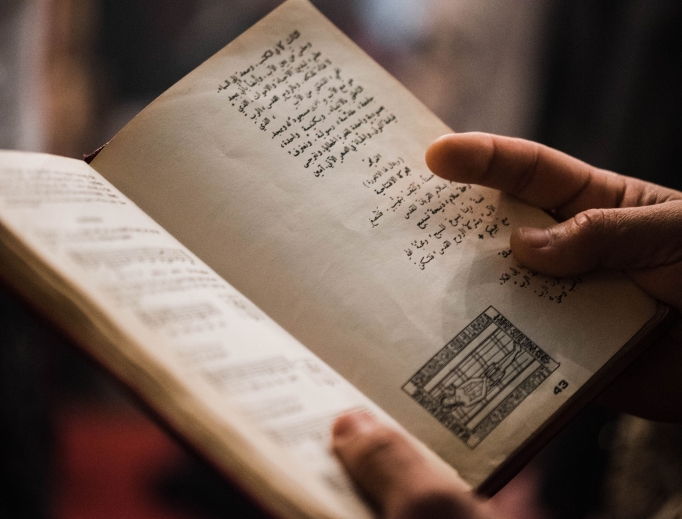 First- and Second-Generation Churches
Eastern Catholic Churches, such as the Syriacs, Chaldeans and Maronites, are all Catholic Churches that are based in Aramaic, the language of Jesus and the first disciples.
The Syriac Catholic Church draws most of its congregants largely from refugees from Iraq and Syria. Bishop Yousif Habash's Syriac Catholic Diocese of Our Lady of Deliverance has 12 parishes spread across the United States.
He told the Register that the challenge for building up his eparchy has been mainly about resources: Most Syriac Catholics came to the U.S. with nothing but "empty hands" and their faith.
As the people find their footing — most people are trying to assimilate in a country with different circumstances and a different language — Bishop Habash explained the Syriac diocese's challenge is to help them maintain the gift of their Syriac culture, language and history, and preserve their unique Catholic identity from being lost by assimilation into the broader American culture.
This Syriac Catholic identity, passed down since St. Peter the Apostle founded their mother church in Antioch before going to Rome, has helped them say to persecutors both before and after ISIS: "You can take our life, but not our faith."
Planting the Syriac gift of faith in the U.S. has been aided by the "real solidarity and real welcome" of the Latin-rite bishops in the U.S., Bishop Habash added. The bishops have allowed them to rent church buildings that otherwise would have been closed, so their congregations could "feel we are home."
The Chaldean Catholic Church in the United States is in its second generation, having been built up by a large wave of Chaldean Catholics from Iraq in the 1980s.
Bishop Francis Kalabat of the Chaldean Diocese of Detroit, also known as the Eparchy of St. Thomas the Apostle, told the Register that the bishops of Middle-Eastern diaspora Churches make a "conscience effort to work together," particularly in discussing how to pastorally care for their people and evangelize the different generations.
The Chaldean Church in the U.S. has a new generation of youth who have no experience or memory of Christian life in Iraq that defined the faith of the first generation of Chaldean immigrants or refugees. The fact that Maronite Catholics (from Lebanon) have already experienced, over their 100-year history in the U.S., the challenge of how to shepherd a first generation that prays in Arabic and a second that prays in English is a resource the Chaldean Church can draw upon.
Bishop Francis explained that the main thing is to remind people that more important than the gift of their heritage is the knowledge that "our first identity is in Jesus Christ."
Faith Lives On
Father Carnazzo believes the faith of the persecuted Church that lives in St. George can give new life to the spiritually arid soul of California.
"Apostolic Christianity is attractive, and it is still alive and well," he said, explaining that by building a new house of God for these Christians who suffered persecution, their witness can enliven the faith and zeal of their fellow Catholics in the Latin Church.
Hind Hanna has seen how the spiritual atmosphere of the U.S. is different: In the Middle East, people know "faith of a child" energizes their lives, as she put it. But in the U.S., she said, many people treat faith "like it's a job."
But Hanna said she endured all her sufferings because she knew the Virgin Mary was watching over her in Iraq and Syria as her mother, intervening at critical moments.
"I saw her in my dream," Hanna recalled, just before she found out that she could resettle in the U.S., when she was fasting 50 days before Easter. The Blessed Virgin told her twice: "Keep Psalm 7" — "Lord my God, in thee have I put my trust: Save me from all them that persecute me, and deliver me …"
"I saw her," Hanna said. "And I saw the life here."
Peter Jesserer Smith is a Register staff reporter.
INFORMATION