Paul Ryan's Plan to Alleviate Poverty: Change 'Handouts' to 'Hand-Ups'
A Catholic Charities' innovative success in fighting poverty in Texas has inspired the House speaker to reform federal anti-poverty programs along a more Catholic social vision.
FORT WORTH, Texas — As the sun sets on Speaker Paul Ryan's career in Congress, the Catholic political leader has set his sights on reforming how the federal government works with local governments, charities and private enterprise to help give greater numbers of people the hand-up they need to leave poverty behind.
Catholic Charities Fort Worth (CCFW) is one of Ryan's inspirations for how the federal government can be a better partner in the fight against poverty, by supporting organizations with solutions that work at the local level instead of replacing them.
The speaker paid a visit April 3 to see firsthand CCFW's model of long-term intensive case management and meet with some of the case managers and clients that no longer count themselves among the region's poor.
More than 40 million people — 12% of the U.S. population — are mired in poverty, according to official government statistics. Poverty rates nosedived in the 1960s, coinciding with Lyndon Johnson's "War on Poverty," but the decline stalled by 1973. So as the population grows, so do the ranks of American poor.
"The one-size-fits-all approach is not working," Ryan told the Register, pointing to the federal government's spending nearly $1 trillion on more than 80 anti-poverty programs.
"We've seen that for anti-poverty programs to be successful, they need to be customized and focused on empowering the individual," he said.
Ryan, who announced earlier this month that he will retire from politics when his term expires in January, aims to reform the "federal poverty-fighting system" by getting Washington out of direct involvement. Instead, the federal government "should provide resources and tools to local units of government, the private sector and groups so that they have the tools they need to do this work in their communities."
"We believe in the dignity of every human person, and we are called to care for one another," he said. "Specifically, this means helping the poor and doing it at the community level."
Heather Reynolds, CEO of Catholic Charities Fort Worth, is a champion of the federal government empowering nonprofits like Catholic Charities to develop creative, flexible options that fight poverty by helping the working poor make the transition from dependency on the government into the middle class.
She told the Register that the anti-poverty regulatory environment often works against them, rather than with them.
"People are battling poverty, and, unfortunately, the system does not really allow for easy escape," Reynolds said.
Meeting of the Minds
While Ryan used to speak of an America divided between "makers" and "takers," he later apologized for those words. Through his dialogue with Catholic Charities, among others, Ryan now emphasizes the Catholic social teaching of solidarity and subsidiarity in his new approach to poverty.
The goal of the federal government, he said, should be to "support the people in our communities fighting poverty person to person, soul to soul." The federal government should fund local solutions that are "customized and focused on empowering the individual" and also hold anti-poverty programs accountable for their effectiveness and success in helping people out of poverty.
Ryan presented several options to the Register to refresh the federal approach to poverty that would "consolidate existing programs and return power to local groups," eliminating regulatory barriers for local groups to develop customized solutions, and designing benefits to "always encourag[e] upward mobility."
Ryan is also an advocate of "empowerment zones" and "social-impact bonds" — ideas endorsed by CCFW's Reynolds — which would channel financing into poor communities and allow "residents of these areas [to] reap the benefits of growth, providing more people with opportunities to be lifted out of poverty."
"People make rational decisions, and so we need to make sure that, within our system, it makes sense for them to work, to join the labor force," he said.
Deep in the Heart of Texas
Ryan praised the success of Catholic Charities Fort Worth when he visited at the beginning of April.
For Heather Reynolds, three words capture the secret Catholic Charities has discovered for giving people a hand-up from poverty: "intensive case management."
Reynolds told the Register that their strategy is to work closely with individual clients. Rather than just connect low-income people with services, they opted for case managers working one-on-one with clients to put together a step-by-step path out of poverty.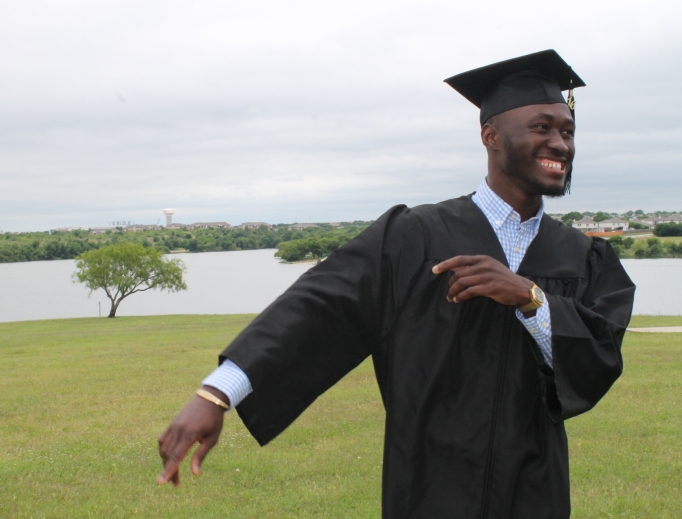 Reynolds said their customized approach does mean that Catholic Charities works directly with fewer clients, but it helps them see more people escape poverty with living wages and family stability. It is not the approach that government agencies take.
She pointed to one client, "Chris," who could not get help from government agencies to find a new job with a living wage because Chris already had a "marketable skill."
He was employed as a truck driver to the oil fields in West Texas. The problem, Reynolds said, is that while he made "okay money," his wife and family were suffering because his work required long absences of home. His children were growing up practically without a father.
"How shortsighted is that? We need families together that function together," Reynolds said. A CCFW's case manager worked with Chris, who had a dream of becoming a nurse and wanted to break free from intergenerational poverty.
Through "intensive case management," the case manager helped Chris get into nursing school, made sure he stayed on track, alleviated financial concerns such as tuition bills, crafted a spending and budgeting plan, and ensured Chris believed he could succeed. The case manager also helped Chris find the right job after graduation.
Chris has been working as an LPN for the past eight months and now can take care of his family and continue his education without Catholic Charities' help.
"The case manager was really alongside the journey," Reynolds said.
In another intervention, CCFW worked with a single mother with three children and helped her increase her marketable skills so she could earn a living wage and become a registered nurse. Again, the case manager realized something that government agencies would have missed looking at "Sally" on paper — she needed self-confidence. The case manager's creative solution involved putting sticky notes around Sally's home to give her the positive encouragement she needed to see her future as a nurse and free from poverty.
National Scale-Up
Both Reynolds and Ryan believe this sort of solution can be scaled nationally. Ryan said he wants the federal government to take "those approaches that are working at the local level, like casework management systems, and channel federal resources into replicating those successes on a bigger scale."
One of Ryan's ideas to facilitate this sort of innovation is through federal block grants to states.
Angela Rachidi, a research fellow in poverty studies at the American Enterprise Institute, told the Register that reforming the federal government's involvement in the safety net with block grant funding, as opposed to direct programs, has been an idea that goes back to the mid-1990s.
"There are a lot of things appealing about that," Rachidi said, noting that it provides an opportunity to have the people responsible for administering programs close to the populations they serve.
"They not only understand them much better, but they also can be held more accountable for producing results," she said. "From that perspective, it can be a good approach."
The potential pitfalls of such an approach include how to hold local governments accountable for achieving the aims they've been granted money to achieve and the possibility of miscommunication between states and Washington in understanding the services provided.
At the same time, according to Rachidi, some programs should not be left up to the states to fund via block grants. The federal government, she said, has the competence to provide food security, and the Supplemental Nutrition Assistance Program is one federal safety-net program proven effective in fighting poverty.
Solidarity & Subsidiarity in Action
Solidarity with the poor requires the principle of subsidiarity in action, according to Catholic social teaching.
"Essentially, we should feel in alliance with our fellow human beings," Jay Richards, a professor at the Busch School of Business and Economics at The Catholic University of America, told the Register.
At the same time, he said, that alliance is most immediately expressed in responsibilities to the people in one's community. He explained that subsidiarity means "you want the jurisdiction closest to the problem to be the one solving the problem."
The trend since the 1960s, Richards said, has been to collapse the distance between the individual and the federal government, sidelining closer institutions like families, parishes and local authorities.
Richards criticized the federal government for essentially encouraging poverty, by creating programs with complex regulations that inhibit movement up the jobs ladder and punish people for getting married and forming stable families, which are proven to help people escape poverty. One of the big disincentives at work in many anti-poverty programs is the "benefits cliff," where an individual who gets a job or gets married goes from having benefits to receiving nothing.
"We need to have a system that does not encourage that," Richards said.
Lucas Swanepoel, Catholic Charities USA's vice president of social policy, told the Register that Catholic Charities has maintained an important dialogue with Ryan about how to improve solidarity with the poor aligned with Catholic social teaching.
Swanepoel explained that subsidiarity is essential for true solidarity because it allows the poor to have a greater voice in what they need to rise out of their specific situations of poverty. They can actually be heard and empowered by those working closely with them.
At the same time, Swanepoel said, applying the principle of subsidiarity means navigating "the terrain that exists between flexibility and accountability." Devolving decisions about addressing poverty to the local level does not mean abandoning an appropriate oversight role for the federal government.
Swanepoel, however, said Catholic Charities would be concerned if people invoked subsidiarity for the sake of cutting programs and left the poor with nothing. They would rather see programs cut because people no longer need that assistance.
He said, "The goal here is to get people back on their feet."
 Peter Jesserer Smith is a Register staff writer.