Living Marriage With Joy
Beloved series debuts for Valentine's Day
As the secular world prepares to celebrate its version of Valentine's Day, an innovative new approach to marriage preparation and marriage enrichment is debuting. The program, a 12-episode series (on DVD or online), titled Beloved: Finding Happiness in Marriage, is for parishes, diocesan offices and individuals throughout the world who want to learn more about God's plan for marriage.
The Augustine Institute announced the program launch at a press conference Feb. 12 at 6pm Rome time at the Pontifical University of the Holy Cross.
The program is an all-in-one marriage resource for the New Evangelization — a key aspect of the Augustine Institute's mission — and meets the various formation needs of any parish for adults, married and engaged couples, young adults, youth and catechists.
"Pope Francis has been repeatedly saying that we need to help people in their marriages right now," said Edward Sri, Augustine Institute's vice president of mission and outreach and the content director for Beloved. "So the focus of this program is helping people live their marriage with joy, excellence and following God's plan in the real nitty-grittiness of their married lives."
Featuring more than 20 experts, with married laypeople as presenters, Beloved is the newest addition to Symbolon: The Catholic Faith Explained, the institute's digital faith-formation program.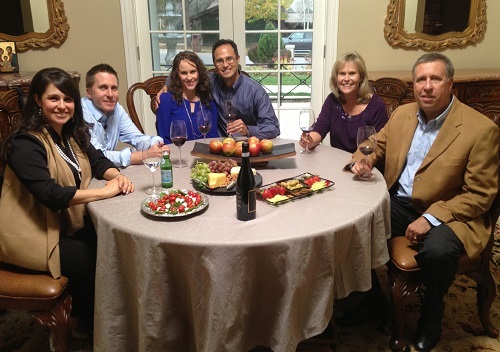 Sri explained that the video series isn't composed of talking heads, but combines real stories of real people and Church teaching in an engaging way.
"We teach the truths about marriage while addressing people right where they're at," he said. "Anyone watching the videos is not going to be put off by lofty theology, but the attentive theologian will notice how this is saturated with Familiaris Consortio, themes from theology of the body [by Pope St. John Paul II] and from Pope Emeritus Benedict XVI, for example."
Sri added that the program also helps children. Children learn by, and imitate, what they see their parents do. When parents model a good marriage, the children learn how they should form their own holy marriages someday.
'Struggles and Joys'
Lisa and Kevin Cotter of Denver have three children, ages 8, 6 and 18 months, and have been married for 10 years. They tell their story in Beloved, also drawing on their work with Fellowship of Catholic University Students and Lisa's public speaking on marriage.
"Through all of these experiences, I've been given a unique and personal view into the struggles and joys of marriage and family life in our world today," said Lisa. "While some of my experiences and interactions have given me great hope, others have left me heartbroken. I said Yes to being involved [in Beloved] because I know that having a committed and thriving marriage can be challenging and difficult, yet, if marriage is done correctly, it brings about immense joy and peace."
That is exactly what the Beloved creators are hoping for: leading couples to true joy and peace in their marriages, even during tough times.
Beautiful Gift From God
Sean Innerst, an instructor at the Augustine Institute, came up with the original concept for the program. He and Augustine's president, Tim Gray, were convinced that Beloved was the next best project in the Symbolon series.
"The inspiration comes from the fact that it's coming to the Church's consciousness that marriage is an important element [we need to discuss in the public square], and it certainly is," said Innerst, who also teaches on the sacrament of matrimony at St. John Vianny Theological Seminary in Denver. "We're seeing a societal decay in matrimony, both in practice and in the way we conceive of it."
Innerst pointed out that the remedy for the societal decay of marriage is to help people — both in the Catholic Church and the world at large — recognize the beautiful ideal that marriage represents.
"It's a sacramental idealism in that regard, trying to captivate our imaginations around what marriage is, what a great gift it is from God, and to heighten our sense of what it is," he said. "It's not just an old social construct — it's a beautiful mystery that comes to us from the hand of God."
At the same time, according to Innerst, the Church must have a sacramental realism about marriage: the realization that there's grace in matrimony that can help married couples to overcome the difficulties and challenges they face.
"We must enforce very strongly that the bond of matrimony is a font of grace, which is made when we marry, but which stands at the center of our relationship as a constant source of grace," he said. "God has really entered into our matrimonial love for each other, placed himself in the middle of it, and the bond becomes a wellspring of grace that is ongoing and enables us to live our calling."
Annie and Scott Powell, of Louisville, Colo., have two small children and have been married nearly 10 years. The Powells, who founded Camp Wojtyla, understand the importance of the font of grace offered to them through the sacrament of matrimony. That's why they were happy to participate in Beloved's production.
"We were delighted and honored to be part of such an important and high-quality project," Annie said. "The Augustine Institute has been teaching Catholic audiences who might not be tapped into dynamic and orthodox Catholic teaching for some time now through their excellent use of new media, so we were excited to be a part of that mission."
Blessed Undertaking
Bringing the concept of Beloved to reality was a major undertaking, requiring the full-time efforts of not only the instructors and presenters, but also the eight-member production staff and five-member printed-materials staff.
"On the one hand, we have all the catechetical, theological talent of the institute faculty; and on the other hand, we have the incredible talent we have as part of our production team, who knows how to take all of that and put it into a beautiful, compelling story," said Beloved's associate director, Lucas Pollice.
"I think that's what's unique about what we're doing here at the institute, what's unique about Beloved: It teaches, catechizes and evangelizes, but it does it in such a way that is so engaging for the culture that it's captivating the minds and hearts of modern men and women, which is really what the New Evangelization is all about."
Register correspondent Marge Fenelon writes from Cudahy, Wisconsin.