First Communion for Iraqi Refugees Represents Hope for a Persecuted People
'What God is giving us in faith and strength is helping us to give more, and that by itself will bring us closer to God," said Sister Waffa Yousif, who helped train the 30 first communicants.
BEIRUT — Outside the Cathedral of Our Lady of the Annunciation in Beirut, Lebanon, the children could hardly contain their excitement.
All the suffering of their lives in forced exile seemed to vanish as they anticipated the holy sacrament for which they had so diligently prepared. Two girls joined hands and gleefully spun each other around.
Dressed in white robes adorned with wooden rosaries on the eve of Pentecost, the 30 Iraqi refugee children quickly composed themselves when Syriac Catholic Patriarch Ignace Joseph III Younan arrived from the nearby patriarchate. They assembled reverently for the processional, folding their hands in prayer. 
"This is the day we were waiting for. … O Jesus, you are closest to my heart," they sang, as they led their shepherd to the altar.
The patriarchate had taken care of every detail to make first Communion special for the children and their families.
"Dear children, it is something very special that you will receive today — the Lord into your hearts — while you are displaced and suffering like him, because of being uprooted from your homes in the Plain of Nineveh to become exiled in a foreign land, Lebanon," Patriarch Younan said in his homily.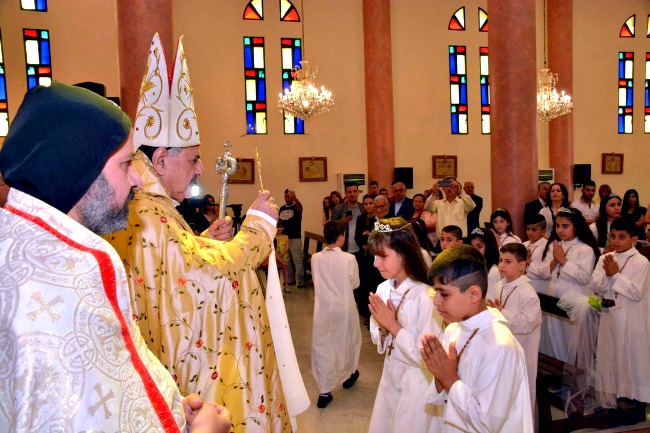 Shared Trauma of Persecution
Sister Waffa Yousif Shasha and Father Youssef Sakat, who helped with sacramental preparation, knew personally the trauma the children had experienced. They, too, had been expelled by Daesh (as the Islamic State is called in Arabic), from their homeland in Iraq and are serving the displaced Syriac-Catholic community in Lebanon.
"It's very difficult to leave your home, your country, your church and to leave all your belongings behind. Despite all this, our faith is strong, and we give hope to these families and children. This is our mission," Sister Waffa Yousif told the Register during a practice session at Holy Family Syriac Catholic Center in the Bouchrieh section of Beirut. The patriarchate set up the center as a satellite church in the second floor of a narrow building in the neighborhood where most of the refugee families live in crowded apartments. 
"What God is giving us in faith and strength is helping us to give more, and that by itself will bring us closer to God," Sister Waffa Yousif added. 
She noted that the parents had taken great interest in the first Communion instruction, asking her how they can help guide their children in the faith. 
"Because the children have such pure hearts, we can build up the Church through them," Father Sakat told the Register. He likened their receptiveness to a blank sheet of paper. "On it, we can imprint forgiveness, love, how to accept the others and what the Church should be for them. We feel from these children that they would still like to live happily, and they are hungry for learning more about their faith," he said.
But the memories of being driven out from their homes by terrorists are still very painful. When the children — most of whom are between 9 and 11 years old — asked the priest questions, such as, "What wrong did we do?" he would remind them of Matthew 5:3-11, the beatitudes, particularly verse 11:  "Blessed are you when they insult you and persecute you and utter every kind of evil against you [falsely] because of me."  
"Our mission is always peace and forgiveness," Father Sakat emphasized.
"We try to guide the children on the right track for them to build Christian societies later, wherever they go.  The most important thing is for them to always accept others," he added. 
Fragmented Families: Christians Torn From Ancestral Roots
Rather than stay in the displacement camps and makeshift housing for uprooted Christians in the Kurdistan region of Iraq, these families came to Lebanon with the hope of immigrating to Europe or other Western countries.
Father Sakat admitted that he feels sad, knowing that he will not be continuing with the children for very long, even though he sees them frequently at the school run by the patriarchate for refugee children. 
Families have been torn apart. One mother of a first communicant shared with the Register how her extended family is now fragmented: In Iraq's Kurdistan, some are sheltering in Erbil and some in Duhok; other family members have made their way to the Netherlands.
"Every night we think of our children and their future, and we cry a lot," she said.  "There is no future for our children here in Lebanon, and there is no hope to go back to Iraq."
While some of the first communicants were able to share their joy with a grandparent or a few relatives, also in exile, notably absent was the overflowing extended family and village community who would have celebrated the blessed day if it had taken place in their parish churches in Iraq, before ISIS had seized them.
The patriarch pointed to the issue of separation in his homily, when he first reminded the children, "Jesus instituted this wonderful mystery of the blessed Eucharist at the Last Supper of Holy Thursday, at the vigil of his death on the cross."
"You have friends to be attached to so closely because you love them," Patriarch Younan continued. "Because of this very painful situation, you, too, are to be separated from some of them, and this will cause a lot of pain for you," he told them. 
"Jesus is our spiritual food and the source of joy for us, his beloved friends," the patriarch also said. "Remember this: Jesus loves you and wants to always be in your hearts, to lead you wherever you are and through whatever in life seems to be painful and difficult."
Patriarch Younan also urged them: "It is also a time for you to say thank you to your dear parents, who want you to be happy with the Lord Jesus. They are doing all they can to alleviate the burden of your exile and the dire situation you live in here. This is because they live their faithfulness to Jesus, who did say: 'There is no greater love than this:  that a person would lay down his life for the sake of his friends' (John 15:13)."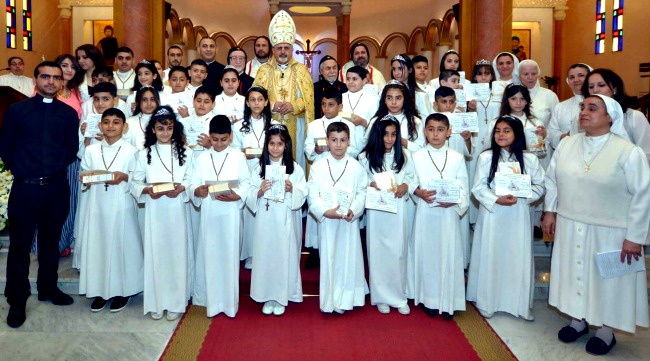 Joy Overshadows Sorrow
The children each received their first Communion from the patriarch, assisted by Father Sakat, who held the chalice.  Parents inched their way towards the altar to capture the moment with their camera phones.
After the final blessing, Sister Waffa Yousif joyfully led the first communicants in an action song she had rehearsed with them: "My heart is small, but my heart is big. And we all dance happily. I just made my first Communion." The children's loved ones, and even the patriarch, proudly clapped along to their song. 
Each child received a certificate of the sacrament from the patriarch and a small Bible, decorated with a shaft of wheat. Everyone was invited to a celebration in the courtyard, where there was more applause and ululation.
After taking family photos with her son Lawrence, Roweida Eshoi of Qaraqosh told the Register, "I'm so happy because my son is a real Christian now."
"My older brother is a priest, and I hope my son can follow in his footsteps. But the most important thing is for him to stay connected to God."
Register correspondent Doreen Abi Raad writes from Beirut, Lebanon.