Father Thomas Byles: God's Faithful Servant on the Titanic
Father Thomas Byles ministered to those who remained on the infamous ocean liner as she sank on her maiden voyage.
Father Thomas Roussel Byles was among the 2,207 passengers and crew aboard the RMS Titanic when it sank in the North Atlantic on April 15, 1912.
Leaving his parish in Ongar, England, the 42-year-old priest boarded the ship on April 10, Easter Wednesday, on his way to officiate at the wedding of his brother William, who had moved to the United States, and wife-to-be, Isabel Katherine Russell, the week after the new ship was to dock in Manhattan. Instead, the English priest became an unsung hero of the disaster, true to his priestly calling.
Today, 103 years after his death, the first steps toward opening a cause toward sainthood for the priest have launched in his native England.
"The more I learn about him, the more I think of him as a saint," said Father Graham Smith. With the support of Bishop Alan Williams of the Diocese of Brentwood, Father Smith is in the early stages of the process that can lead to Father Byles being named a "Servant of God"; then, with an approved miracle, the following step would be beatification for the hero priest.
As Providence would have it, Father Smith has been appointed pastor of St. Helen's Catholic Church in Ongar, the parish which Father Byles shepherded for eight years. Just as providentially, Father Smith moved into the parish on April 14, the anniversary of the Titanic's striking the iceberg in the North Atlantic just before midnight. He celebrated a Mass yesterday remembering Father Byles.
To make the story of Father Byles more widely known and to inspire people, Father Smith has written a prayer with ecclesiastical approval to be used to ask for the heroic priest's intercession for favors (see end of story).
"There has to be that devotion to him," said Father Smith, who is promoting Father Byles' cause. "Because he died on the Titanic, I think a lot of people will be interested in his story."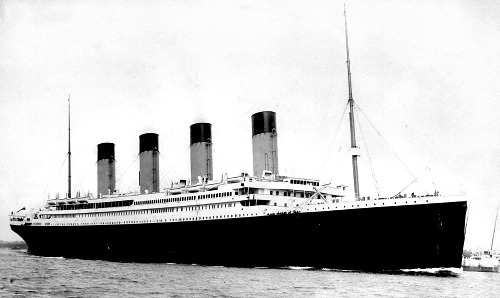 Calm in Disaster
Prayer was much on the mind of Father Byles that late April 14 night when the Titanic (pictured above on April 10, 1912) struck the iceberg. The 42-year-old priest was on the upper deck praying his breviary, according to eyewitnesses. He must have realized the danger because it wasn't long before he headed down to steerage, where the poorest passengers were boarded.
Ellen Mocklare, one of three survivors who, days later, told the evening edition of the New York World newspaper they spoke together about Father Byles from St. Vincent's Hospital in Manhattan, said Father Byles came toward all of the passengers with his hand uplifted.
She remembered: "'Be calm, my good people,' he said, and then he went about the steerage giving absolution and blessings."
People recognized him because that Sunday morning he and another priest aboard, Benedictine Father Josef Peruschitz, celebrated low Sunday Mass for the Second Sunday of Easter — today known as Divine Mercy Sunday, and with the same Gospel — for second-class passengers in the lounge first and then third-class passengers.
He delivered his sermon with the theme "Our prayers and the sacraments of the Church are spiritual lifeboats taking us back to God" in English and French; Father Peruschitz delivered the homily in German and Hungarian. They preached on the necessity to have a "lifeboat in the shape of religious consolation at hand in case of spiritual shipwreck."
That night, Father Byles would be saving some from two shipwrecks: physical and spiritual.
"He was active in getting the steerage passengers up to the boat deck and assisting women and children to the lifeboats," Mocklare told the New York papers. "Of the two clergymen, he was the leader not only in rendering material aid to the frightened emigrants, but in keeping the religious aspect of the terrible occasion to the fore."
She well remembered when people became excited that all Father Byles had to do was raise his hand, and calm returned. "The passengers were immediately impressed by the absolute self-control of the priest. He began the recitation of the Rosary. The prayers of all, regardless of creed, were mingled, and the responses, 'Holy Mary,' were loud and strong."
Father Byles continued the prayers leading "us to where the boats were being lowered," survivor Bertha Moran added. "Helping the women and children in, he whispered to them words of comfort and encouragement."
Refused to Leave
At least twice, the priest turned down pleas for him to safely leave the sinking ship.
A sailor "warned the priest of his danger and begged him to board a boat. Father Byles refused," Mocklare insisted in the New York World account. "The same seaman spoke to him again, and he seemed anxious to help him, but he refused again."
As Mocklare described it, "After I got in the boat, which was the last one to leave, and we were slowly going further away from the ship, I could hear distinctly the voice of the priest and the responses to his prayers. Then they became fainter and fainter, until I could only hear the strains of Nearer My God, to Thee."
Father Byles was standing up, praying with the people who surrounded him, as the stern sank into the Atlantic.
Speaking with the other two young women who survived, Agnes McCoy vividly recounted to the New York World Father Byles and the German priest assisting him. She saw Father Byles in steerage, and she spoke of the consolation and blessings he gave, confessions he heard and prayers he led.
From her position in the lifeboat, McCoy did not see his final moments, but later aboard the rescue ship Carpathia, one survivor described to her how Father Byles and Father Peruschitz, surrounded by 100 people, were still standing and praying as the stern of the Titanic slipped into the ocean.
Those in the last lifeboat rowing from the sinking ship heard Father Byles' voice and the voices of those kneeling in the water around him, whether Catholic or not, as he led the Rosary and gave general absolution.
He was among the more than 1,500 who died. His body was never recovered.
Early Heroism
According to the history compiled at FatherByles.com, Father Byles displayed heroism of another kind years earlier. His father was a well-known Congregational minister in Leeds, where Father Byles was born and named Roussel Byles, the oldest of seven children.
While studying at Oxford, he joined the Church of England; then, after soul-searching and letter exchanges with his brother William, who had already become a Catholic, he began to consider the Catholic Church.
Despite his family's strong objections, he joined the Roman Catholic Church. He took Thomas as his new first name, after St. Thomas Aquinas, whom he considered his patron.
After a short time teaching, he studied for the priesthood in Rome and was ordained in 1902. From 1905 to 1912, he was pastor of St. Helen's in Ongar as well as another nearby church.
Despite being slight of build and chronically ill, he was remembered as a priest who worked zealously for his parish and parishioners. Under his care, Mass attendance increased, and parishioners thought dearly of him.
Father Scott Archer maintains the Father Byles website. He tells of the Masses that were continually said for Father Byles at his church after parishioners learned that he died.
One local paper noted that it seemed "the love and affectionate remembrance of the little flock for their shepherd could not be satisfied, except by tokens, both public and private, at the very heart of the good priest's activities — his own most dearly loved church."
At one Mass, a Msgr. Watson likened Father Byles' stature and physical infirmities to St. Paul, and their pastor, "although of a humble exterior, was a man of great learning, great zeal, possessed a kindly love for the poor and a spirit of great humility."
Parishioners eventually installed a memorial stained-glass window (which appears in this video) bringing together Christ the Good Shepherd, St. Thomas Aquinas and St. Patrick to remember all of the Irish people Father Byles ministered to aboard the ship.
One corner is inscribed: "Pray for the Rev. Thomas Byles, for eight years the rector of this mission, whose heroic death in the disaster RMS Titanic, earnestly devoting his last moments to the religious consolation of his fellow passengers, this window commemorates."
Inspiring Then
There is no question Father Byles' actions affected many.
As was the custom back then, William and Katherine's wedding was not postponed. It was conducted in St. Paul's in Brooklyn, with only family and a few friends present. In the afternoon, everyone returned for a memorial Mass for Father Byles.
Days later, writing to his mother-in-law, William shared that they visited survivors at St. Vincent's Hospital. They learned: "On Sunday afternoon, Roussel had Rosary and prayers and preached a sermon on the new life they were to enter into in America and the dangers to their faith they had to guard against."
"The passengers were all together on the higher decks — first, second and third all mixed up, so all participated in his ministrations," he added. "Can you see all those poor people saying the Rosary and Our Lady at the other end of the Rosary pulling some of them into lifeboats and others to hear the happy command, 'Enter thou into the joy of the Lord?'"
Later in the summer, the Byleses received a letter from a friend, Jesuit Father J. Cooreman, vicar general in Colombo, Sri Lanka.
In part, he wrote: "I have prayed for him, but to tell the truth, I am much more inclined to ask him to pray for me, to get through his intercession strength always to perform my duty, as he performed his. He died a martyr of charity, performing the most perfect act of love of God and of his neighbor. … Ergo, how should his soul not have gone straight to heaven?"
Father Cooreman commented on the blessing the couple received when they visited Pope St. Pius X. "A marriage blessed in heaven by a martyr-brother and on earth by the Vicar of Christ is sure to be a happy one."
During that visit, Pius X called Father Byles "a martyr for the Church."
The example of Father Byles might have helped inspire Mocklare to become a nun. In 1917, she became Sister Mary Patricia of the Sisters of Mercy.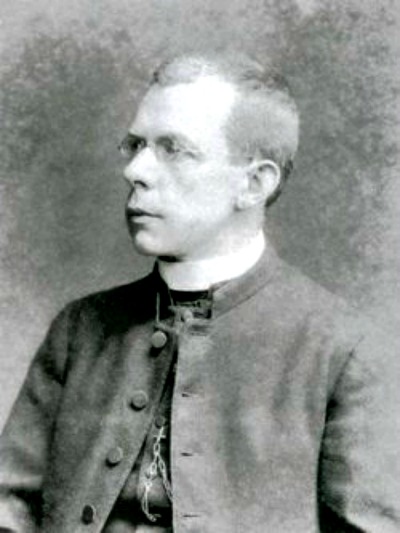 Inspiring Now
Relatives find inspiration in Father Byles. Grandnephew Geoffrey Morris in Connecticut said that he has thought deeply about that time.
"I wonder: Would I have done that?" he said. "It's a very selfless act. And to think that he calmed the souls of so many people who, at that point, knew they were going to die: I think that's a big deal for the last hours of your life, not panicking, being calm."
Father Byles' grandniece Joan Byles Barry, the granddaughter of William and Katherine, has for years researched her granduncle's life and story. She has studied all the letters he and William wrote to each other "with this spiritual soul-seeking till they both decided to become Catholics."
Naturally, "their parents were very upset, and they were almost ostracized by the family," she said.
Barry, who lives in New Jersey, explained that once her grandfather heard of the disaster, "he knew that his brother hadn't survived. He knew his brother would not have left [the people]."
His actions have definitely influenced her. "He brought my whole faith back, really, not that I had lost it," she explained of the new intensity she received in her faith.
One strong influence is in the way Father Byles led the Rosary with all those people who knew they were not getting off the ship. They were at one end and, "at the other end, our holy Mother was welcoming them in heaven," she reminded.
"Definitely, I do have devotion to the Rosary," she explained. She even wears a decade bracelet so that when walking she can pray even one decade.
Barry has seen the whole family affected. She teaches confirmation classes, and when her youngest son Thomas was confirmed, "he chose Roussel as his confirmation name."
Barry has long hoped and acted for Father Byles to be named a saint. Already, she seeks his help. She said, "I do ask for his intercession."
Process Under Way
To raise Father Byles' profile, Father Smith, a convert like Father Byles, hopes to see the prayer he has written spread far and wide. "I'm hoping this prayer will be prayed on ships around the world," he said.
A canonization cause for young Byzantine-rite Father Juozas Montvila, who also died ministering to the people and considered a hero in his country, is being considered in Lithuania, too.
"I'm really hoping Father Byles will be "recognized as a real pastor and a real martyr of the Church," Father Smith said. "Plainly, he lived a life of virtue. You don't suddenly do that kind of thing if you don't live a life of great virtue."
Joseph Pronechen is the Register's staff writer.
Prayer for the Beatification of Father Thomas Byles
God, our Father, protector of those in peril, you called your priest, Father Thomas Byles, to provide spiritual lifeboats for the souls of those in need by his pastoral care. Through the example of his life and virtue, may we follow your Son, Jesus Christ, more closely, fulfilling his commandment of self-sacrifice, charity and building up his body which is the Church. Let the inspiration of your servant prompt us to greater confidence in your mercy and love for us. We humbly ask that you glorify your servant Father Thomas Byles on earth according to the design of your holy will. Through his intercession, grant the favor I now present (here make your request). Through Christ, our Lord. Amen.
Our Father, Hail Mary, Glory be to the Father …
Report all favors received to:
Father Graham Smith, 87 High St., Ongar, Essex, CM5 9 DX England or [email protected]