Embers of Hope After California's Worst Wildfire Razes Paradise
St. Thomas More Catholic Church's staff and parishioners suffer with their community.
CHICO, Calif. — It was early in the morning Nov. 8 when Greg Kidder, the plant manager of St. Thomas More Catholic Church in Paradise, California, first noticed the smoke a few miles across town that slowly darkened the dawning blue sky.
Wildfires are a constant hazard in the Golden State, but Kidder, 61, kept his cool.
"We have had fire-warning orders before, and each time the blaze was put out," Kidder told the Register, adding that he remembers calmly greeting his wife, Yvonne, who had arrived for Mass a while later.
But this time, the blaze could not be contained. And within hours it had reached the parish grounds.
That day, St. Thomas More's parish hall and office buildings, along with the rectory, were destroyed by the blaze, part of the Camp Fire, the worst wildfire in state history. The Kidders, parents of four grown children, and thousands of other California residents lost their homes, businesses and places of worship in an inferno that turned Paradise into a ghost town.
Five days later, by Nov. 13, the Camp Fire had claimed 48 lives, ravaged 125,000 acres and destroyed 7,600 structures, most of them homes. (The Woolsey Fire death toll was at least three.)
Yet, despite fire officials' best efforts, the fire was only 30% contained.
Evacuate Now
On the Thursday morning that the smoke-filled sky first drew Kidder's attention, the parish plant manager didn't have time to worry about his own home. He was busy helping his pastor, Father Godwin Xavier, evacuate the parish school, church and office buildings.
Father Xavier had been celebrating Mass in the church when the evacuation order arrived.
"It was dark and smoky," Father Xavier told the Register in a telephone call from his former parish, Our Lady of Mercy Church in Redding, about an hour's drive north from Paradise.
"We had 10-15 minutes to get out," Father Xavier said.
When Kidder received the evacuation order, he immediately began to organize a plan.
"My first concern was to get the 225 students from our school and the parish staff off the property," he said.
After the students had completed an orderly departure, anxious parents arrived to collect their children. As the fire engulfed the town, refugees from Paradise also began streaming to the parish, hoping to find shelter. Adjusting his plan, Kidder scrambled to redirect the newcomers and complete the evacuation.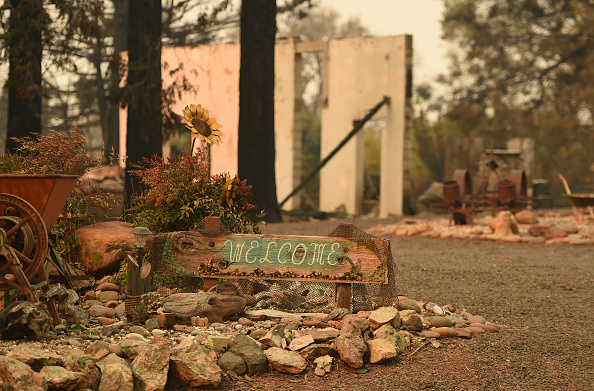 Helping Hands
Then it was time for Kidder and Yvonne, who had stayed close by throughout the morning, to make their own escape. But when they reached the main public road, the Kidders were shocked by the spectacle before them.
"The three main arteries" that offered a path to safety were choked with cars, and twin walls of flame flanked the roads. Some evacuees had abandoned their cars, fleeing on foot, while drivers stuck in traffic picked up tired pedestrians. 
Yet in the midst of the turmoil and fear, the Kidders were moved to see that "people came together and watched out for each other." 
St. Thomas More parish has about 800 registered families, and local Catholics fanned out into the community to check on their fellow parishioners and neighbors, including elderly residents in this retirement community. Originally established in 1949, St. Thomas More Church was rebuilt in 1985.
Since the wild fire ravaged the town of Paradise, Father Xavier has been waiting for updates from local law enforcement and speaking with parishioners, mostly by phone.
Even if he can't provide immediate answers to the status of the church or school, or when they might reopen, he knows that members of his flock "need someone to talk to," and his long-term goal is to rebuild the parish.
Trust in Christ
The Kidders found temporary shelter in a nearby Chico, California, parish, a short drive from Paradise. They are still "processing" the blaze's impact on their own parish and on their lives.
"We left the parish with just the clothes on our backs and our cellphones," said Greg Kidder.
Still, he thanks God "that my wife and I were together so we didn't have to try to find each other. That was my joy: We went through this whole ordeal together."
Yvonne Kidder has been asked to share her experience and resulting spiritual reflections with local Catholics.
"We put our trust in Christ," she told the congregation. "We are people of hope and faith, and that is what we hold on to."
Her husband is now busy checking in with St. Thomas More parishioners, especially elderly residents in shelters who need help with temporary housing, and checking on insurance claims. Catholic Charities of Sacramento and the local St. Vincent de Paul Society are already providing emergency aid, and Bishop Jaime Soto of Sacramento plans to hold a liturgy and gathering for Catholics struggling to regain a sense of hope and identify basic needs after the wildfires.
In the near future, Greg Kidder wants to help people "dig out and physically rebuild," though he acknowledged that many elderly parishioners may be forced to leave the area and move in with relatives elsewhere.
"We wake up with hope in our hearts," Kidder said. "We are still intact as a community, and we are organizing to meet the physical and spiritual needs of those who are now in shelters."
Joan Frawley Desmond is a Register senior editor.
HOW YOU CAN HELP