Catholic College Students Find Joy in Spring Break Service Trips
'We learned about the people we served, and we prayed together,' said Abigail Miller, a student at Walsh University. 'It was beautiful.'
Every year, hundreds of Catholic college students choose service to others as a way to spend their spring breaks.
Last year, Villanova University junior Jakub Glowala helped construct a home for a low-income family in North Carolina.
"It gave me inspiration and hope," the biology and neuroscience major said.
"I left that trip ready to do something more."
This month, Glowala leads students from his Pennsylvania school to San Diego to work on projects assisting the Chicano population. Other Villanova students join programs ranging from health education in Peru to social service in south Philadelphia.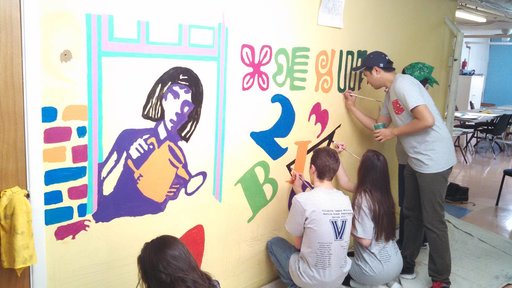 Caritas in Veritate
Students from St. Leo University, a 125-year-old institution in central Florida, facilitate retreats for Catholic grade-school pupils in Laredo, Texas. Some St. Leo students volunteer at an orphanage in Belize, another of several options designed by their student-run initiative, Students Engaged in Rewarding Volunteer Experiences. The service trips promote respect, responsible stewardship and other Benedictine values.
In a similar vein, engineering students from Benedictine College in Atchison, Kan., work on a building project in Ghana, and some of its future nurses embark on a medical mission to the Philippines.
David Trotter, Benedictine College's director of mission and ministry, described these and the college's 10 other spring break trips as "more than humanitarian aid."
"It's real evangelization, with the charitable work that's taking place," Trotter said. "We want to support caritas in veritate [charity in truth]."
At Fort Berthold Reservation in North Dakota, Benedictine students work at a Catholic elementary school by day and present Bible school programs in the evenings. Another Benedictine team does the same at the Benque Viejo mission in Belize.
Trotter said Benedictine College takes to heart a quote from St. John Paul II: "Faith is strengthened when it's given to others." He hopes the mission trips strengthen participants' faith for a lifetime.
Social-Justice Education
An educational component imbues many alternative spring break trips. Xavier University's Dorothy Day Center for Faith and Justice in Cincinnati teaches participants about social issues, in addition to giving them volunteer opportunities. This approach appeals to Xavier junior Preeya Waite, a member of the program's board of directors.
"I think understanding those issues and getting to know people who are affected by those issues on a daily basis puts my life in perspective," Waite said.
The biology major organized three of Xavier's 16 spring break trips, including one to Memphis, Tenn., where volunteers divide their days between Friends for Life, an organization assisting persons struggling with HIV/AIDS , and Hope House, a daycare center and preschool for children who are HIV-positive or whose parents or caregivers are HIV-positive.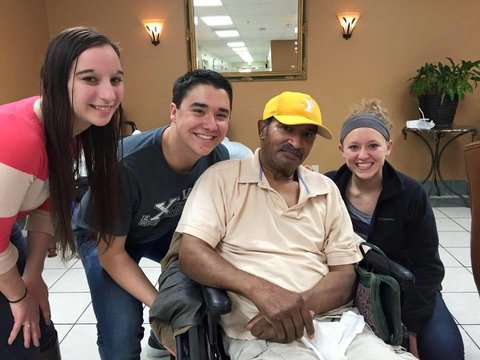 Waite is spending her break, however, among refugees in Abilene, Texas, tutoring them in English and helping them search for jobs or housing. As a freshman, she volunteered in nursing homes in North Carolina. Last year, she led a Xavier contingent to Chicago to work with recently released prisoners in a half-way house operated by St. Leonard's Ministries.
Shannon Hughes, Xavier's assistant director for service, justice and immersion, said Waite is one of 230 Xavier students making "alternative" trips this year.
A formerly homeless person will share his story with Xavier students before they undergo a 48-hour immersion in homelessness in Washington, where they will also help at the Father McKenna Center, a men's shelter.
While many trips address needs of disadvantaged people, other projects focus on environmental dilemmas. St. Leo University students labor under the direction of the National Park Service in Louisiana. K.J. McConnell, Serve's faculty co-chair, explained that Hurricane Katrina blew in non-indigenous seeds. Because the resultant plants now crowd out original flora, St. Leo volunteers remove the invasive plants and replace them with native ones.
Building Lasting Bonds
Many Catholic colleges and universities partner with on-site organizations year after year. St. Leo University developed a close relationship with a school and clinic in Ecuador. Before trip participants travel there, the university community collects children's clothing, bandages or other items urgently needed by its Ecuadorian friends. The Serve team then delivers the donations. Last year, the university even sent used laptops.
Some of the 315 Villanova students taking this year's alternative break trips will establish enduring ties with their hosts. Catherine Giancatarino, associate director of service and justice experiences, said this often happens with Habitat for Humanity volunteers working side by side with members of the family who will receive the house.
"We have students who have stayed in touch with the affiliate and with the families, which is a wonderful experience for them," Giancatarino said.
Several Benedictine College students who went on spring break mission trips later chose to return to those sites after graduation. Some devoted a year or more to teaching on the reservation. Others went back to the mission in Belize.
"I know some of our students are called into full-time work for the Church, whether it's through a religious order, the priesthood or a missionary organization," said Benedictine's Trotter.
Contact with missionaries can help them realize their vocations.
"It's an opportunity for the Lord to call on their hearts," Trotter said, citing the case of a non-Catholic who spent spring break in Belize.
"He did the week, fell in love with the community, moved down there after graduation and became Catholic," Trotter said. "And now he's entering the Society of Our Lady of the Most Holy Trinity."
As a junior, Abigail Miller spent her 2015 spring break in Appalachia, just a few hours' drive from Walsh University in North Canton, Ohio, where she majored in education.
"This experience was eye-opening," Miller said. "The poverty I saw I thought only happened in developing countries."
Working through Nazareth Farm in Salem, W.Va., she and other students made repairs on homes throughout the mountain.
One evening, local people joined the volunteers for dinner, played cards, sang and closed with a Communion service.
"We learned about the people we served, and we prayed together," Miller said. "It was beautiful."
Another Walsh student, sophomore Erin Loomis, was preparing for a career as an early childhood intervention specialist when she made the 2015 trip. Loomis painted, fenced, built a porch and came home appreciating her blessings.
"Seeing how little some people have, yet how incredibly positive and grateful they remain, taught me to take everything to heart and nothing for granted," Loomis said. "I gained more than I could have ever given."
Jerri Donohue writes from Brecksville, Ohio.