California Priest Calls Back-to-Back Weather Events 'a Perfect Storm'
Father Lawrence Seyer, pastor of Our Lady of Mount Carmel Church in Montecito, deplores the latest loss of life from the floods and mudslides, exacerbated by the recent wildfire.
MONTECITO, Calif. — As local authorities confirmed that powerful mudslides in Montecito had killed 20 people and destroyed hundreds of homes, Archbishop Jose Gomez of Los Angeles came to celebrate Mass and offer consolation to stunned members of his flock, still reeling from the unprecedented disaster that befell their community.
Just weeks earlier, the worst wildfire in the area's history had scorched the land and forced the evacuation of tens of thousands of residents in Santa Barbara County. Then, on Jan. 9, heavy rainfall created a powerful river of mud and debris that moved down the hillsides above the town, flattening everything in its wake.
"One of the hardest things in the world is to keep believing in God's love when we see tragedy," Archbishop Gomez told the congregation that had gathered at Mission Santa Barbara Jan. 14 for Sunday Mass and a reception with the archbishop and Bishop Robert Barron, an auxiliary bishop for the archdiocese who is based in Santa Barbara.
"We want to know why. Why does God allow mudslides and fires and earthquakes and hurricanes and wars and famines? I do not know. Nobody knows."
"But we all know one thing: God did not make us to see us get hurt," the archbishop said. "He made us out of love. We are his sons and daughters, and he wants only the best for every one of his children."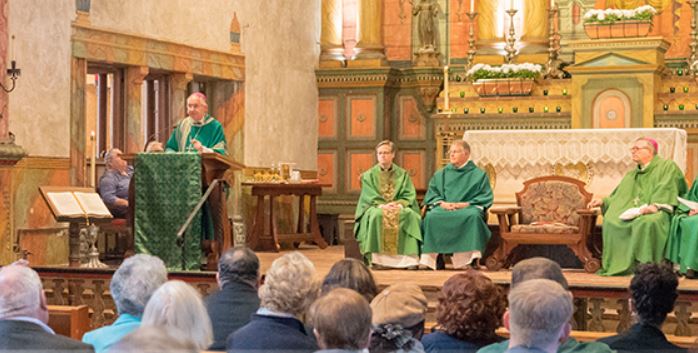 "There are homes and there are lives that need to be rebuilt," Archbishop Gomez added. "There are people who need to be hugged, people who need to be consoled — to be told that things are going to be all right! And they will be. Because God is with us."
Stories of Heartbreak
When emergency workers first arrived on the scene in Montecito, a wealthy suburb of Santa Barbara, there were stories of heartbreak — spouses and siblings franticly grabbing loved ones as they were swept away by powerful mudslides. There were also stories that inspired hope that more victims would still be found alive.
Lauren Cantin, 14, was found alive in her family's destroyed home. Her father, David Cantin, did not survive the mudslide that flattened the residence, and Lauren's 16-year-old brother, Jack, has not been located..
A week later, it is a measure of the scope of devastation that the archbishop traveled to the mission by helicopter. A two-mile stretch of Highway 101, the vital artery that connects the coastal county of Santa Barbara with Los Angeles to the south, is closed indefinitely, as state workers clear away mud and debris.
During his homily, Archbishop Gomez singled out Catholics from Our Lady of Mount Carmel Church in Montecito.
Seven parishioners died in the mudslides. Their church and parochial school were not damaged, but remain closed, subject to mandatory evacuation orders.
Father Lawrence Seyer, the pastor of Our Lady of Mount Carmel, told the Register that the archbishop's presence meant a great deal to local Catholics and other residents struggling with the shock of an unprecedented tragedy.
"This Thursday, we hold the first funeral from the flood," said Father Seyer.
Josephine "Josie" Gower, age 69, was among the dead. She was active in the parish, and people are devastated by the loss, said Father Seyer.
He also noted that the funeral of Roy Rohter, another parishioner and widely respected supporter of classical Catholic schools, will be held on Jan. 27 at Thomas Aquinas College in nearby Ojai.
"I spoke with Roy the day before he died," said the priest, who recalled that the two had discussed plans for a Latin Mass to be held in the parish church.
Father Seyer said that some residents had stayed put despite flood warnings because they had only just returned after complying with previous evacuation orders for the wildfires.
But, on Jan. 8, Father Seyer evacuated his parish for the second time in a month and set up shop at the Catholic chaplaincy based at the Santa Barbara campus of the University of California.
He "woke the next morning to a rain storm and then got word that Roy had died."
Rebuilding Lives
Soon the pastor was visiting shattered families and survivors in local hospitals. And while Montecito is home to wealthy celebrities like Oprah Winfrey, he explained that the community also includes elderly and middle- and low-income residents who would need help to rebuild their lives.
"Some left their homes in their pajamas," he said.
Father Seyer and local parents are also concerned about getting students at the parish school back to class, with a stable routine.
"The students' classes will be held at two other parishes," he said, until the parish school can reopen.
As he set these plans in motion, however, Father Seyer acknowledged moments when the shocking aftermath of the disaster seems "surreal," like a bad dream that will end soon.
The community, he said, is just beginning to understand what contributed to the disaster triggered by heavy rains pounding their fire-scorched hillsides.
"This was a perfect storm," he said somberly. "The fires affected the hillsides in two ways. The fires destroyed trees and roots that slow the flow of heavy rains down the hill, and the ash can blanket the land and prevent the water from being absorbed into the ground."
Weeks later, heavy rainfall combined with mud, debris and bolders increased the volume and speed of the flow of water, and emergency workers said they could not have planned for a "wall of mud spanning 15 feet," the priest said.
"Water looks for the low places. These houses were in a 100-year-old flood plain and just got taken out," said Father Seyer, citing news and weather websites.
With families grieving over the loss of spouses, children and siblings, and an estimated 300 homes destroyed, Father Seyer knows enormous challenges lie ahead. Worse yet, there is no guarantee that another natural disaster won't strike soon.
"This was just the very first storm," Larry Collins, an officer with the state's emergency service, told The New York Times Jan. 13. "We don't know what's coming."
Mother Teresa's Counsel
Father Seyer knows that his parishioners will need their faith more than ever to get through the hard times ahead, and he will be there to support them.
"In his homily at Santa Barbara Mission, the archbishop spoke about how St. Teresa of Calcutta dealt with suffering every day," said Father Seyer.
"People would ask her: 'Why does God let these things happen?'" the archbishop told the congregation.
"And she would say, 'I do not know why. I only know what God is calling me to do in this moment. And I know that, in this moment, God wants me to reach out to those who are suffering and to those who are in mourning.'"
Joan Frawley Desmond is a Register senior editor.
Full disclosure: Father Seyer is a cousin of Joan Desmond.