Bishops Pray for Congressman Shot at Baseball Practice
Republican House Majority Whip Steve Scalise, 51, was among multiple persons shot in an incident at a congressional baseball practice in Alexandria, Virginia, Wednesday.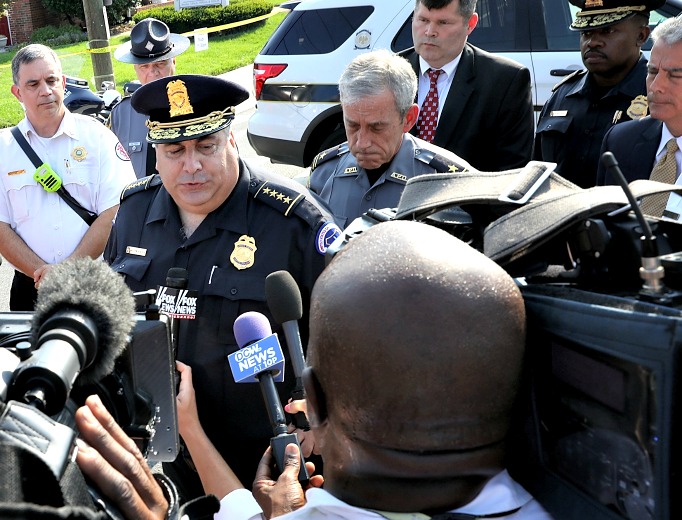 WASHINGTON — Republican House Majority Whip Steve Scalise, 51, was among multiple persons shot in an incident at a congressional baseball practice in Alexandria, Virginia, Wednesday morning.
Scalise, a lifelong Catholic, was shot at the hip and was transported to surgery. He is reportedly in critical condition post-surgery.
"Prior to entering surgery, the Whip was in good spirits and spoke to his wife by phone," Scalise's office said in a statement. "He is grateful for the brave actions of U.S. Capitol Police, first responders and colleagues."
After hearing about the shooting, House Democrats at a separate baseball practice started a spontaneous prayer for the victims.
A total of five people were "medically transported" from the scene, according to authorities.
Shots were fired around 7:15am Wednesday morning while Republican lawmakers were practicing for Thursday's Congressional Baseball Game.
U.S. Capitol Police shot and apprehended the gunman, who was taken to the hospital. According to a CNN report, federal law enforcement identified the assailant at James Hodgkinson, 66, of Belleville, Illinois.
President Donald Trump gave a statement later that morning, where he said Hodgkinson had "died from his injuries" at the hospital and that the FBI is investigating the incident further.
Scalise is a Republican who was elected to represent Louisiana in 2008. Before running for Congress, he had served in the Louisiana Senate for four months and in the Louisiana House of Representatives for 12 years.
He is married to the former Jennifer Letulle, and they have a daughter, Madison Carol, and a son, Harrison Joseph. Two years ago, Scalise tweeted a photo of his daughter's first Communion.
Scalise is a lifelong Catholic from Louisiana, his home diocese is the Archdiocese of New Orleans, and his parish is St. Catherine of Siena. Archbishop Gregory Aymond of New Orleans released a short statement, as has the principal of his high school alma mater, Archbishop Rummel High School, where he is very active.
"This morning I am saddened by this act of violence. Our prayers are with Congressman Scalise, for his healing, his wife, Jennifer, and their children, and for all involved in this shooting incident," Archbishop Gregory Aymond said in a statement. 
"Our hearts and prayers are with him and his family and all who were involved in this tragic incident. The Archbishop Rummel community pledges its prayers and support for the Scalise family as they move forward through recovery," said Marc Milano, principal of Archbishop Rummel High School.
The U.S. Conference of Catholic Bishops, which started its spring general assembly this morning in Indianapolis, opened their conference with a prayer for the victims of the shooting as well as the victims of a massive apartment fire in London last night. Archbishop Jose Gomez of Los Angeles, the vice president of the bishops' conference, gave the prayer, which was also posted to Twitter.
Cardinal Donald Wuerl, archbishop of Washington, D.C. also tweeted that he was praying for the congressman. Bishop Michael Burbidge, head of the Diocese of Arlington, released the following statement:
"I am profoundly saddened by the tragic shooting at Eugene Simpson Stadium Park in Alexandria earlier this morning. Today I call on the faithful in the Diocese of Arlington and all people of goodwill to join me in prayer for Rep. Steve Scalise and the others who were wounded in this senseless attack. May the Lord grant them swift healing and consolation. As we pray for God's mercy, we also ask Mary, our Mother, to intercede for us, so that our world will know the peace of her Son."
"Today as the Church invites us to begin a novena to the Sacred Heart of Jesus, I ask Catholics of our diocese to pray the novena with a specific intention for peace," he concluded.
Roughly 15-25 people were at the practice, including Sens. Rand Paul, R-Kentucky, and Jeff Flake, R-Arizona. Paul told MSNBC that "it would have been a massacre" if Capitol Police weren't there.
This story was updated at 2:36pm and 2:45pm Eastern to correct inaccuracies and add additional information.
A previous version of this article identified Rep. Scalise's parish as St. Agnes and his home diocese as Arlington, Virginia. 
His home diocese is the Archdiocese of New Orleans, and his church parish is St. Catherine of Siena.
Another update was made at 3:18pm Eastern re: the condition of the congressman.