Aspen: Skiing, Mountain Beauty and a Hub for the New Evangelization?
Priest cycles across the U.S. to build awareness of Aspen Catholic Institute, which is teaming up with the Avila Institute for Spiritual Formation.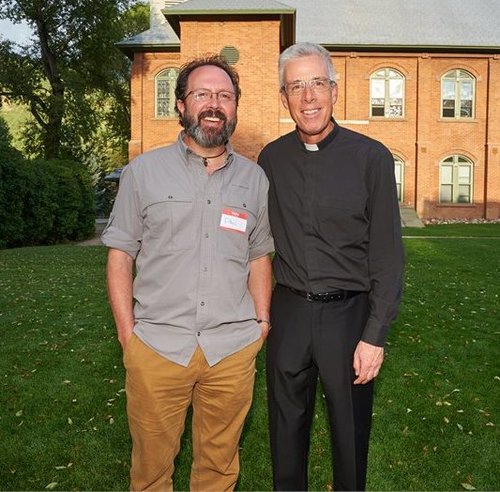 ASPEN, Colo. — He earned the nickname "the pedaling priest" as he biked 3,500 miles across the northern United States from the Pacific Ocean to the Atlantic Ocean in June and July to draw attention to his parish in Aspen, Colo.
Father John Hilton's journey from Anacortes, Wash., to Bar Harbor, Maine, aimed to highlight an ambitious plan he has to set Catholics' hearts on fire for Christ and arm them for the New Evangelization.
"A priest riding across the country is unusual, maybe extraordinary," the tall, lean 59-year-old pastor told the Register. "The message is that God's calling everyone to do something extraordinary and to get people to ask, 'What is the extraordinary thing God's calling me to do?'"
Father Hilton pastors St. Mary Church in the beautiful mountain-resort town famed for its skiing and cultural activities and for the jet-setting celebrities who play and live there. He aspires to make his parish known as a vibrant, creatively orthodox place for spiritual formation through an initiative he's calling the Aspen Catholic Institute.
"It's still very much in its infancy," he told nearly 150 people gathered at the parish for the inaugural conference Aug. 14-16. "We really don't even have the formal title yet or approval for using the name Aspen Catholic Institute."
Father Hilton partnered with Dan Burke, co-founder of the Avila Institute for Spiritual Formation, which offers interactive online courses taught by premier Catholic educators, to have Avila instructors go to the parish about a half-dozen times a year to present dynamic, spiritual programs, ranging from weekend to weeklong events, to enrich the parishioners' spiritual formation.
It is the first time the Avila Institute has taken its programs to a parish.
"We're going to bring you the content we offer," Burke told the conference participants. "You are the only parish we're doing this for."
"The purpose of the Aspen Catholic Institute is to make wonderful Catholics," Father Hilton told the Register. "To feed their heads, to feed their hearts, to give them joy (in Christ) — then they will naturally be agents of the New Evangelization in whatever way God is calling them to be."
"The greater their joy becomes," he added, "the more contagious it becomes."
His job as pastor is to bring his parishioners to mature, Catholic faith, he said. His hope is to equip them to be active, relevant participants in the highly influential Aspen community, which though small is world-renowned for its outdoor recreation, intellectual offerings and arts and culture.
"We want to take the teachings and spiritual riches of the Catholic faith," he said, "and see how to apply them to the challenges of evangelization of the 21st century."
The Future of Christianity?
The weekend conference, titled as a question — "The Future of Christianity?" — featured talks by Burke, who is also the executive director of the Register, as well as talks by spiritual theology professor-author and Avila co-founder Anthony Lilles and Father Nathan Cromly of the Community of St. John, founder of the St. John Institute, which helps people identify where to use their talents and prepares them to serve through Catholic higher education.
The conference, which included daily Mass, confession and a mountain hike, drew locals, visitors from Denver and a handful of people from three other states to historic St. Mary's, filling its conference room to capacity.
Burke spoke about darkness descending on society in its rejection of basic values and urged Christians to engage the culture by loving a person before attempting to evangelize.
"Love builds a bridge over which truth can pass," he said.
Christians are called to courageously march into the darkness of the world to bring light and hope, Lilles said, illustrating his point with the February news story of 20 Coptic Christians martyred by the Islamic State for refusing to renounce their faith.
They so inspired a fellow non-Christian captive that when he was asked to reject Christ, he told the terrorists, "Their God is my God" and became the 21st martyr.
"Because of what he saw in those men," Lilles said, "he wanted to stand with them for everything that is good, noble and true."
"Now is the time to stand firm," asserted Lilles. Quoting Scripture, he added, "The light shines in the darkness, and the darkness cannot overcome it."
"This is your great destiny," he declared. "This is what our calling is in our day."
Igniting Fires
In a homily, Father Cromly said it's time to stop treating Christianity as if it were "a cultural thing" and instead strive for the greatness to which it invites us — to exhibit Christ's spirit given in baptism and, nourished through the "roaring, raging love of God" in the Eucharist, to live lives of love, transform the world and have eternal life.
"Love is what Christianity is all about," Father Cromly said, adding that Christ gives himself to us in the Eucharist so that we might never forget how much he loves us and that he is always with us. "(Mass) ends with, 'Go, you are sent,'" he said, "'now set fires (of love) everywhere you go.'"
"We've been asking the question, 'What is the future of Christianity?'" Father Hilton said in the closing panel discussion with Burke and Father Cromly.
"The answer is us — we are," he said.
A second-grade, first-Communion formation won't serve an adult Catholic and won't serve the New Evangelization today — particularly in the Aspen climate, he said.              
"It's a pretty secular community," Father Hilton told the Register. "You've got to give the people of Aspen a good reason to go to Mass … rather than to go skiing on a Sunday morning."
To aid his efforts to offer high-quality formation to his parishioners and visitors and draw the wider Aspen community, Father Hilton is guiding a $4-million renovation to the 123-year-old church and addition of a parish center to accommodate larger crowds.
"We're very excited that some (Avila Institute) instructors teaching online will have a physical campus to which they can come and present the richness of the Catholic faith," he said. "The Internet is a beautiful way to teach, but there's nothing like getting a professor into a room and creating a community of life."
Burke shares Father Hilton's enthusiasm.
"Father Hilton is a visionary who is leading this groundbreaking effort," he said. "In many places around our country, the Church is waning, but Father Hilton is revealing a path to spiritual renewal. He's asking: 'How, in the new America we're in, do we engage the culture with Christ?' We can't use the same methods and conventions we always have. I have no doubt it will bear great fruit."
First Fruits
The weekend's closing Q-and-A session turned into a time of testimonials from the participants, who ranged from young families to senior citizens.
"From a person who struggles with having any faith at all, I just want to reiterate that love is that flame in the darkness," said Carol Clements, a former Protestant and fallen-away evangelical Christian from Evanston, Ill., who attended the event with her sister, a Chicagoan, after they found out about it online. "That is what moved me and changed my heart."
"I felt loved here. I feel it. I want to move to Aspen," she said to applause.
"What will change the world is love," she emphasized. "That's it — I'm in!"
Roxanne King writes from Denver.