The Power of Children's Prayer in Action
An Interview with Bishop Andrew Cozzens about the Oct. 7 14th-annual Worldwide Children's Eucharistic Holy Hour.
Thousands of children around the world will gather before the Blessed Sacrament on Oct. 7 for the 14th-annual Worldwide Children's Eucharistic Holy Hour. EWTN will broadcast this two-hour special presentation live from the Cathedral of St. Paul, National Shrine of the Apostle Paul, in Minneapolis, and from the Church of the Little Shepherds of Fatima, in Aljustrel, Portugal. This program for youth and children, called Children of the Eucharist, Young Missionaries of the Immaculate Heart of Mary, is sponsored by the International World Apostolate of Fatima.
Auxiliary Bishop Andrew Cozzens of the Archdiocese of St. Paul and Minneapolis, who will preside over the events in Minnesota, spoke about the Holy Hour's significance.
What's the history of your involvement with the annual children's Eucharistic Holy Hour? How did you get involved?
This is my first year being involved with the annual Children's Eucharistic Holy Hour. I got involved because several of the laypeople in my archdiocese have been involved for many years and been a real driving force behind it.
They approached me about a year ago to see if I would be willing to preside at this Holy Hour, which will be broadcast throughout the country and throughout the world. I was very excited to be involved because I believe in the goals of the Holy Hour, which are to help children learn how to pray through encountering Jesus in the Eucharist, to help spread devotion to Our Lady of Fatima and to help young people understand the importance of prayer through the message of Our Lady of Fatima.
How is this year particularly significant, with the approach of the 100-year anniversary of Our Lady of Fatima's appearances?
The appearance of Our Lady of Fatima in 1917 was arguably one of the most important events in the history of the 20th century. Certainly her message has had a dramatic impact on the history of the 20th century and our own 21st century.
But the message needs to continue to spread. The message is basically about the power of prayer, the power of conversion and the importance of prayer and fasting for the conversion of the world.
The beautiful thing is that Our Lady of Fatima appeared to children, and she must have believed that children have an important role because she chose them to be the recipients of her message, which was so important for the 20th century.
And we know those children had a profound impact on the Holy Father, most especially Pope John Paul II, who, following the other popes, consecrated the whole world to the Immaculate Heart of Mary after the invitation of Our Lady of Fatima.
It's very important, with the 100th anniversary coming up, that the people of today, most especially children, learn the importance and power of their prayers.
Why do you think it's important for children in particular to spend this Holy Hour with Christ at this specific time?
It's important to remember that Jesus himself argued we have to become like children in order to enter the kingdom of heaven, and, therefore, as Christians, we've always reverenced children. Throughout our tradition, we've even had many child saints.
There's no requirement that someone be old before they encounter Christ and his love and learn to give their own lives to Jesus and even learn to pray and intercede for the world in which we live.
As we know, children often have pure hearts and therefore are able to have more effective prayers. I think it's especially important that we introduce children to Jesus' presence in the Eucharist.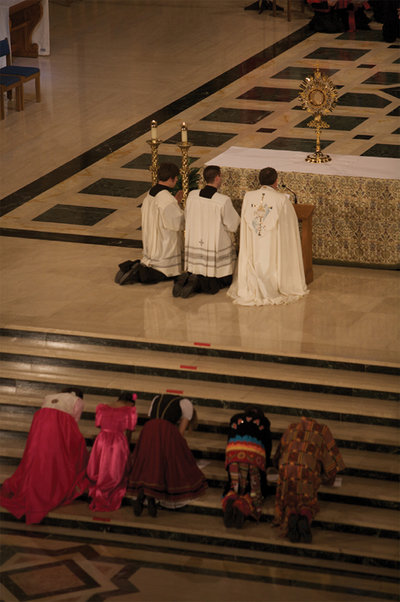 In my own experience growing up as a Catholic boy, I sensed very strongly Jesus' presence in the Eucharist, even in first grade. I remember wanting to be close to Jesus in the Eucharist, which was probably my own vocation from a very, very young age, in first grade, even before I received first holy Communion.
It's very important that we expose our children to Jesus' presence in the Eucharist and teach them the power of their prayers, because their prayers are important, as Our Lady showed by appearing to them.
What are the blessings of fostering devotion to the Eucharist and prayer in children? How does that benefit the rest of us?
The blessing of fostering the Eucharist and prayer in children is that children's hearts are more open. They're more open to receiving and knowing Jesus' love, and this certainly benefits us.
As Jesus said, we have to become like them. So we have to learn from their pure-hearted love how to love Jesus the way that they do. Most especially, we have to learn to trust him the way that they do.
This is actually one of the beautiful things you see about childhood saints. Even the childhood saints of Fatima: the incredible trust they had, because they knew that they had experienced Our Lady's presence and they were able to be strong in the midst of it. You see the same thing with Bernadette at Lourdes, who was also young when Our Lady appeared to her.
In fact, it's remarkable that, most of the time, when Our Lady appears to people, it's to children. The more our hearts become like children's, the more Our Lady will come to us.
This is the 14th year of this event, and my understanding is that it keeps growing and spreading. Why do you think it is gaining popularity?
It's a very interesting thing, because we're finally starting to regain the power of devotional prayer in the Church, which was an insight that, sadly, we sometimes lost in the important liturgical reform that happened after the Second Vatican Council.
So what you see is that — Eucharistic adoration and the praying of the Rosary — these things are growing. The reason they're growing is because we need lots of different types of prayer. Particularly, devotional prayer allows us to express our love in ways that can be quite personal and profound.
For several years now, we've been doing a children's Rosary at the cathedral here in St. Paul, and it grows every year. We have a waiting list of people who want to get in, because people realize that this kind of devotional prayer, when you bring children together to honor Our Lady, to pray the Rosary, to do adoration, is a beautiful way to open their hearts to receive and know God's love and Mary's love.
We need these kinds of devotions because then they help us to appreciate the very heart of our prayer, which is the Mass, even more.
I think it's a beautiful thought that children throughout the world are joining together in prayer around the Rosary. I'm quite sure that it makes Our Lady happy that we adults would put in effort to do this for our children.
I always ask children to pray for me when I greet them after Mass, because I believe their prayers are more powerful than the rest of ours. So, if we can facilitate that, it will have a beautiful, if unseen, impact on the world.
Sarah Reinhard blogs online at NCRegister.com and SnoringScholar.com.