St. Luke Productions Readies 'Tolton: From Slave to Priest' for National Stage
Actor Andrae Goodnight speaks about how the Servant of God's life will inspire people to holiness.
Father Augustus Tolton was the nation's first African-American priest and may one day become the Church's first canonized African-American saint. St. Luke Productions, the professional Catholic theater company founded by Leonardo Defilippis, is now bringing the story of this "Servant of God" to audiences nationwide with its new live drama Tolton: From Slave to Priest.
Tolton goes on national tour starting in October, fulfilling a dream by late Chicago Cardinal Francis George that Father Tolton's life and heroic witness of faithfulness to Christ and his Church would become more widely known in the U.S.
Andrae Goodnight, the actor who plays Father Tolton, told Register staff writer Peter Jesserer Smith that Tolton: From Slave to Priest should resonate with American Catholics of every stripe because Father Tolton's story shows how holiness is possible for all men and women, no matter how great the obstacles, so long as one is faithful to God.  
Andrae, why do you believe Catholic audiences need to know the story of Father Augustus Tolton?
Overall, when I look at Father Tolton's life, and when I think of any saint for that matter, I think of the hurdles they had to go through in order to reach sanctity. And the same is true of Father Tolton. He had tremendous hurdles he had to face, and if we only look at this through a microscope, we can make this all about race. But if we look at this through a larger lens, we can look at this story as what it means to be an American, what it means to be an American Catholic, and I think that [Father Tolton] personifies that, particularly at a pivotal point in the story of our nation.
Tolton was born a slave in Brush Creek [Missouri] and became a priest that was educated in Rome. So that's quite a distance to travel! And then to come back home and to begin his ministry, and then, of course, to end up in Chicago, a major urban city — it is such a wonderful story of a progression and a transformation of character. And I think that story needs to be told: how in any age, regardless of the obstacles that one faces, you can reach holiness.
Becoming a character is a deeply personal process for an actor. Was taking on this role, and "becoming" Father Augustus Tolton, also a real spiritual journey for you?
Basically, my first introduction to Father Tolton was when I went onto the St. Luke Productions website. There's that picture of him being a newly ordained priest, and he's so young and wide-eyed. He has this look about him, of "I don't know what I'm getting into, but I definitely trust the grace of God." That picture just spoke to me and, matter of fact, just looked through me. Every time I'd go back to the website, I'd see those eyes. And pretty soon, I didn't have to go to the website: Those eyes just kept following me. And so I knew there was something there that needed to be explored.
The more I learned about his life and his challenges — slavery, working in a tobacco plant, not being accepted to any seminary, to being ordained in Rome, and then going back and not being accepted in his own community, ultimately getting kicked out and starting St. Monica's, a church he couldn't finish — if you just looked at it from the externals, you might just see one failure after the other, after the other. It kind of makes you wonder: "Why are we celebrating someone who was a failure?" And that is one way to look at it, but I don't think it is the appropriate way to look at it. There's a great tendency to prize success, fame and fortune — particularly in our society — and when you see someone who doesn't need that, you can think: "Okay, there's nothing here worth celebrating." But I think there's everything worth celebrating, when you think about his perseverance, and his faith and his courage, to keep going and to keep trusting that God would indeed, if he had called him, make his priesthood a reality for him. You see that happen in such a grand way; and then, of course, you see that even at the end of his life. When St. Monica was not finished, there was a legacy he left behind: a sanctity that even we're celebrating. And so I think his life was far from a failure, and that was speaking to me in a very real sense. As I think about his ministry, it is ongoing.
What have you personally learned about what it means to be a saint from the life of Father Tolton? How do you plan to bring those insights out on the stage?
I've heard it said, and I believe it to be true, that no one becomes a saint unless they want to be. And it really starts with that desire to want to be holy. It sounds so simple, but it is so profound at the same time that it is easy to miss. We think that holiness consists in going to Mass, or conferences, or this or that. And I by no means want to disparage any of that — but at the same time, none of those things can substitute for a desire to be holy. You can go to Mass, you can go to conferences, and have no desire to be holy. At its most basic kernel level, [the play] is about reawakening that desire: "I want to be holy." And that desire, if indeed portrayed well, the challenges and obstacles become an even greater witness to that desire. Because instead of saying he failed, no — he overcame. Because even though the obstacle or challenge may have presented a pushback or discouragement, Father Tolton still persevered through it because the desire for holiness was there.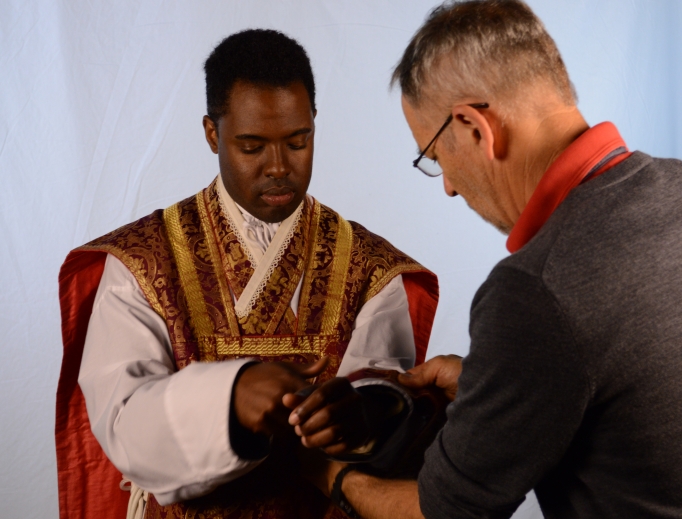 You performed selected portions of Tolton at the National Black Catholic Congress. What was the reception like?
I think, for many people, [the play] took Tolton out of a photo and an idea, brought it home, and made it real for them. There was such a wide variety of responses. There was a sense of "wow" and weeping; there was a response of saying, "I haven't seen anything like that" or "You were Father Augustus Tolton; you are Father Augustus Tolton!" I tell you, as I was getting on an airplane going home, people were just calling me: "Tolton! Tolton! Tolton!" So, again, there's a sense in which your identity is subsumed under this larger identity. And I think that's what happens as you do this: People begin to see this is a flesh-and-blood person; he experienced challenges — so do I. Look at how he experienced and battled through his challenges, and what does that mean for us in our situations? The experience was such a hallowed moment, really. And for that, I was grateful to be a part of it.
Did Leonardo Defilippis tell you where did the idea for Tolton came from?
It is really interesting, and Leonardo can tell the story far better than I can. I know that he was traveling — I believe he was doing Vianney. He had been traveling for the past year doing these shows, and he had been approached by this gentleman — I think it was outside the Chicago-Springfield area — who basically challenged him to consider Father Augustus Tolton. And that challenge stuck, and as he started reading and learning more about Father Tolton, I think he came to a similar conclusion that this is not a "black saint" — and true, he is African-American, he's of African ancestry — but this is an American saint; this is a universal Catholic saint. And I think when you're thinking in these categories — again, it's easy to go to the easy externals of "he's a black man living in the wake of the Civil War" in a conversation — but there's far more to this story. I think as Leonardo peeled through the layers and saw Father Tolton's story for what it is, I think it appealed to him, as well. And so that was the beginning of that journey for him. That resulted in him bringing me on, going to the National Black Catholic Congress, and here we are.

Do you think Tolton has a message for us about the enrichment of black Catholics and their spiritual patrimony in the Church in the United States?
I'm a huge Dante fan, and he's one of the pivotal reasons of my conversion. But when he talks in Paradiso about one of the saints, he talks about "here comes one who will increase our joys." And that's the mindset: It doesn't take away, it only increases your joy when you learn about the grace of God in the life of one person and of a people group. It only increases your ability to recognize and enjoy the grace of God. And I really think that is the message.
Any scenes from Father Tolton's life that you think will be particularly powerful for the audience?
As I've been preparing for the role and reading about his life, it is taking his life in total that the message comes home in such a pivotal way. You could take any one segment of his life — his escape from slavery, or working long hours in a tobacco plant and the challenges that came with that; going to a Catholic school and then being rejected; being personally tutored by priests because he couldn't find any other means to be educated in the faith; and, of course, the rejection from seminary, and on and on and on — you could look at any of those individual episodes and say, "Wow, that's really crazy." But if you look at it in total and say, "Whoa, this is how the great story unfolds," I think that message comes through loud and clear — that the grace of God was permeating through all those challenges to bring him to the point of sanctity. And I think that's really where we come full circle back to holiness.
Thank you so much, Andrae. What would you like audiences to take away with them after seeing Tolton?
That holiness is accessible and within reach. At times, and some more than others, we can make these saints "superheroes" and look at their lives and say, "There's no way I can do that and be this." And, really, I think when you look at Father Tolton and strip everything away, there's a desire that becomes so real and palpable that "I can do this." I can do this by the grace of God, and, yes, there are challenges in my life, but those challenges are not means to keep me from holiness — they're doors to invite me in. I think that pivotal shift is one that is occurring in my own life. And anybody across the nation, we believe, can identify with this man and his life.
We hope to continue to take that message potentially to every diocese in this nation. 
Peter Jesserer Smith is a Register staff writer.
This interview has been edited for length.
For more information, visit StLukeProductions.com.