'Love Jesus Always': Pope St. John Paul II Offers Advice to First Communicants
SACRAMENTAL LIVING: EUCHARIST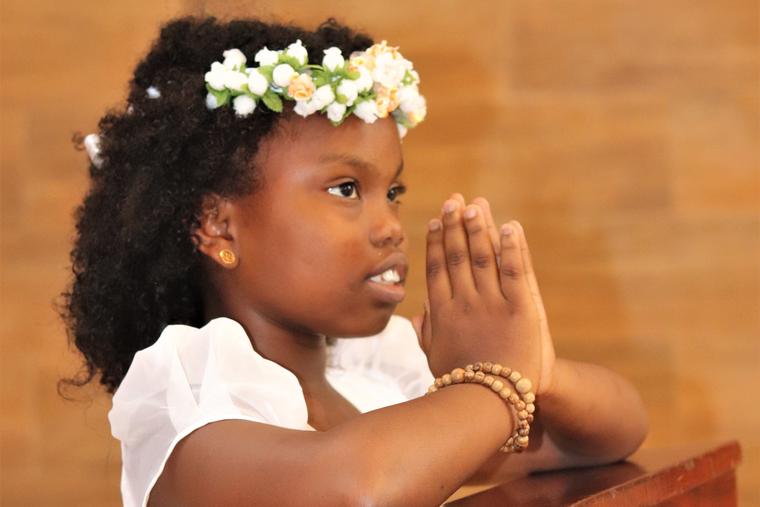 Dear friends, there is no doubt that an unforgettable meeting with Jesus is First Holy Communion, a day to be remembered as one of life's most beautiful. … Children receive this sacrament solemnly a first time — in First Holy Communion — and are encouraged to receive it afterwards as often as possible in order to remain in close friendship with Jesus," the Pope wrote to children in a letter dated Dec. 13, 1994.
He continued, "Every boy and every girl belonging to a Catholic family knows all about this custom: First Holy Communion is a great family celebration. … The day of First Holy Communion is also a great day of celebration in the parish. I remember as though it were yesterday when, together with the other boys and girls of my own age, I received the Eucharist for the first time in the parish church of my town. This event is usually commemorated in a family photo, so that it will not be forgotten. Photos like these generally remain with a person all through his or her life. As time goes by, people take out these pictures and experience once more the emotions of those moments; they return to the purity and joy experienced in that meeting with Jesus, the One who out of love became the Redeemer of man. For how many children in the history of the Church has the Eucharist been a source of spiritual strength."
In a visit to his homeland of Poland in 1997, he addressed children in Zakopane who had received their first Communion.
"Jesus loves you! A little while ago you experienced this in a special way — when Jesus came for the first time into your hearts. You received him under the appearance of bread in First Holy Communion. What does it mean that he came into your hearts? ... He is in you; his love fills you and makes you become always more like him, always more holy.
"This is a great grace, but also a great task. So that the Lord Jesus can live in us we must make sure that our hearts are always open to him. And so this is what you must do: Love Jesus always; have a good and pure heart; and as often as possible, invite him in, so that through Holy Communion he can live in you. And never do anything that is bad. Sometimes this can be hard. But remember that Jesus loves you and wants you to love him with all your strength."