Navigating the Often Rocky Road of Vocational Discernment
In a new book, Franciscan Sister of the Renewal Clare Matthiass provides some perspective from her own journey.
As the vocation director for the Franciscan Sisters of the Renewal, Franciscan Sister Clare Matthiass helps young women discern whether they are called to religious life. But when she began discerning her own vocation more than 20 years ago, she had no real guidance or sense of how to go about it.
In a new book, Discerning Religious Life (Vianney Vocations), Sister Clare draws on her experience as well as the stories of other religious women to help direct young women who think God may be calling them to life as a religious sister.
In an interview with Register correspondent Judy Roberts, Sister Clare talks about her vocation, how her efforts to help women with their discernment led her to write the book and her recommendations for going about the discernment process.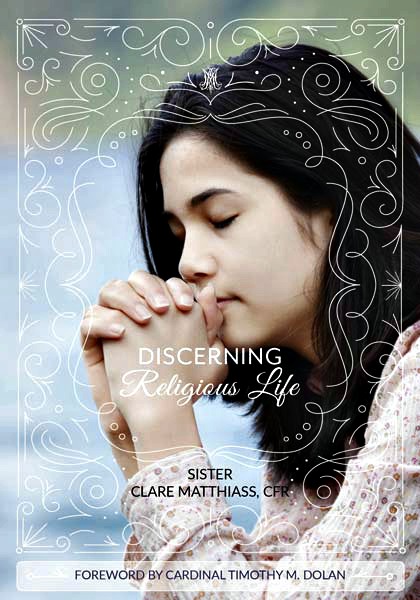 When did you begin to sense that God might be calling you to religious life?
I was born and raised Catholic, although not having gone to Catholic schools, I never thought about religious life much until I was a freshman at Franciscan University in Steubenville. All of a sudden, I'm seeing religious in classes with us, teaching classes, living in the dorms. It was a wonderful exposure to religious life.
That was the first time it occurred to me that God could be calling me to this life, but to be honest, I was resistant to that idea. It was a real conflict: wanting to be open to God's will, but deep inside thinking, "Anything but that."
How did your discernment process compare to the one you propose in the book?
If you take the steps outlined in the book and do the exact opposite, that's my discernment journey.
I had no sense at all how to proceed through a holy, guided discernment process. Only in reflecting on my own journey over these many years and in my own vocation work did I realize that there could be a better, simpler way to go about a discernment process.
Some basic things — like it's not advisable to date and discern religious life at the same time — were less obvious than they seem. Certainly for me as a college student — and many other young people — discernment meant a vague openness to God's will with a hope that one day, like a lightning bolt, he would reveal it.
But it doesn't really happen that way. It requires setting aside time, a commitment to prayer and receiving guidance to discern well. It seems easier to hear and understand the Lord's will through these circumstances.
How and when did you finally acknowledge your call?
The breakthrough actually came after I graduated from Franciscan. I was working for a parish in West Milton, Ohio, setting up the RCIA program and doing youth ministry. I turned to Our Lady and just really begged her for help.
I am totally convinced it was her intercession that finally brought about the grace to accept my vocation. That prayer was in May, and later that month at the Mass at Pentecost — at the elevation of the Blessed Sacrament — the Lord answered my fear that religious life wouldn't be enough to fill my heart.
In that moment, he made it undeniably clear that he was enough.
Your book is an expanded version of a booklet, "Is This a Call?" (Vianney). How did you happen to write the booklet and then the book?
The CFR Sisters assist with Youth 2000 retreats — Eucharist-centered retreats for young people that show them the power of a personal relationship with Jesus through the sacraments. At the end of the retreat there is a vocations call and the opportunity for young people to acknowledge if they feel they have a new openness to the possibility of a religious vocation or a vocation to priesthood.
Typically, the young men would be given the book To Save a Thousand Souls, and the girls would sit down with nothing in hand. I saw this time and again. It bothered me, and I realized it was the Holy Spirit bothering me.
So, two years ago, after asking the permission of my superior, I just sat down and wrote "Is This a Call?" It talks about prayer, listening, setting aside some time for discerning with the guidance of a spiritual director. It's being given out at all the Youth 2000 retreats and Franciscan University high-school conferences.
Last year, Sam Alzheimer of Vianney Vocations asked if I would consider expanding the booklet into a book. At first, I was a little bit hesitant. But Sam was persistent and convincing, and so I thought, "Let me pray about this."
I did a personal novena to Venerable Solanus Casey that he would make it clear to my superior if this was something I should be doing. After the novena, I talked with her about it, and she gave an immediate "Yes" and her enthusiastic blessing to the project.
Why was it important to have a book about discerning religious life geared to women? Is a woman's process different from a man's?
The book addresses women's specific concerns and fears, which often revolve around their spousal desires and desires for motherhood.
There's a counterpart to that for men, but discernment is not a generic process. Naturally, our femininity is at the core of our identity as woman, and motherhood is the key to that identity and thus has to be addressed in the discernment process.
One chapter of the book deals with the fears young women face as they consider religious life — everything from the fear of never being a mother to the fear of unworthiness. Would you say these fears are common to every woman who discerns a religious vocation? Which was particularly real for you as you thought about becoming a sister?
The collection of fears in that chapter are really common. All those things in some way or another enter the minds of almost all women who are discerning and need an answer.
The prominent fear for me was that the life was somehow unfulfilling, that it would be one big sacrifice and self-denial.
The Lord answered that himself by assuring me that the human heart was made for him. And, specifically, that my heart was made for him.
You lay out a "six-month discernment challenge" in the book. Where did that idea originate?
In a way, it was from realizing what I did not do in my own discernment process, but also from the years of guiding women in their discernment journey.
God is still calling women to religious life, but it seems increasingly difficult to hear that call. I've discovered that with all the outside noise and competing influences, it really helps to set aside time and make a commitment to focus on one thing at a time, to concentrate on looking at this question from every angle, through your prayer and reading and talking with actual sisters.
We tend to think of discernment as a spiritual process, but you also cover some practical elements, such as how to pay off student loans or other debts before entering a community. Was this your idea or did it come from the sisters you talked with?
It just seemed like having some practical tips was a good way to end.
Should a person's journey get to that point, now what do you actually do? How do you get ready? I think I wanted it to be as practical as possible.
This is a nuts-and-bolts book. Most young women do not have the benefit of knowing sisters and less and less are they being reared in a school where they are taught by sisters in every grade, so they can't sit down and ask these questions. This is in some way meant to provide true-life answers to help them on their way.
How did your experience as a vocation director influence the book?
Tremendously, and in two ways. Being a vocation director is a wonderful blessing. It keeps your own story ever-fresh, because you're repeating it every day — the graces you've received; the mistakes you've made; the journey you've had.
Repeating it so frequently gave me insight into my journey. It helped me get in touch with my own experience so I could develop an alternative method of discernment to the one I used. Secondly, it has given me insight into what young women today are experiencing and grappling with, what they want to know, what they need to know and what their questions and fears are.
Have you found that millennial women look at religious life differently than their predecessors?
Young people are the same as they ever were. They are seeking to live a radical, countercultural life. And God is the same yesterday, today and forever, and he's calling people to himself to live this radical life of union with him.
The book is meant to bridge the gap between those two realities. God is calling, and young people want to respond, yet are finding it increasingly difficult to do so.
 Judy Roberts writes from Graytown, Ohio.