March for Life: A Family Affair
Multiple generations take part in the culture of life.
WASHINGTON — On the eve of this year's March for Life, Dorina Hayes and her husband, John, will load their seven children into a van and make the eight-hour trip from their home in Rochester, New York, to Washington, D.C.
"This is the first year we're taking a van with our family," Hayes told the Register.
The family is leaving Thursday evening to join the Friday, Jan. 27, march, before returning on Saturday morning.
In years past, they had boarded a bus for the largest annual civil-rights march taking place in January, experiencing all that entails:  The weather is sometimes snowy, sometimes wet and sometimes dry, but always cold.
This family tradition — traveling conditions and the needs of their youngest children permitting — helps the Hayeses impress onto their children, ages 1 to 16, the importance of the pro-life mission to promote the dignity of every human life.
The annual March for Life in Washington links the pro-life family across multiple generations in a variety of ways.
Dorina explained how her own involvement in the pro-life cause — and her own personal healing from three abortions: the first a result of rape at age 15, followed by two more in her 20s — came about through many conversations around the kitchen table with her mother-in-law, Dorothy Hayes, who is also attending this year's march with the youngest of her 10 children. Dorina recalled that, before dating her husband, who introduced her to his practicing Catholic family, "no one told me the truth about abortion."
After seeking confession and one-on-one post-abortion counseling, Dorina told her mother-in-law about her past. "She embraced me, and I felt all this tension and shame melt away, and I knew I wanted to be part of this fight with her," Dorina said.
Dorothy Hayes told the Register it was a grace that her son would be the one to help his wife heal from abortion, because he, too, "could have been a victim of abortion back in 1975." She said she and her husband, also named John, were not engaged with the Catholic faith when they found out they were pregnant with their first child in the middle of college.
Both are devout Catholics today. Dorothy said her journey into the Catholic faith was nourished by the pro-life movement in the 1980s, as she came to realize that the life and dignity of the unborn child was the most pressing issue of social justice in the United States.
The first time they went to the march was in the 1980s. Dorothy remembers looking at Constitution Avenue and feeling amazed at how, "from curb to curb, as far as the eye can see was filled with people."
"There was no question this was important to do as a family," she said. With 10 children, five of whom are married, and 22 grandchildren, the tradition continues to the next generation.
Generations of Leaders
The witness of the march has not only pulled generations of families into dedicated pro-life work — it has also inspired generations of activists.
Rep. Chris Smith, R-N.J., the Republican co-chairman of the Bipartisan Congressional Pro-Life Caucus, told the Register that he first joined the march as a college student in 1974, the year after the U.S. Supreme Court declared abortion a constitutional right in Roe v. Wade and Doe v. Bolton. He helped organize a busload of students from Trenton State College (now the College of New Jersey) and came back inspired by March for Life organizer Nellie Gray's "Life Principles" that pushed them "to go back and speak out." The student participants realized that children and their mothers were at increased risk for abortion on college campuses and redoubled their efforts to bring the pro-life message and crisis-pregnancy help to university settings.
Smith noted that he has seen the march bring in "all these new wonderful leaders," particularly youth.
"I look at the new members coming in, the last class that's coming in now to Congress, and these are unbelievably committed women and men who take their faith seriously, but they also see that faith without works is dead," he said. "They believe the faith needs the works as well, [and] works in the political arena need to be done."
Kristan Hawkins, president of Students for Life of America, told the Register that the march has helped rejuvenate her and others' commitment to carry on the pro-life mission by encountering so many other peers likewise committed to the protection of human life.
Students for Life holds its East Coast conference in conjunction with the March for Life in order to channel pro-life youth activists' enthusiasm into committed, concrete pro-life action at the local level. Hawkins explained that workshops aim to help college students learn "how to treat that campus like a mission field" and equip them to get out the pro-life message well, diversify their groups, and learn theology of the body as well as ways they can make a difference for women and their unborn and born children on campus. This includes how to work with and market pregnancy-help centers on campus, talk about adoption, and make campus pregnancy and parenting friendly, so collegiate moms can have the confidence and support to choose life and finish their educations.
"Those are really important things to know on college campuses," Hawkins said.
March's Mission
The theme for this year's March for Life is "The Power of One," symbolized by a small candle dispelling the darkness. Jeanne Mancini, president of the March for Life, told the Register that the marchers will be empowered with the message that each person's efforts for the pro-life cause, no matter how big or small, make a profound difference in the world. Mancini said a number of speakers will reflect this theme, including Abby Johnson, whose "And Then There Were None" ministry has helped people leave and heal from the abortion industry, and evangelical Bishop Vincent Mathews of the Church of God in Christ, who has helped his church spread the message of adoption, particularly from the foster-care system. Also scheduled to address the crowd are Cardinal Timothy Dolan, archbishop of New York, and Kellyanne Conway, presidential senior adviser, who will attend the pro-life event just one week after the inauguration of President Donald Trump. Conway, who was also Trump's presidential campaign manager, is a longtime pro-life advocate.
Mancini said the ongoing witness of religious brothers and sisters at the march — particularly having seen one group of friars walking barefoot in the snow — made a deep impression on her own commitment to pro-life action at home. She added the march would not be doing its job if it did not help marchers to take that enthusiasm and motivation they felt in D.C. and "go home to do something about it."
The 2016 march had a "Give Life Campaign," which invited marchers to commit to a specific pro-life activity in their community each month. This year's march, Mancini said, will aim to show marchers how they can engage in pro-life advocacy with their elected leaders throughout the year.
"We want marchers to know that their life, and how they live that life, makes a difference building a culture of life," she said. "And collectively, if we all respond to our unique missions to love and to life, we'll be able to build a culture where abortion is no longer a human-rights issue."
The March for Life has also had a multiplier effect, as the day of pro-life solidarity has spread with marches across the country and the world.
The North Texas March for Life in Dallas, Texas, planned for Jan. 14 this year, has provided an important forum for engaging Latino communities with the pro-life message, according to Patricia Vasquez, head of the Catholic Pro-Life Committee of North Texas' Hispanic Pastoral Ministry. She told the Register that, for many Latinos, abortion does not register in their consciousness as an issue because attacks on life such as abortion were not happening in their countries of origin with the same intensity as in the U.S.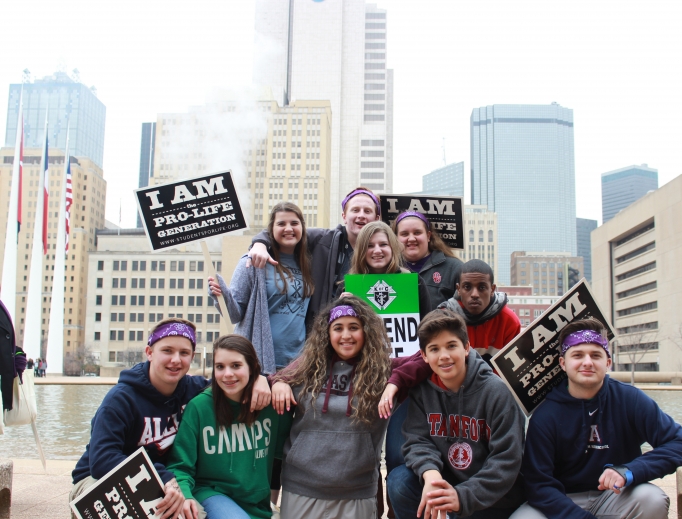 Having the North Texas March in Dallas, with the participation of so many families celebrating life, Vasquez said, gives pro-lifers "the opportunity to unite with one voice" and sends the message that they "are not alone."
'It Gives Me So Much Hope'
This year's national march also has a sense of expectation among the different generations of pro-life marchers gathering together on Jan. 27 in Washington.
Both Dorina and Dorothy Hayes told the Register that they felt excited that the pro-life agenda will finally move forward after eight years of President Barack Obama's administration — provided President Trump and the Republican Party, which holds a congressional majority, remain faithful to their campaign pledges.
So three generations of Hayeses, and many other pro-life marchers like them, will descend on the National Mall for the March for Life, in order to send a message to their elected leaders in Congress and the White House.
But when they reach the top of the hill near the Capitol on Constitution Avenue, Dorina Hayes wants her children to pause and look ahead and behind them at the thousands upon thousands of people marching as far as the eye can see, because theirs is a bold witness: They are all dedicated to the cause of protecting the lives of unborn children and their mothers.
"It's such a beautiful sight to behold," she said. "It gives me so much hope." 
Peter Jesserer Smith is a Register staff writer.