J.R.R. Tolkien Is Still 'Captivating Minds and Hearts'
Marking a new era in Tolkien studies and commemorating the 50th anniversary of the famous author's death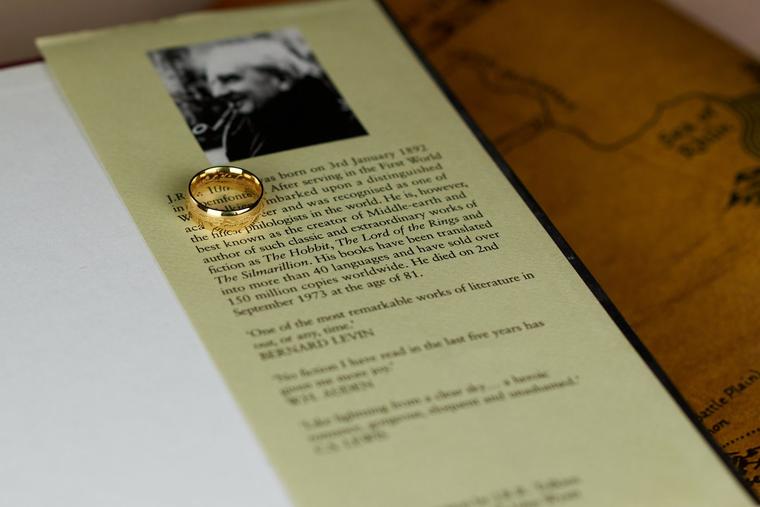 J.R.R. Tolkien, renowned Catholic writer and creator of Middle-earth, died 50 years ago this September.
His books continue to captivate minds.
Tolkien enthusiasts near and far continue to champion the wordsmith who brought to life Bilbo Baggins and other beloved characters.
J.R.R. (John Ronald Reuel) Tolkien (1892-1973) was an Oxford University English writer and scholar. His works include The Hobbit (1937) and The Lord of the Rings (1954-1955), with more than 700 million copies sold.
His works live on in the hearts of his readers and will be remembered for many years to come.
Avid readers are always eager to promote their favorite author — including Franciscan University of Steubenville associate English professor Ben Reinhard, who teaches Tolkien's novels.
"In addition, 2023 is a significant turning point in Tolkien studies because the generation of scholars that truly knew him is entering retirement. It's not yet clear what sort of scholarship will fill the void they are leaving. We hope to make Franciscan University a center of Tolkien scholarship in the 21st century," Reinhard said in a news release about an upcoming conference hosted by Franciscan.
"It's a privilege to be part of a conference honoring the memory of J. R. R. Tolkien on the 50th anniversary of his death," added Reinhard, chief organizer of Franciscan's conference on Tolkien in September. "Tolkien is the great Catholic author of the 20th century, and we're only just beginning to understand the full importance of his work."
The title of the conference is "A Long-Expected Party: A Semicentennial Celebration of Tolkien's Life, Works, and Afterlife," to coincide with the anniversary of the author's death, Sept. 2.
"Obviously, Tolkien has inspired generations of Catholic readers in the past 75 years."
"But sometimes I suspect his greatest impact on the Catholic community may be found in the way his works have appealed to non-Catholics," Reinhard told the Register.


'Fundamental Sanity and Sanctity'
Reinhard drew a conclusion between Catholic readers and non-Catholic readers along with how both are equally as important in regard to Tolkien's writing.
He continued, "As one of Tolkien's early readers commented, Tolkien's works possess a fundamental sanity and sanctity. The untold millions of non-Catholics who have delighted in The Lord of the Rings (LOTR) have been drawn into that."
Reinhard is not alone in his enthusiasm. Many students and other professors are also excited for the forthcoming conference.
The Register spoke to Christendom College students Laura Sigler and Laurel Eckenrode about presenting their own scholarship as part of their undergraduate studies at the conference.
"It is an immense honor to be a part of this celebration of Tolkien's life and works. I'll be honest: I wasn't always a Tolkien fan; I wasn't the kid who grew up reading The Hobbit and LOTR. I didn't really discover Tolkien until high school, and I didn't appreciate him as an author until I came to Christendom," said Eckenrode, who is a history major at Christendom, based in Front Royal, Virginia.
"But now I can't get enough of him! I'm highly anticipating this conference, continuing to learn and dive deeper into the world of Tolkien scholarship," she continued.
Eckenrode went on to discuss Tokien's time-honored appeal upon the 50th anniversary of his death: "I think a large part of Tolkien's appeal is the universality of his works. They're not explicitly Catholic, but his faith enables him to accurately portray experiences common to all human beings; he shows what is true, good and beautiful, even in the midst of suffering, and that resonates with all people, not just Catholics."
"I think Tolkien speaks to young people in a special way, because, through his stories, he shows us that the world, and our impact on it, is so much bigger than we could possibly imagine, if only we are open to the possibilities," Eckenrode said.
As a Tolkien enthusiast, Sigler, an English literature major at Christendom, said that "since the publication of The Lord of the Rings in 1954, no other book has come close to its widespread reach and enduring appeal."
"The Lord of the Rings and Tolkien's other tales are meaningful stories that will continue to be relevant always and everywhere. They communicate universal truths about the human and the divine that will never cease to touch hearts and minds. Tolkien's writing is unique. He did not set out to write a Catholic novel, but simply a good novel. His work feels accessible to all, while still being infused with truth, whose ultimate source is God," Sigler added.
Sigler continued, highlighting that young readers need to know and learn that virtue is "beautiful."
"They need to be surrounded by beauty at a young age," she said. "Beauty is a life-giving water that nourishes all souls, but especially the young."
Thomas Stanford, an English professor at Christendom College, is also looking forward to presenting a paper on Tolkien at the conference.
Stanford touched on an important theme in many of Tolkien's works: friendship.
In The Lord of the Rings, Tolkien details the sacrificial friendship that Merry and Pippin show Frodo by supporting their friend through any challenge.
Another example is the inspiring friendship of Sam and Frodo, a genuine philia that "undergirds and informs Sam's sacrificial service to Frodo and Frodo's submissive reliance on Sam," Stanford explained.
In addition, Gandalf responds to the young Hobbits, saying, "in this matter it would be well to trust rather to their friendship than to great wisdom."
The theme of friendship is seen as a cultivated virtue from characters — meaning to put the needs of others before one's own, Stanford underscores, highlighting the gift of camaraderie.
"In the end, the Fellowship (and, one might say, fellowship) conquers evil! Friendship wins," Stanford explained.
Stanford also touched on how meaningful Tolkien's works have been in his own life.
"Tolkien's words, in his art, his literary criticism and his letters, have meant worlds to me. His novels The Hobbit and The Lord of the Rings in particular inspired my imagination and showed me that literary works can not only move our hearts but may prompt us to virtue and increase our self-knowledge."
Of Famous Quotes and Lasting Legacy
Tolkien's works enabled Stanford to grow in his vocation as a teacher of literature and as a father.
He added that Tolkien's love for his children is inspirational, as noted in his delightful "Father Christmas" letters. Stanford commented that he is most moved by this famous line from Tolkien to his son Michael:
"Out of the darkness of my life, so much frustrated, I put before you the one great thing to love on earth: the Blessed Sacrament. . . . There you will find romance, glory, honour, fidelity, and the true way of all your loves on earth, and more than that: Death: by the divine paradox, that which ends life, and demands the surrender of all, and yet by the taste — or foretaste — of which alone can what you seek in your earthly relationships (love, faithfulness, joy) be maintained, or take on that complexion of reality, of eternal endurance, which every man's heart desires."
Joseph Pearce, a Tolkien scholar, also looks to that famous Eucharistic quote, which calls to mind Church teaching.
"Tolkien's deep and devout Catholic faith is shown to a sublime degree in his evocation of the Blessed Sacrament as 'the one great thing to love on earth,' Pearce observed.
"It shines forth the glorious truth that his life was centered on the sacramental presence of Christ."
Tolkien's works remain a so-called "good work" since they are "timeless" and offer "timeless variety."
Pearce finds that Tolkien's writings are impactful on both youth and the faithful at large.
"They show the inseparability of love from self-sacrifice and the importance of the acceptance and embrace of suffering as a means of growing in virtue," Pearce stated.
"They also show that the absence of self-sacrificial love leads to the darkness of pride and its self-destructive consequences," he said.
Professor Reinhard added, "Obviously, The Lord of the Rings is not an allegory of Catholicism, and we have to be careful of drawing one-to-one correspondences between its characters and images and the substance of our faith.
"On the other hand: Tolkien was a daily Massgoer, and the liturgy would naturally leave a strong impression on the imagination. There are the things that people always point to: the similarities between Galadriel and the Virgin Mary," for instance.
And that Catholic-centric legacy endures.
As Reinhard commented to the Register, "I'm one of those 'untold millions'" who have been impacted by Tolkien's writing. "Tolkien was the first Catholic author I read in my childhood and my first exposure to Catholic thought."
"He's been a constant companion since childhood, and it's hard to think of a part of my life his writings haven't impacted in one way or another," he said.
As student scholar Eckenrode emphasized, "As long as the human experience remains, Tolkien will appeal to every generation."
LEARN MORE
The conference is set to take place Sept. 22- 23.
Registration for the conference is now open. For more information, please visit this link.