How Father Capodanno Brought Christ to the Battlefield: A Heroic Chaplain's Story
Film about Maryknoll Servant of God premieres on EWTN this week.
 The film debuted Aug. 30, on EWTN at 10pm Eastern, with re-airs Sept. 2 & 4 at 3pm. Be sure to tune in!
Editor's Note: A link to the documentary at EWTNRC.com is added under 'Watch on TV' section below. This story was originally posted on Aug. 28.
After two years in planning and production, Called and Chosen: Father Vincent R. Capodanno is coming to the small screen via EWTN Aug. 30.
Just in time for the 50th anniversary of the death of the "Grunt Padre" and Medal of Honor recipient — and "Servant of God" — Maryknoll Father Capodanno, the film tells the life story of this Marine chaplain, from his childhood to the day he died on a battlefield in Vietnam.
On Sept. 4, 1967, during a fierce battle on a knoll, the Marines were greatly outnumbered by the Vietnamese. It took more than 25 enemy bullets to stop the severely wounded Navy chaplain as he moved about the field bringing comfort, ministering to the dying, and rescuing the wounded of "Mike" Co.'s first, second and third platoons.
"The whole purpose of this documentary was to expose more people to the heroic, virtuous life of Father Capodanno. He is a Servant of God," said Mary Preece, vice postulator for the chaplain's cause of canonization.
"It seemed a monumental task," said retired Marine Capt. George Phillips, board chairman of the Father Capodanno Guild.
"The most important thing is that the story of Father Capodanno, his life and his holiness — and his dedication to not only the Marine Corps, but to all those he served, and even the holiness of growing up Catholic and being a daily communicant — will be made known to the public," explained Phillips. "Certainly, I hope it helps the cause of canonization. But, most importantly, we wanted to get his life out for everybody to see what a real hero and a possible saint looks like. In these days, people need better role models than what they see on TV or hear on the radio."
Making the Movie
The guild turned to producer-director James Kelty to make this film, complete with documentary facts and dramatic re-enactments. Kelty wrote and directed EWTN's first original movie, which aired last year: The four-part Kateri won the "Capax Dei Award" at the Vatican-sponsored Mirabile Dictu International Catholic Film Festival. The station had previously aired Kelty's miniseries on St. Junípero Serra and the North American Martyrs.
Kelty wanted to do a story about a chaplain, either Father Capodanno or Father Emil Kapaun, another "Servant of God" who served as an Army chaplain in Korea. Kelty, who was familiar with Navy chaplain Father Daniel Mode's biography of Father Capodanno, The Grunt Padre, signed on to the project — and so did EWTN.
And people who knew Father Capodanno, from relatives to Marines who served with him, including those on the battlefield that Sept. 4, lined up to contribute to the documentary.
Filming followed Father Capodanno's life from his childhood through his death on the battlefield at age 38, with many scenes filmed in actual locations.
"There was a major snag when we were planning to take a number of veterans who were with Father Capodanno when he died in that the battle to Vietnam," Kelty recalled. The idea was to share their memories at the exact location. But the Vietnamese denied the group visas.
"That turned out to be a blessing in disguise," he said. Instead, they decided to re-create the whole battle scene as closely as possible, using young men about the same age as the veterans were at that time. "Everybody got excited about these dramatizations."
Several of the Marines flew out to California to insure everything was done as accurately as possible, down to the military haircuts. Kelty said it was moving to interview the veterans about their memories and then to re-enact some of those scenes.
"There are pretty realistic combat scenes," said Phillips. "Four of us who knew Father Capodanno personally — the company commander and myself and two other Marines — went out with these young men and spent five days with them to make sure it was right — how you hold the weapons; how you walk. By the beginning of the second day, everybody bonded, like pulling the Marines together all on one team."
Phillips, a corporal in the battle 50 years ago, pointed out many moving scenes, like the one portraying when Father Capodanno pulled radio operator Steve Lovejoy to protection and the experience of Fred Tancke, who actually saw the chaplain get shot. "We know we got that death scene exactly right," Phillips said.
They all recognized "it wasn't just an acting role — they were taking on the persona of a man of God and the people who he affected," according to Preece.
The young men playing the Marines, Kelty explained, are "a devout bunch of young guys" at Thomas Aquinas College in Santa Paula, California, which is located 45 minutes from the filming site.
The director also noted the special crew he received from John Paul the Great University in Escondido, California.
To relate Father Capodanno's childhood, filming took place where he grew up on Staten Island, New York. Among those interviewed are his sister Gloria and his cousin Al Lambert. Another prominent locale is the Maryknoll missionaries' seminary in Ossining, New York, where the heroic priest entered the Maryknoll order.
Providentially, Kelty met a 10-year-old boy and his devout family while giving a talk on Father Serra and his missions in Carmel, California.
He spotted the youngster, who looked "just like the pictures of the young Vincent Capodanno." Kelty explained the film concept to the boy's mother; through their conversation, he was able to fill the young Capodanno role.
Beyond Duty's Call
The cast assumed the assigned roles well, Preece said, "especially the young man who portrays Father Capodanno. The physical resemblance is uncanny." Speaking of James Hutson, she said it was "like he became Father Capodanno; it was powerfully re-enacted."
"I think our actor has charisma," Kelty noted.
Phillips also had praise for the actor playing Father Capodanno. "I thought he did really well. When I first met him, he was certainly younger than Father Capodanno, and his voice wasn't quite as deep. But it was his face and the way he carried himself: He had the eyes that were all-important. Anyone who knew Father Capodanno will always tell you about his eyes. And he [the actor] had the right kind of attitude. It's one thing to be an officer; it's another to be a chaplain. This chaplain spent a lot of time not ignoring he was an officer, but emphasizing he was a priest. Jim managed to bring that across."
To illustrate, Phillips described one poignant scene re-created with actual veteran Henry Hernandez. As a chaplain's assistant, Hernandez spent a lot of time with Father Capodanno. Going to meet his chaplain for the first time, Hernandez, who hadn't been to confession in a long time, figured he'd "better get myself right with God. But once he heard Father Capodanno's voice," Phillips related, "he looked up into his eyes and said to the effect: 'This priest is something special — he's very close to God.'"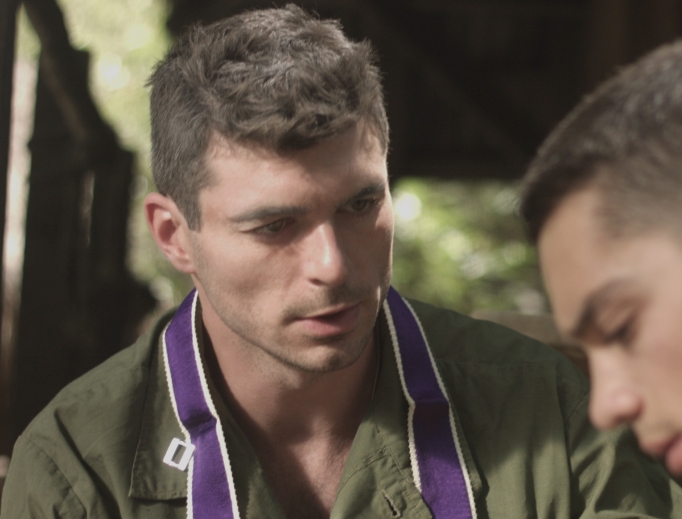 Filling Saintly Shoes
How does one play a saintly Marine chaplain? Actor Hutson was pleased with the role because he had always wanted to play a real hero. Kelty described Father Capodanno as a great American who was selfless already as a 12-year-old.
"When they first sent me the pictures of him, it reminded me of my grandfather on my mother's side," Hutson said, also noting "how much I looked like him as the younger and older version."
Hutson was both proud and nervous for the role. "I wanted to get into his mind and help as many people as he helped. It was a heavy weight to hold. His death — the whole project — was very emotional for me."
For months before filming, he read what his friends, relatives and all the Marines who knew the heroic chaplain had to say about the holy padre. Together with others in the cast, he spoke to priests about their vocation. Each day, Hutson would sit with the Bible and "read like he would. I wrote a lot of handwritten or typed letters to my family like he did. Once I took the role I knew I was going to touch some lives, so I took it as seriously as playing my own father and grandfather."
He found the veterans' stories deeply moving. And he was struck by how Father Capodanno always helped men who were suffering in mind or heart.
"With every breath he had, he wanted to make the world better and help people," Hutson said. "He's a better man than I am, so it was really big shoes to fill and be[come] this superman."
The role affected the actor's spiritual life, too. "After playing this role, I challenge myself. A lot of times I would take from his life and learn from him. I would be so happy to know people are still learning his values and morals."
The Saint Shines
The film brings out Father Capodanno's strength of character, including being a patient listener. He had a quiet strength that just drew people, even non-Catholics — young men looking "for a mentor who cared about them and somehow conveyed to them their lives were special … that God was there and that they weren't alone," Kelty said.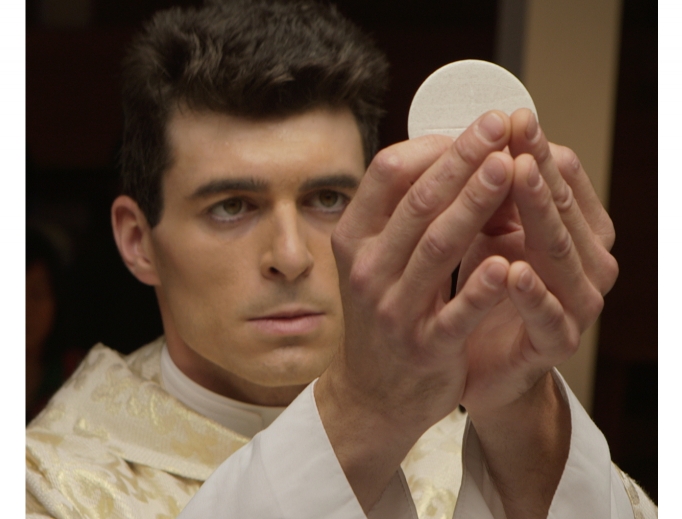 Kelty says his story is very relevant 50 years later. "Here was a person who faced all those divisions and uncertainties and went forward and risked his life and brought Christ onto the battlefield."
How does the guild see the cause of Servant of God Vincent Capodanno — the diocesan phase closed this past May — fitting with the new Pope Francis-created category for beatification called "offering of life," where a person died prematurely by offering his or her life for love of God and neighbor?
"As soon as I saw that, I sent it to the tribunal, headed by Msgr. Frank Pugliese," related Phillips. Msgr. Pugliese headed the official tribunal looking into Father Capodanno's life of heroic virtue. "An hour later, he calls and says this is a perfect fit."
"Who better exemplifies this criteria than Father Capodanno?" added vice postulator Preece. "Father Capodanno is the prototype for this — his sacrificial death for his Marines in bringing Christ to them in their final moments is exactly what Pope Francis is referring to."
Both the guild and Kelty hope this film will make Father Capodanno even better known. "He's a national hero — he got the Medal of Honor (posthumously) — and an American patriot," Kelty emphasized.
"The purpose of this is to … see the totality of this holy life of Vincent Capodanno," said Phillips.
Kelty, who is already considering his new project, says stories of a "great heroic individual" need to be told.
As for Called and Chosen, "I really think we got something special."
Joseph Pronechen is a Register staff writer.
WATCH ON TV
This 90-minute film premieres on EWTN on Aug. 30 at 10pm Eastern. Before its airing, at 8pm on EWTN Live, Father Mitch Pacwa will talk to James Kelty, Capt. George Phillips and Mary Preece about the movie.
EWTN will repeat the film on Sept. 2 and 4 at 3pm. DVDs are available for purchase via EWTNRC.com.
And the annual Mass for Father Capodanno at the Basilica of the National Shrine of the Immaculate Conception in Washington will be held Sept. 5; the main celebrant will be Archbishop Timothy Broglio, archbishop for the Military Services, USA. At the end of the film, he reads a prayer for the intercession of Father Capodanno.
Vice postulator Preece expects this Mass to attract many, including relatives from the Capodanno family, neighbors from Staten Island and Marines who were on the battlefield and who served with him in other assignments.