Holy Cross College Thrives After Reaffirming Its Catholic Identity
Following a massive administrative reorganization, the Indiana college makes a push to return to its roots.
NOTRE DAME, Ind. — When Holy Cross Father David Tyson arrived at Holy Cross College in Indiana last spring amid a financial crisis, he was prepared to have to close the 52-year-old institution. Instead, nearly a year later, he has presided over a revitalization of the college by returning it to its Catholic roots.
"Unlike some institutions [that] believe that the Catholic character should be outside the classroom, we believe that it should be primarily within the classroom. So we believe that all academic and professional institutions should be taught and studied consistently with the Catholic intellectual tradition," said philosophy professor David Lutz, who became the dean of faculty as part of an administrative reorganization last year.
That doesn't just mean that theology and philosophy courses are taught from a solidly Catholic perspective. It also means, according to school administrators, that the insights of Catholic moral philosophy and social thought are also brought to bear on other disciplines, such as business, the most popular major.
The renewed focus on its mission as a Catholic school is transforming seemingly every aspect of the college. New faculty hires are now asked how they can contribute to that distinctive mission. Likewise, Holy Cross has instituted two new scholarships, the "St. André Bessette Award" for students with an exemplary commitment to service and the "Blessed Basil Moreau Award" for those who have demonstrated academic excellence.
The scholarships reinforce the school's ties to the religious order that founded it: Blessed Basil founded the Congregation of the Holy Cross in France in 1837, and St. André was a notable figure in North America remembered for spreading devotion to St. Joseph. (Technically, Holy Cross was founded by the Midwest Province of the Brothers of the Congregation of the Holy Cross.)
The reaffirmation of Holy Cross' Catholic identity is not lost on those on campus daily.
 "I'm just very excited by the vision of Father Tyson … this kind of sense of returning to the roots of things are that important to the vision of Father Moreau, which … I would say is careful attention to the education of the mind and heart, kind of a certain faithfulness to the Church and zeal for the apostolate and the desire to make God known, loved and served," said Andrew Polaniecki, the director of campus ministry.
Other elements of that vision, he added, include trust in divine Providence and bringing hope to others.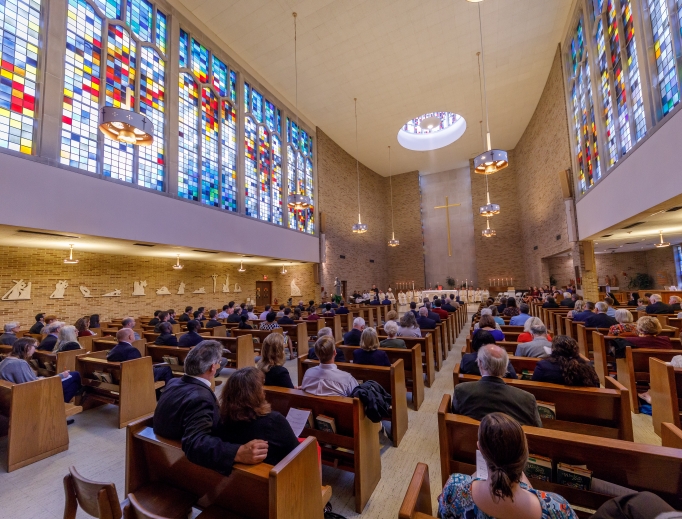 Crisis Sparked Change
The renewal of Holy Cross was sparked by a financial crisis that came to the fore last spring. Father Tyson said the school was more than $10 million in debt with no means to pay it back. He said the previous administration had pursued ambitious initiatives, such as constructing a science building for a new pre-medicine program, without identifying how they would be able to fully fund them.
"It just simply had aspirations that it could not meet," Father Tyson said. "Strategic planning isn't brain surgery. You've got a strategy, and you've got a business plan. … As I told the former president, 'The space shuttle and the space station have to dock perfectly or there's catastrophe. And we didn't dock.'"
The crisis led to an administrative overhaul. The board of trustees appointed Father Tyson, who had previously served as president of the University of Portland in Oregon for 13 years, to be interim president. Within about two months, nearly all of the five vice presidents of Holy Cross were gone.
When he arrived on campus in 2017, Father Tyson had been bracing for the worst. He soon found that the financial issues were not terribly too complex and could be fixed. But Father Tyson, who has a doctorate in higher education administration, took more than just a dollar-and-cents approach to his new post.
In graduate school, he wrote his dissertation on the impact that mission has on organizations within a Catholic university and says he has a reputation as a "mission guy." His background would prove crucial to his position at Holy Cross.
In the next few months, Father Tyson noticed something about Holy Cross College: Despite the recent turmoil, the school community was deeply committed to its Catholic mission, shaped by the order that founded it. It was evident in everything, from the anchor-and-cross medallions embedded in a campus sidewalk to the campus culture.
For example, at commencement, when an alumni speaker said the first part of the Holy Cross Congregation's motto, "Hail the cross," the student body responded with "our only hope." Father Tyson was impressed: "We don't do that in our seminary," he said.
Father Tyson, whose presidential appointment was extended to a five-year term last summer, realized the college's inner strength was its commitment to its Catholic mission. The key to revitalizing the institution, he realized, was in embracing its roots.
"We're certainly in a period where I think being mission-driven with respect to our campus character is not easier," Father Tyson said. "But I hope it's easier to talk about because I think it's critical to the future."
Pragmatic Initiatives
Some initiatives Father Tyson pursued were more pragmatic.
He expanded the enrollment option available at the school, restoring the college's two-year program for students aiming to transfer to a school like the nearby University of Notre Dame and also creating a program for highly motivated students to finish their whole degree in three years. At the time of the financial crisis, Holy Cross had about 560 students. The following year enrollment was 50 students less, showing that enrollment was holding steady.
Father Tyson expects enrollment will grow as the reforms he has implemented take full effect in the fall, when the first batch of new faculty hires and the first wave of new student recruits arrive. But according to both faculty and students, already there is a palpable change on campus — and it is apparent in more than just the new food service and Starbucks coffee that Father Tyson brought to campus.
Karen Eckrich, a junior from Fort Wayne, Indiana, said the college now has a stronger sense of its Catholic identity, which is important for a small school so close to Notre Dame, which was also founded by the Congregation of the Holy Cross. Eckrich said the new administration has reinforced what attracted her to Holy Cross in the first place — its Catholic orthodoxy and sense of community.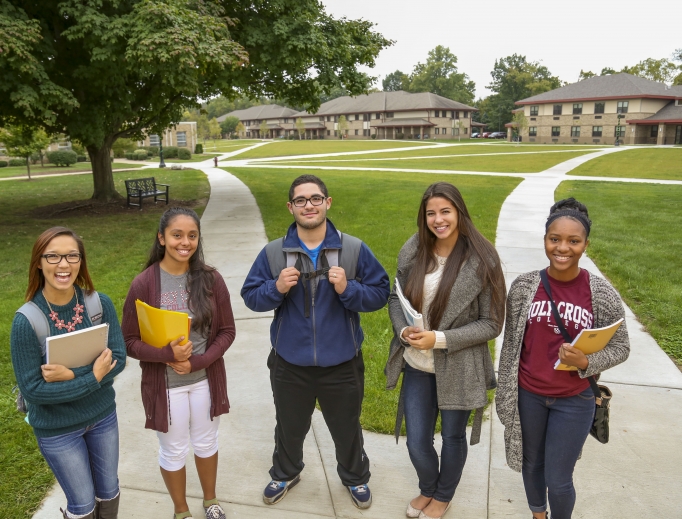 "I came to Holy Cross hoping for a good education, and it has been better than I ever thought it could be," she said. "I'm so excited to see where it will be in another five or 10 years."
The latest developments at Holy Cross may be all the more remarkable for the contrast they set with Notre Dame, where the school's Catholic identity has been a source of controversy. In interviews, Holy Cross officials emphasized the many benefits of their close working relationship with Notre Dame.
But Patrick Reilly, the president of the Cardinal Newman Society, said Notre Dame might also learn something from Holy Cross.
"For several years, we have been encouraged by developments at Holy Cross College and hope that one day it might be one of the model institutions in The Newman Guide. What an important example the college could set for its neighbor Notre Dame!" Reilly said in an email. (Holy Cross has also been featured in the Register's annual "Catholic Identity College Guide.")
Catholic-Identity Hallmarks
There are four fundamental hallmarks of a university committed to its Catholic identity, according to Robert Ivany, a formal general in the U.S. Army and the president emeritus at the University of St. Thomas in Houston. Those elements are: close connection to the religious order that founded it; a strong Catholic identity in all departments, not just theology and philosophy; a "very dynamic campus ministry"; and cooperation and involvement in the local diocese.
Ivany, who built upon the work of his predecessors in strengthening those elements at St. Thomas, told the Register that reformers can face a particular challenge in figuring out how to integrate a traditional faith-based liberal arts curriculum with preparation for professions in law or medicine. Plus, he said there is inevitable resistance to any change inherent to academia.
But, he added, the benefits are worth it. "I think the biggest one is you don't just educate; you transform," Ivany said.
At Holy Cross, such attention to both mind and heart is at the core of its founding order's charism of teaching in the faith that has been reaffirmed by the new administration.
"One thing we're talking about and working on is integrating the liberal and practical arts, so that it's not a dichotomy of liberal arts versus practical arts," Lutz said. "We're talking about courses to integrate them. Of course, business ethics would be one, but there are many other possibilities so that our students can both study about how to live a good life and also how to make a living at the same time."
Register correspondent Stephen Beale writes from Providence, Rhode Island.
This story was updated Feb. 27.