Catholic School Innovation: A New Approach to Reinvigorate an Old Tradition
In Portsmouth, N.H., St. Patrick Academy puts best business practices to work to attract growing numbers of students and their families.
The Sennott family was excited about their youngest son's school. St. Patrick's was close enough to mom Andrea's Portsmouth, New Hampshire, law office that she could easily drop him off in the morning. The principal had been principal at the Catholic school two older Sennott children had attended, and even some of the teachers from that school were teaching at St. Patrick's.
But all was not rosy. "What we were seeing was all these local small Catholic schools were struggling with decreases in enrollment, money," Andrea Sennott recalled. The Diocese of Manchester — 9,300 square miles, encompassing the entire state of New Hampshire — had already seen some Catholic school closures. And with St. Patrick's declining enrollment, plus the potential of the city condemning the century-old building, the future looked bleak.
"We thought, 'We're going to be next [to close]! If we don't want it to happen, we're going to have to do something else,'" recalled Sennott, who served on the school board.
"This group of parents and school board members decided we can't let this happen to us. There has to be another way we can keep St. Pat's," she added.
And there was the answer: launching a new private school, St. Patrick Academy, in a brand-new building, in a brand-new location. The new institution just completed its first academic year; the new building has been occupied for about two months. And the change has been palpable.
"Even if you didn't know all the nitty-gritty of what was going on, just as a parent you could see this incredible breath of fresh air," said Sennott.
Deep Roots
St. Patrick School was founded 150 years ago, in May 1868; for 114 years, St. Patrick's students attended class in the same brick building.
Although a beloved neighborhood institution, the parish school struggled. It didn't even have a playground; at recess, students played in the street, in an area staff blocked off with cones.
Frank Getman, a father of five — two current students and three alumni — recalled the challenges of volunteering to coach the girls' basketball team when the team didn't actually have a place to play on their own campus.
"One day," he said, "one of the girls looked at me and said, 'Coach Getman, I just realized we never have any home games!'"
With all the challenges facing St. Patrick's, it was perhaps not surprising that, in 2016, the diocese said the school was unsustainable, and its closing would be scheduled.
This is not an unusual story. According to the National Catholic Education Association, 110 Catholic schools closed across the country during the 2017-2018 academic year. (Some consolidated and reopened as new entities; during this same academic year, 16 Catholic schools opened.)
What was unusual about St. Patrick's case was the way the parents and surrounding community stepped up to take action — to protect their school's heritage and to prevent future generations of students from missing the opportunity to attend school there.
It all began with the Hope for Tomorrow Foundation, a nonprofit organization founded Feb. 14, 2017, with the purpose of launching and then running St. Patrick Academy.
The model is a new one, putting best practices in business management, fundraising and marketing to work for the benefit of Catholic education, explained Jim Broom, the chairman of the board for St. Patrick Academy.
"We started a dialogue with the bishop and the diocesan office around presenting an entrepreneurial approach where we could collaborate to not only keep the school open, but come up with a new governance model through a private-school approach," he said. "A big part of this was working collaboratively with the bishop's office."
Catholic schools are one of Bishop Peter Libasci's priorities, explained Diocese of Manchester Superintendent of Schools David Thibault. St. Patrick Academy is Manchester's third lay-run private school; in the next two years, four new schools will be opening in the diocese: one private, two parish and one diocesan.
"We have a very eclectic group of schools with different governance models," said Thibault. "We're seeing strength in the variety of schools we're offering, because every region's different.
"We're moving toward our vision to keep Catholic education accessible and affordable."
Hope Dawns
Working feverishly, the volunteers behind the project spread the word about the plans for St. Patrick's and made a key discovery: There was a sizable alumni network in the area.
"We started uncovering generational families [of students]," said Broom. "Once we shared [with alumni] that there was a plan … that sadness started to change to hope. We started to reactivate the alumni network and were able to line up a bunch of benefactors."
Re-engaging with alumni became one of those best practices that St. Patrick's has implemented. "We held an alumni event a few months ago, on a Thursday night. One hundred fifty people showed up," said head of school Mark Schwerdt. "We were shocked!
"We wanted to start our culture off being one that people felt open to. We wanted it to be a joyful culture. I can't tell you how much that resonated with people."
Teachers and parents alike seem to view the transition as a fresh start. "It seems like the six weeks we spent in the new building was a totally different school year than the months we spent at the old school," said fourth-grade teacher Theresa St. Pierre. "From the first moment that we entered this new school year, there has been an energy and an excitement and a drive for this new project."
Some things, of course, have not changed in the transition from St. Patrick's School to St. Patrick Academy — foremost among them, the focus on the "Catholic" part of "Catholic education."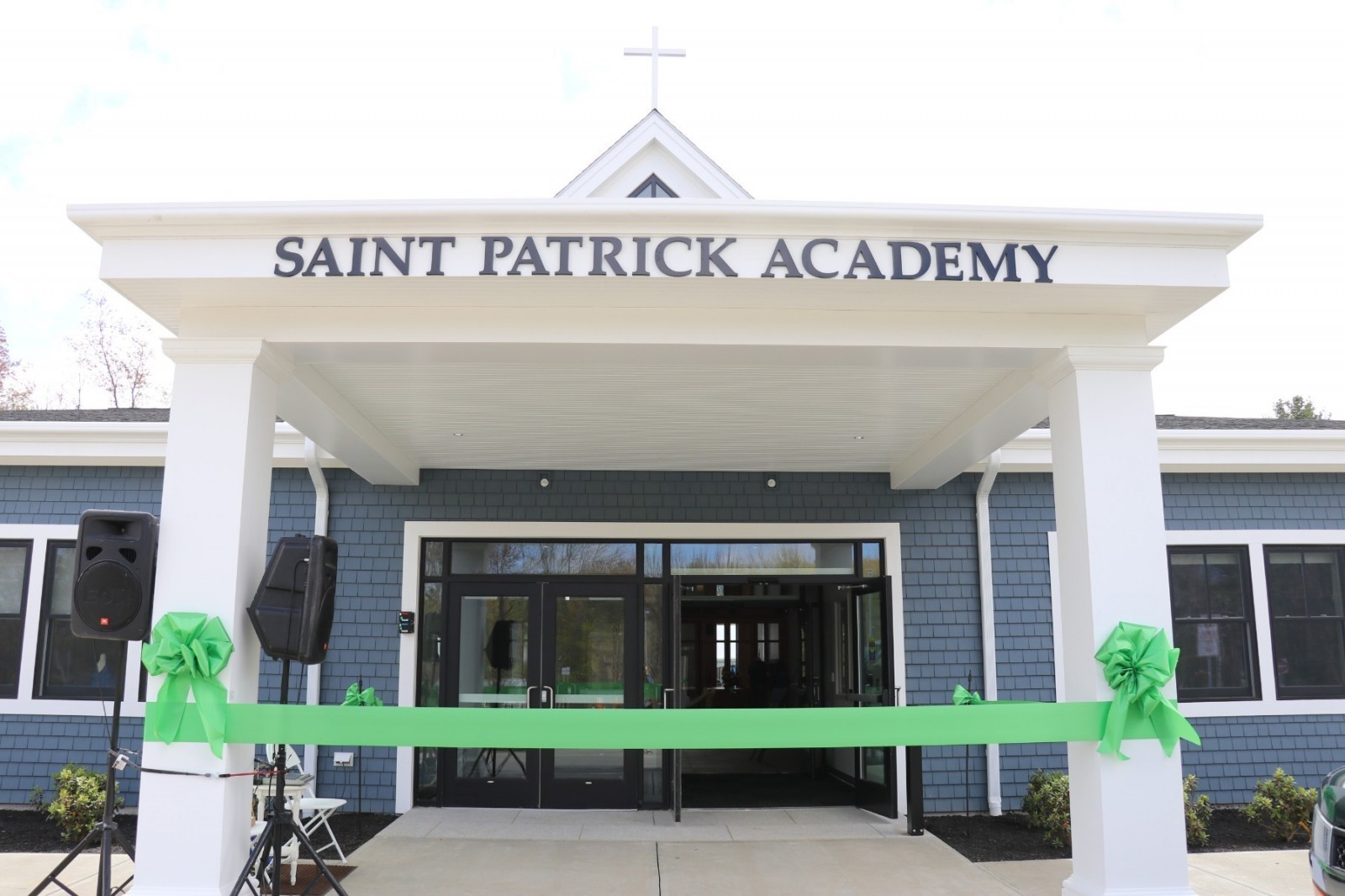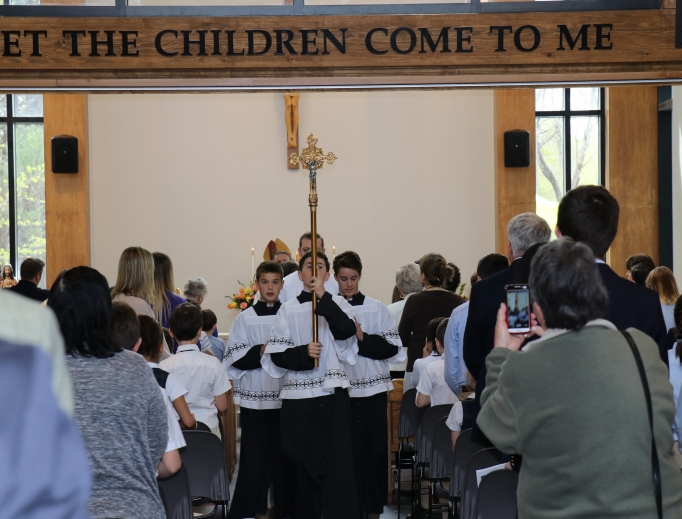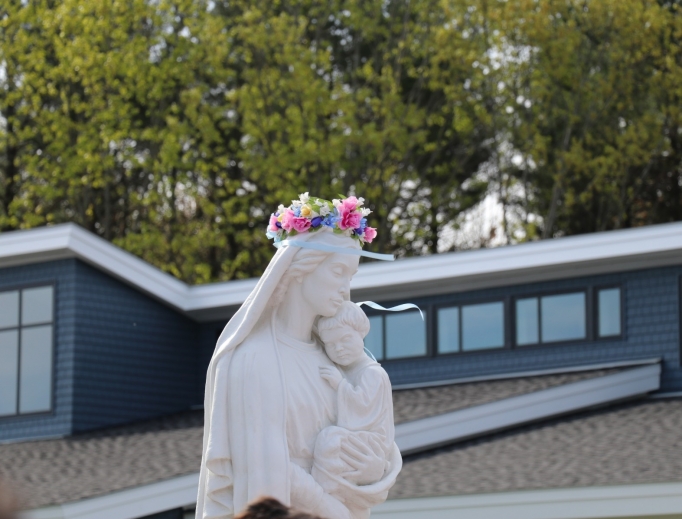 As one enters the school, the entrance to the chapel — with the Scripture "Let the children come to me" inscribed over the crossbar — becomes immediately visible. "The philosophy behind the school is if we teach children and show them that we are not alone, that there is God, that he loves them, then this will be the foundation of their confidence and trust," said Schwerdt. "It will free them to be joyful."
The religion curriculum has been upgraded to a more robust one; the focus on academics has been newly sharpened, too. Students have access to instruction in Spanish, STEM (Science, Technology, Engineering and Math), art, music and physical education — most of it through contracted instructors, rather than full-time teaching staff, an approach that saves the school money —  for specific services; for instance, STEM instruction is only offered for grades three-eight one day a week — epitomizes its entrepreneurial business approach, and allows it to expand opportunities for students.
And, for the first time, St. Patrick's students have an actual playground.
"We're moving from a city block with no grass to 14 acres," said Broom. The school's outdoor amphitheater backs up to the woods; there's a sculpture of Our Lady Seat of Wisdom on the grounds. And the window-lined corridors of the school allow staff and students alike to enjoy the outdoors even in inclement weather. The reality of the opportunities afforded by the new school, along with the communications and marketing efforts of the organization behind it, are proving effective in safeguarding St. Patrick's future.
After a six-year decline in enrollment, St. Patrick Academy — which has a capacity of 211 students — has experienced about 70% growth. Current enrollment for 2018-2019 is 155 (although, the staff anticipates that number will go up).
"My hope is that through this St. Patrick Academy, the Catholic faith will be taught, understood and appreciated as being more than relevant to today's young person — but as refreshing and inspiring its students to become true saints of God themselves," Bishop Libasci told the Register.
"I applaud this initiative and those who inspired it, believed in it and brought it into being."
Elisabeth Deffner writes from Orange, California.