Canonization Process Opens for Ex-Slave
Julia Greeley was known as Denver's 'Angel of Charity.'
DENVER — She was a former slave who was known as Denver's "Angel of Charity" and "Apostle of the Sacred Heart."
Permitted to be called "Servant of God" since August, the late laywoman Julia Greeley may someday be called "Saint."
During a Dec. 18 Mass at the Cathedral-Basilica of the Immaculate Conception, Archbishop Samuel Aquila officially opened the cause for canonization for Greeley, who as a child lost an eye to a slavemaster's whip and due to racism and a lack of education lived a life of menial jobs and poverty. A Catholic convert and daily communicant, Greeley transcended injustice through faith and became known for her heroic works of charity and mercy.
When she died in 1918, Greeley was so beloved that her body lay in state for five hours, as a constant stream of people from all walks of life paid their respects to the saintly woman. The Denver Archdiocese selected her as the local face of mercy for Catholics to model during the recently ended Jubilee Year of Mercy.
"It is truly wondrous when one looks at this simple, humble woman, who is known because of her deep faith in Jesus Christ," Archbishop Aquila said at the Mass opening her canonization cause.
"She could have very simply died in obscurity, but because of her faith, because of her holiness … she is still known and revered today," he added. "She reflects the call to holiness that is given … to every disciple of Jesus — that we are all called to be saints, to be holy."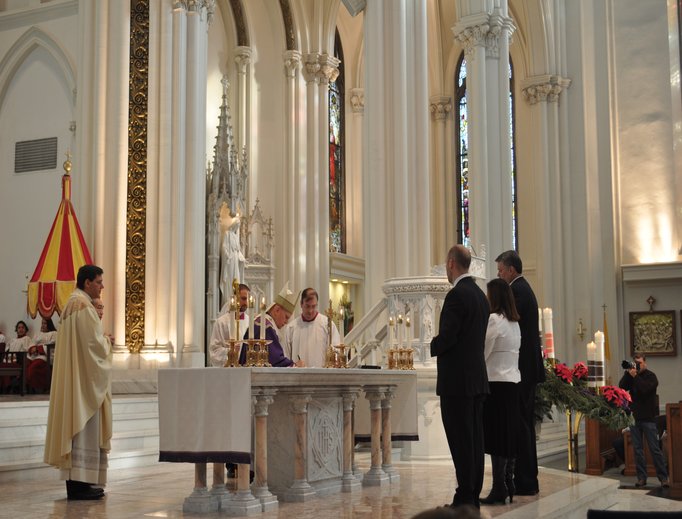 Born as a slave between 1833 and 1848 in Hannibal, Missouri, Greeley was freed in 1863. She earned her living serving families in Missouri, Colorado, Wyoming and New Mexico. She arrived in Denver, where she lived most of her adult life, in 1878 with Julia Gilpin, a Catholic and wife of Colorado's first territorial governor, William Gilpin. Greeley converted to Catholicism in 1880 at Denver's Sacred Heart Church. A daily Mass attendee, she called the Eucharist her "breakfast."
After leaving the Gilpins' service, Greeley did odd jobs cooking, cleaning and caring for children. She was a familiar sight on Denver streets, dressed in humble clothing, floppy hat and oversized shoes, pulling a red wagon that was filled with items she bought, found or begged for the needy. She frequently delivered the goods — often to poor white families — under cover of night, in order to remain anonymous. She was 70-85 — she didn't know when she was born — when she died.
'She's Quite Extraordinary'
Over the years, many have expressed a desire to see Greeley canonized. Locally, a book about her life is in its second printing, and a guild and a women's homeless shelter bear her name.
"She's quite extraordinary, in so many ways," Xaverian Brother Reginald Cruz, general coordinator of the Missio Pastoralis Postulation Office, told the Register. 
The Mass opening Greeley's cause included the first session of the canonization process, a solemn ritual that includes presentation of the postulator's credentials (the person who presents the plea for the cause), presentation of the U.S. bishops' and the Congregation for Causes of Saints' approvals to proceed, installation of the tribunal officials and recognition that the process is open.
Two committees have the job of investigating Greeley's life and virtues: a historical commission that does research and a tribunal that calls witnesses.
"Right now, we are in the diocesan phase; all investigations are taking place in the Archdiocese of Denver," said Brother Reginald, who heads the historical commission and assists Greeley's Rome-based postulator, Waldery Hilgeman, owner of Missio Pastoralis, which works closely with the Vatican and accompanies local Churches and religious congregations in processing beatification and canonization causes.
As part of the process, Greeley's body, which is buried in Mount Olivet Cemetery in Wheat Ridge, Colorado, will be exhumed, examined and likely moved to a location easier for the faithful to get to, Brother Reginald said. Identifying the body and making it accessible for veneration are among the reasons for the action.
"Our hope is in one year's time we will close the diocesan phase," Brother Reginald said, "and will take the cause to Rome (to the Congregation for the Causes of Saints)."
Scrutinized by Rome
In Rome, information gathered in Denver will be scrutinized by a theological commission, which votes affirmatively or negatively on the cause. Their recommendation goes to the bishops and cardinals of the congregation, who in turn vote. If affirmative, their recommendation is sent to the Pope, who can recognize the person's heroic virtue and deem her "Venerable."
Two miracles are then needed before the person can be canonized.
"The criteria of the Church is quite high, when it comes to miracles," Brother Reginald said. "They are not easy to prove."
The Church requires miracles as evidence of the person's intercessory power and thus of their union with God.
"If they weren't in heaven, they couldn't intercede," explained David Uebbing, chancellor of the Denver Archdiocese and vice postulator for Greeley's cause. Uebbing is guiding the cause at the local level.
After one miracle is affirmed, the person may be called "Blessed." After a second miracle, the Church declares she is a saint.
"I hope that the opening of the cause spreads greater awareness of Julia," Uebbing said, "and that we have some instances of Julia working miracles."
Mary Leisring heads the Julia Greeley Guild (JuliaGreeley.org), established five years ago to build awareness of Greeley's sanctity.
"We can't say we know of any miracles," said Leisring, who shared biographical information about Greeley at the Mass. "But there are people who have shared their testimonies, attributing results to prayer through Julia's intercession. We definitely want more people to share."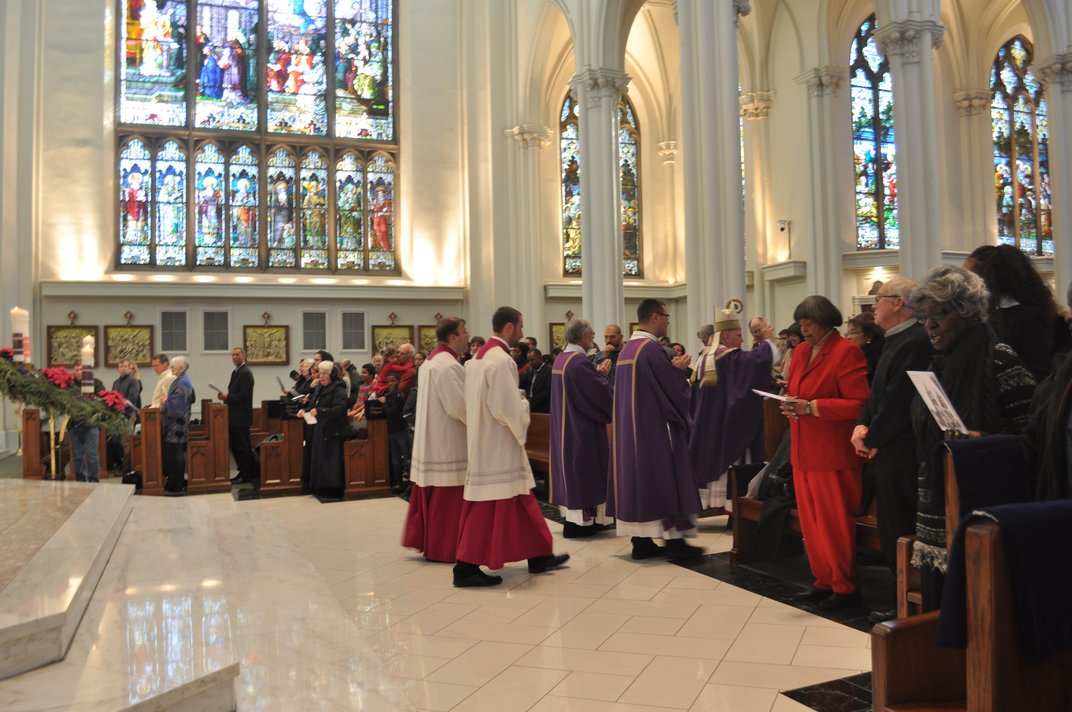 Year of Mercy Model
Capuchin Franciscan Father Blaine Burkey — Greeley was a Third Order Franciscan — wrote a book, In Secret Service of the Sacred Heart: The Life and Virtues of Julia Greeley, which documents everything currently known about "Old Julia."
"The archdiocese made her the model of virtue for the Year of Mercy, and she certainly was," Father Burkey asserted. "If you take the spiritual and corporal works of mercy down the line, you can find information on her where she did these things."
Known for her devotion to the Sacred Heart of Jesus, each month Greeley visited all 20 of Denver's fire stations on foot to deliver Sacred Heart League and Apostleship of Prayer leaflets to the firefighters, Catholic or not, because they had such a dangerous job.
"That was her act of evangelization," Father Burkey said. "She couldn't read this stuff, but she knew it was … encouraging people to pray and offer up their day (to the Sacred Heart). She called them 'tickets to heaven.'"
She became ill while on her way to Mass the morning of June 7, 1918, the feast of the Sacred Heart of Jesus, and died later that day.
"If you look at Julia Greeley's life, you have what Pope Francis calls a 'saint of the peripheries,'" Brother Reginald said, "a Servant of God who was marginalized because of the nature of her race; someone who, in spite of all this, exercised Christian virtues, even though she wasn't baptized until [she was] an adult. The way she did it can be described as 'heroic.' She was giving out charity to people who wouldn't have accepted it, had they known she was African-American. She harbored no ill will."
"It's fascinating when you look at the historical testimonies: Her education is minimal … her knowledge of faith is quite simple. Despite all this, she exercised the virtues in a heroic manner," he added. "She was able to show that her love was universal; she was able to forgive those who hurt her; she harbored no ill will toward anyone. We need models of holiness who are like that. It's hard to follow Christ. As humans, we look to other humans to show us how to do it. That's why the Church canonizes saints."
The full canonization process could be done in as quickly as five years, Uebbing said.
"She showed a heart that was like the Sacred Heart of Jesus," he said.
"Whether she's canonized or not," said Leisring, "she's already a saint in my eyes."
            Roxanne King writes from Denver.
Part of this story previously appeared in the Denver Catholic.