PHOTOS: Pro-Life Marchers in New York City Dodge Garbage, Weather and Counterprotesters
Pro-abortion protesters attempted to disrupt a prayerful pro-life walk in New York City that attracted several hundred participants.
Pro-abortion protesters attempted to disrupt a prayerful pro-life walk in New York City on Saturday, in part by throwing garbage in their path. Despite the suboptimal conditions — which included pouring rain — the pro-life walk attracted several hundred participants.
The seventh-annual "International Gift of Life Walk-NYC" on March 25 attracted more than 250 people who processed about a mile through New York City in an attempt to bear witness to the pro-life cause. Speakers at the rally included former abortion doctor Haywood Robinson, who now works with 40 Days for Life, and Ed Mechmann, policy director for the Archdiocese of New York.
Images captured at the rally by photojournalist Jeffrey Bruno show individuals and pro-life groups marching in dismal rain and wind, many with rosaries, amid a heavy police presence. Approximately 30 counterprotesters shouted and rang cowbells from the roadsides in an attempt to disrupt the march.
Bernadette Patel, a Catholic pro-life activist from New York, said the purpose of the walk was to hold a "prayer vigil and witness, to show that there are pro-lifers in New York." Patel said last year's walk was "so peaceful," in contrast to this latest one, which saw pro-abortion protesters pile trash in the streets in an attempt to slow down the pro-life walkers.
She said pro-abortion groups have ramped up their counterprotests of pro-life events in New York following the June 2022 Supreme Court decision that overturned Roe v. Wade. The number of pro-life people who showed up despite the weather and despite the threat of counterprotesters was "awesome," she said.
Despite the threats and bad weather, the turnout for the walk appeared to be similar to previous years, said Franciscan Father Lawrence Schroedel. The Franciscan Friar of the Renewal celebrated Mass for the walkers ahead of the rally in New York's St. Peter's parish. He told CNA that the walk is a relatively new, local pro-life initiative that takes place every year on March 25 and confirmed that last year they didn't see "any opposition" to their peaceful rally.
Despite this, Father Schroedel described the counterprotesters this year as almost a "nonissue," given how few there were in comparison to the marchers.
"There were actually so much more of us than them, it really made us seem all the bigger," Father Schroedel said.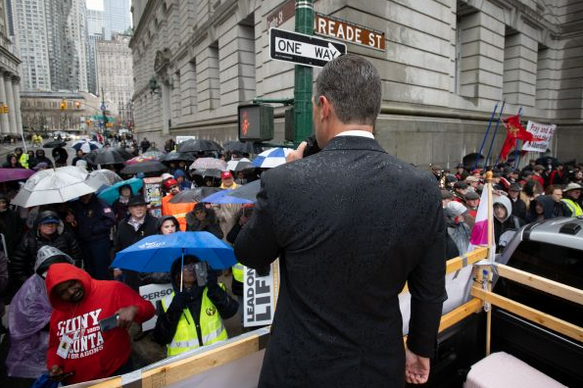 Dawn Eskew is president and founder of Personhood Education New York, the group that organized the pro-life walk. She told CNA that pro-abortion groups had posted on Twitter and Instagram in the days leading up to the walk that they would be attempting to disrupt it.
Another factor complicating the 2023 walk, Eskew said, was the fact that there were permitting issues because Warner Bros. wanted to use part of their preferred route in the filming of a movie, leading to the walk being shifted by two blocks at the last minute.
Given these and other challenges, Eskew said she believes the rally was a success. She told CNA that she thinks more than 300 people turned out.
Eskew said, "We did what we were called to do. That in itself is a success — the whole point was to make awareness" for the pro-life cause.