Turkey: Secularist Siege Against Orthodox Church
But if we hope for what we do not see, we wait with endurance. Romans 8:25
Standing on a hilltop high over the Marmara Sea, I admire the lush grounds of a sacred Orthodox Christian site, the Holy Theological School of Halki. It's hard for me to believe the sorrow, angst and political war fought over this island paradise overlooking Istanbul.
It's a sign of the Orthodox Church's health that it's responding to the scandal on Heybeliada Island (Halki Island before Turkish rule) with love — and a flowering wonderland.
Locked Out
While it functioned as a school, between 1844 and 1971, the school produced more than 260 Orthodox bishops and 16 patriarchs, including Ecumenical Patriarch Bartholomew I of Constantinople, spiritual leader of some 260 million Orthodox Christians — and Pope Francis' friend. A monastery on the property dates to the ninth century.
The government closed the school in 1971 when a Turkish military "soft coup" provoked a court ruling banning private institutions of higher education.
On its face, the ruling violates article 40 of the Treaty of Lausanne of 1923, which ended Turkey's War of Independence and assured non-Muslim minorities the right to manage their own schools and practice religion freely.
Plus, neither the Ottoman state (which defeated the Orthodox Byzantine Empire in 1453) nor Ataturk, founder of the Turkish Republic, had any problem with the seminary.
The closure has a potentially paralyzing impact: Under Turkish law, the Ecumenical Patriarch must be a Turkish citizen, yet Halki was the nation's only seminary. And of course, by limiting a Church's ability to train priests, the move will effectively strangle the ability to serve believers.
Open Doors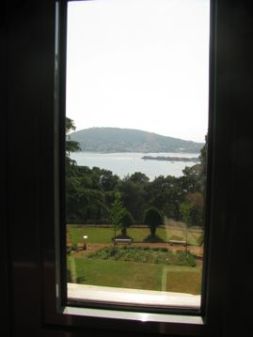 Patriarch Bartholomew, who has been personally subjected to public humiliation and even a foiled assassination plot last year, can't help but show his frustration sometimes, especially when there have been many occasions for hope. For example, in 2012 President Obama announced Turkey would open the seminary.
The patriarch told a daily newspaper: We have been waiting for our school to reopen for 42 years. Where is our school? Where is our freedom of religion? Where is our freedom of education? Where are human rights? Where is [the Treaty of] Lausanne?"  
Three years ago, a new abbot arrived. Metropolitan Elpidophoros Lambriniadis, age 47, decided to try a new approach. Let people wander the gardens, tour the religious treasures, pray, read, conference — enjoy and learn.
"It is good to show the Turkish public that this place is an open, transparent, beautiful place that has nothing to hide," the bishop told me. "We want people to see there is nothing to fear. On the contrary we have so many things to offer all visitors, who are most welcome, no matter what their religion, nation, or language."
Working Order
A visit to the school shows an impeccable facility, sanctified by a small group of resident clergy.
In a classroom, black benches from the 19th century and a portrait of Ataturk give the place a frozen-in-time feel. But the massive reception room — where a breathtaking side chapel features priceless icons in gold and silver — could be used today for a splendid reception.
A novice monk (who grew up in Greece, summered in Boston, and attended American universities) passionately explains, "This is the epicenter of our faith," as an exquisite peacock sashays by, dragging its green tail along a recently completed mosaic of decorative grey and white pebbles.  
Sacred Garden
Most spectacular is the Biblical garden now being developed on the seminary's grounds, in response to Bartholomew's sensitivity. The holy man, known as the "Green Patriarch," signed an accord in 2002 with St John Paul II on environmental ethics.
Already, 62 of the 82 plants and trees from the Bible are growing on the 49 acres, most brought from Turkey or Greece. There's also a Trail of Virtues, utilizing 14 symbolic plants and trees (fig trees=gentleness; pomegranates=courage, etc.) to inspire devotion.
International gardening expert Nikos Thymakis left his life in Athens to help realize this vision of God's creation.
"Amazing things have happened in this soil," Thymakis told me. "No one had pruned the trees or cleared the grounds for decades. Now flowers like poppies are blooming from ancient seeds."
What's Next?
A legion of institutions has pled for Halki, from the U.S. Congress and the European Union to a Turkish Muslim network, the Gulen Movement.
A knowledgeable Istanbul-based journalist wrote a convincing New York Times piece, saying the real reason the seminary remains closed is that the government wants to control Muslim schools: if Halki reopens, then independent Islamic clerical groups will demand approval.
What's especially tragic is the many missed opportunities in the past when the U.S. government had far greater leverage over Turkey. For example, the U.S. Congress lifted a military and economic embargo against the country in 1978 (imposed due to the invasion of Cyprus in 1974), when it could have linked the initiative — and future aid — to Halki seminary's status.
But that's the past. For now, the Orthodox Church is busy planting a future, with patience and prayer.