This Mom is Making, Probably, the Best Peg Dolls A Child Can Have
This Catholic mother is taking peg dolls to a whole other level—and you need to see them.
Chances are—especially if you are a mother of young children—you've seen at least one sample of a peg doll saint. My mother used to craft things like this, and years into having kids, my wife got into it a little, too. Her Catholic mother's group had a little project where each family would make a dozen of one saint, and when they were all done, they'd have an exchange so that every family got one of each saint. It was a cool idea and the kids really enjoyed getting to know some common saints. 
But recently I've come across a maker of Catholic peg dolls who is just downright impressive, turning this fun and simple craft into something stunning and wholly educational. I was chatting with my buddy online and he briefly, just once, mentioned something like, "yeah, my wife is getting this peg doll thing going," and I really didn't think of it much after that. Then, I started to see peg dolls all over my Instagram feed. The page followed me, and having a general practice of following interesting Catholic things, I followed back. And from then on, throughout the week, I saw various creations of peg dolls. I'd especially see them on feast days. And they weren't normal peg dolls, they were ridiculously creative. 
For example, I would struggle to think of how to make an image of the Holy Family with just one single peg doll. "Wouldn't you need three dolls?"
Ahh—no. Look at this: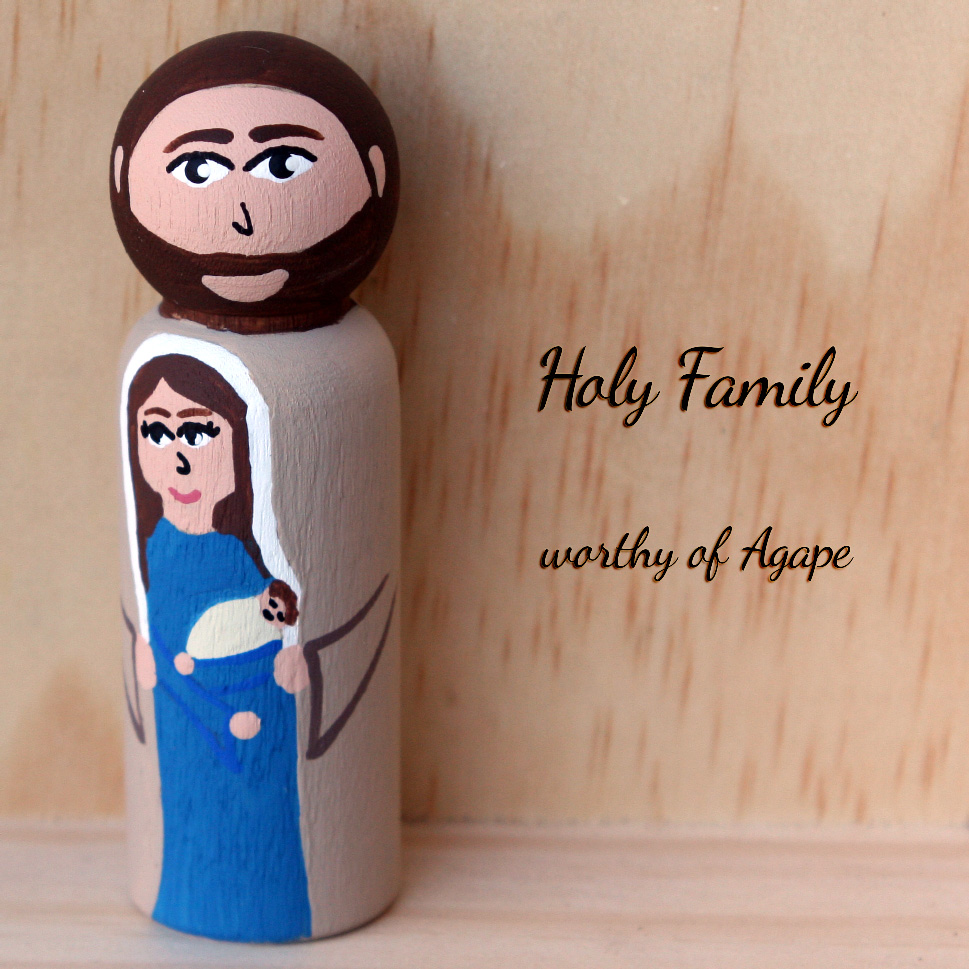 Isn't that pretty darn cool? 
And this creator doesn't just do single peg dolls—she does sets froms some of the Bible's most popular scenes. 
Check out David and Goliath: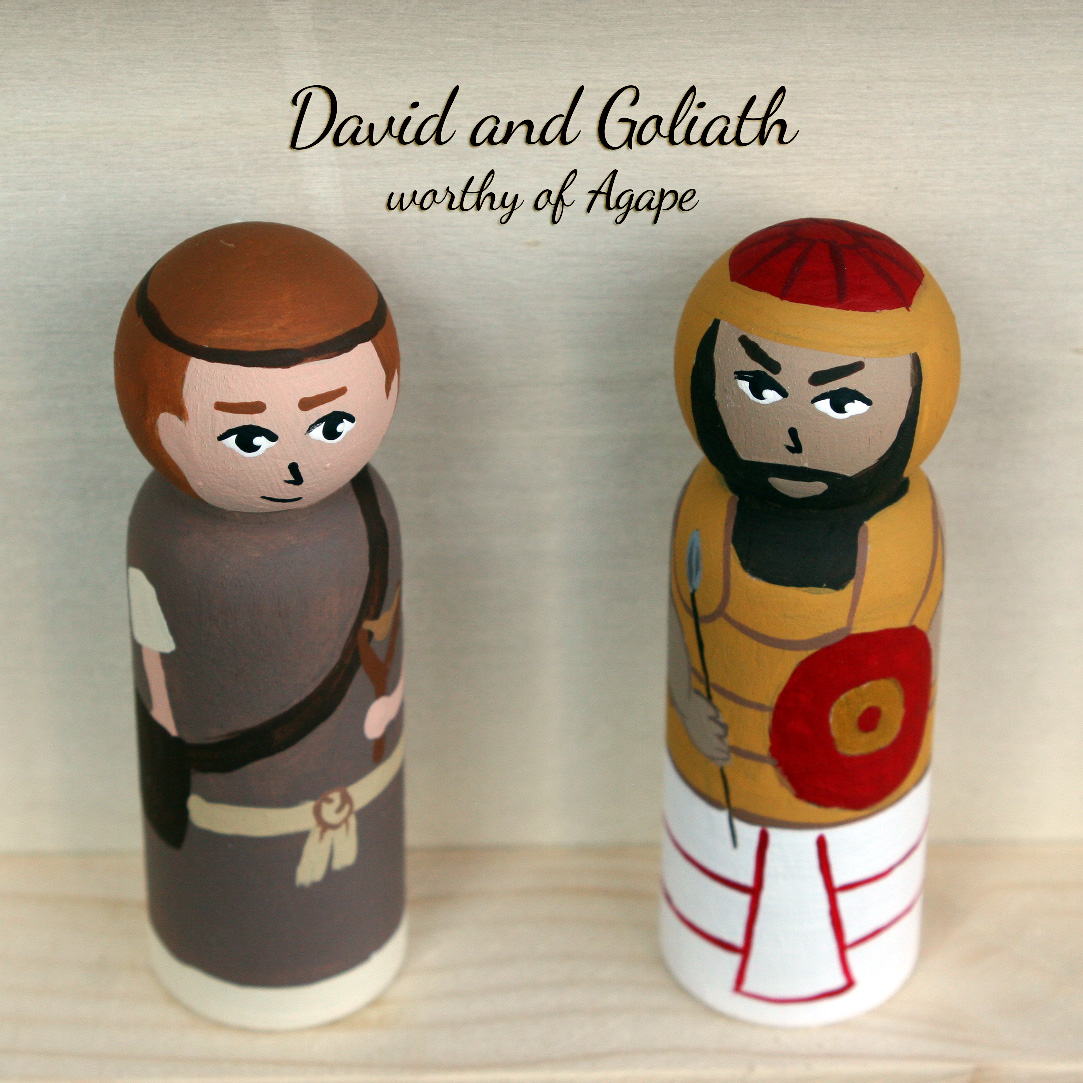 Michelangelo might be impressed. 
Want to help you kids know the special joy of the Visitation? Well, books are videos are good, but every child will agree: toys are better.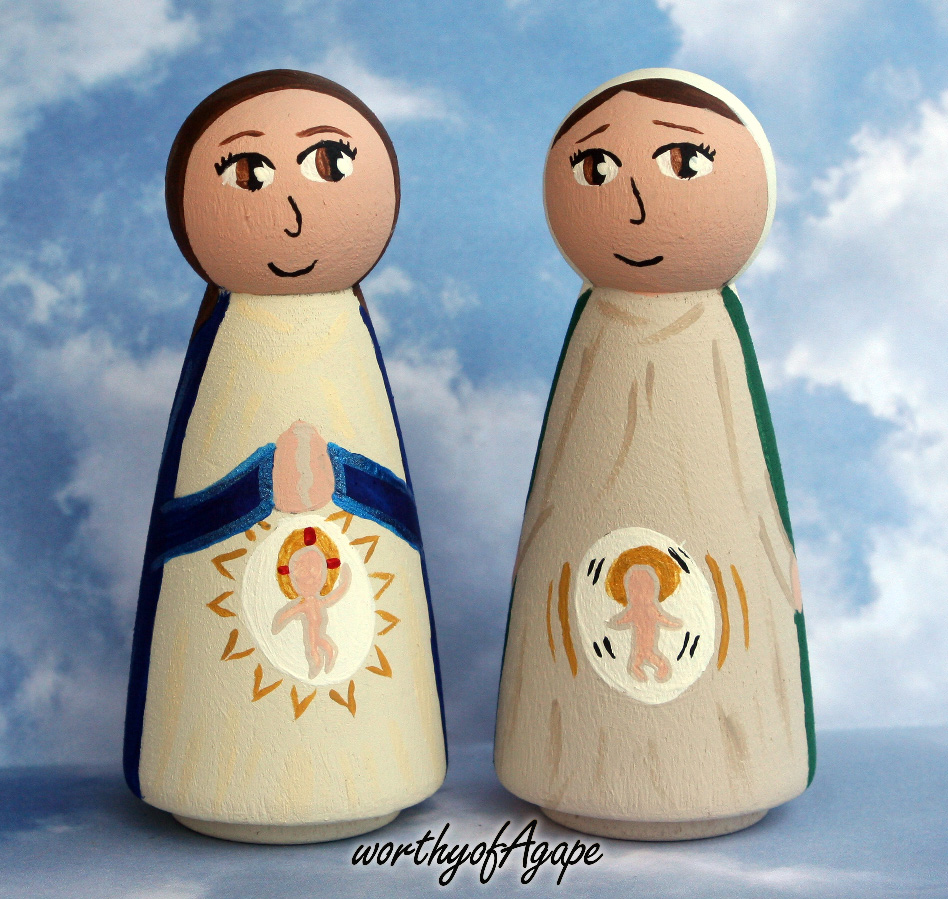 More than toys, they're devices for learning. Every toddler learns to treat other babies nice when they receive a doll and mimick mom and dad. So, they too, touching, holding, and playing with these dolls, will know more about the Church, more about the saints, more about the . . . liturgy. Like this set of priest vestments: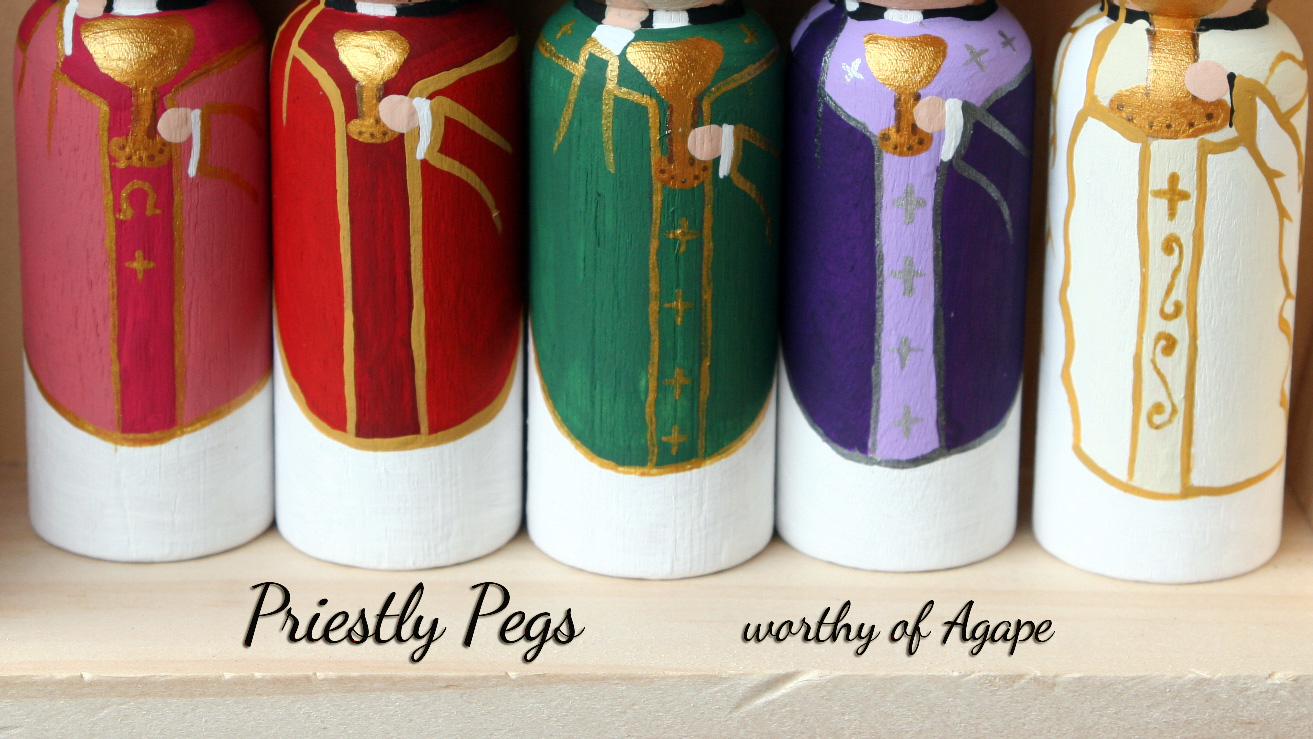 They can learn more about spiritual gifts and suffering, like this dolls of St. Francis with the stigmata.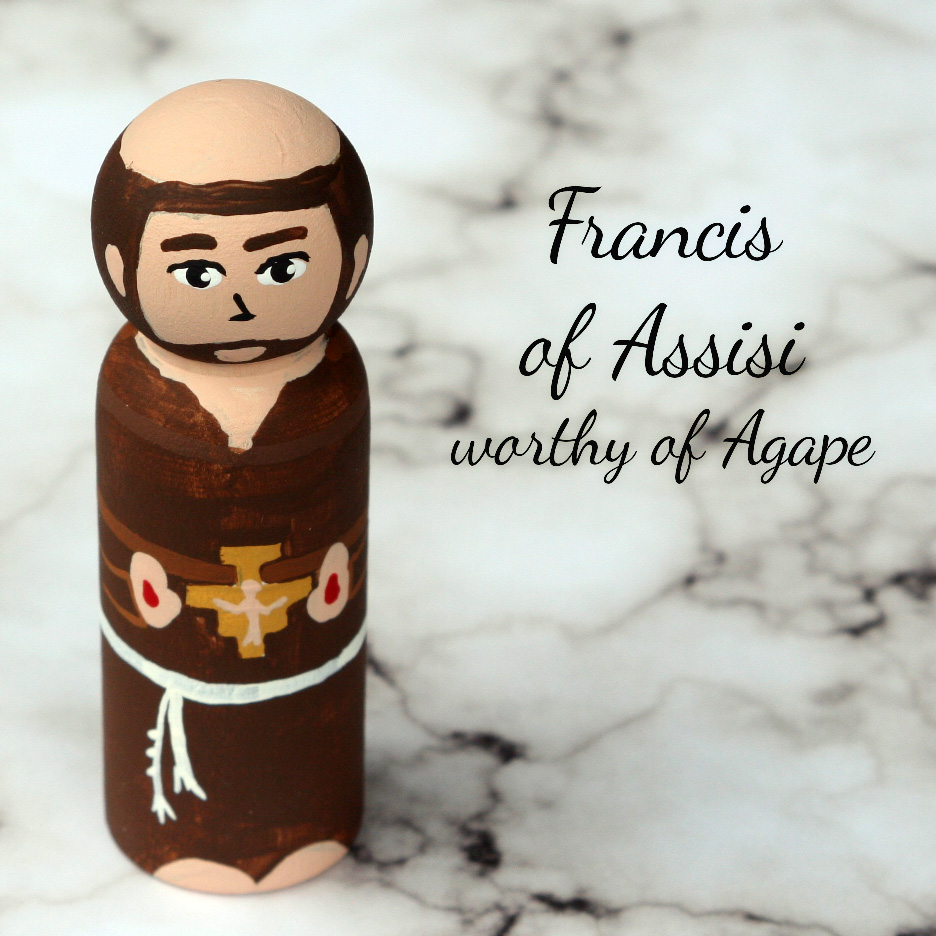 There's dozens and dozens more, really there are. But there's more. She also makes peg doll churches. Not doll houses—peg doll churches. Look here: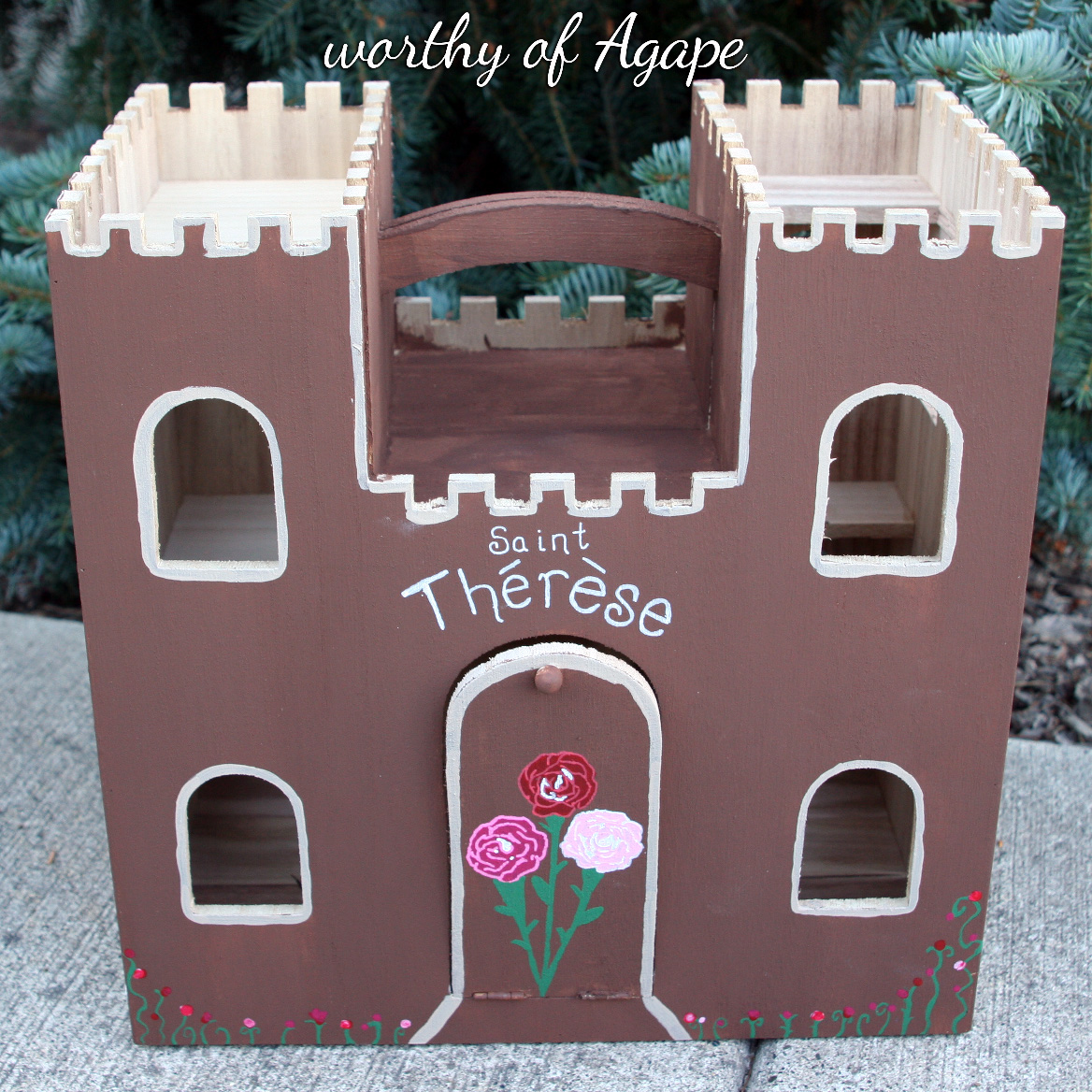 Here's another: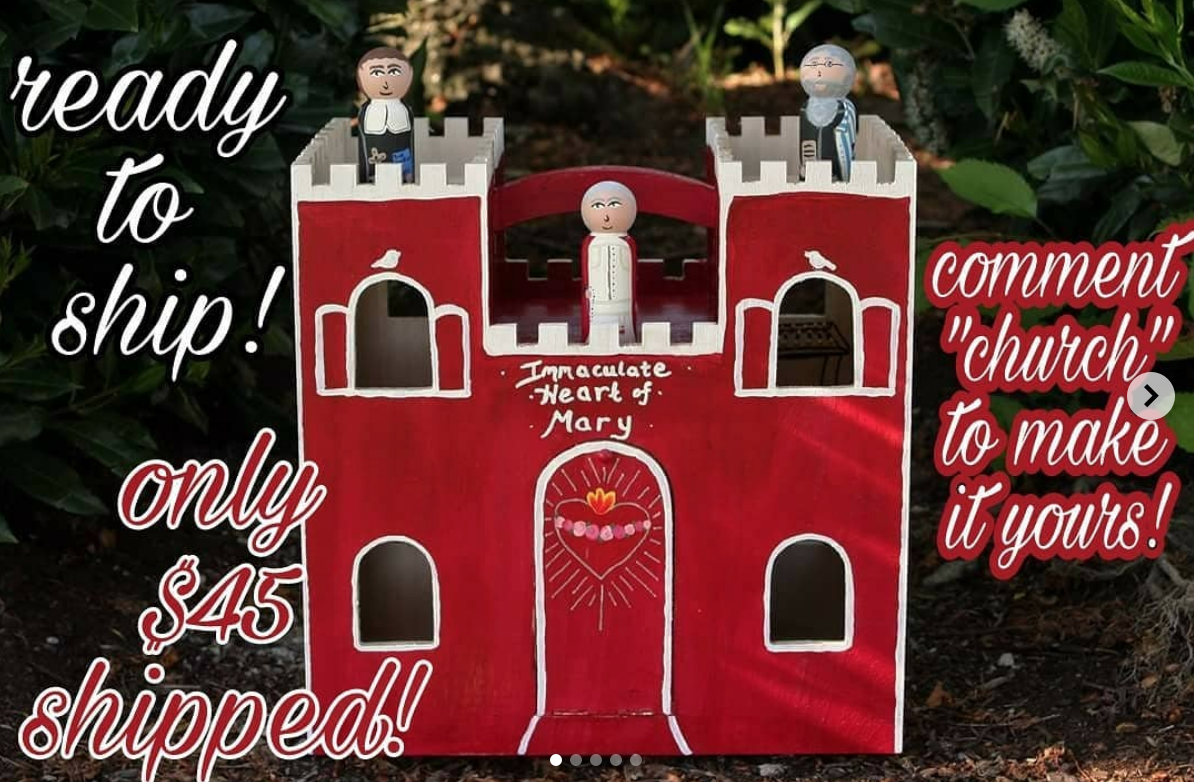 So, Christmas is coming up and I really wanted to get one for my kids. But I didn't want a red church and I didn't want a brown church, either. We live in Italy, and I wanted the kids to have something that looks like a Church they'd see; something made of white marble. I found out that this artist does custom orders (and the pricing was pretty reasonable, too!) so I messaged and asked if she though it would be too much to create something marbled-looking. I probably failed horribly at describing what I wanted, but I was hopeful. 
She told me she could do it, but she wanted to practice. I suggested showing me on a leftover piece of wood. And here's what she came up with.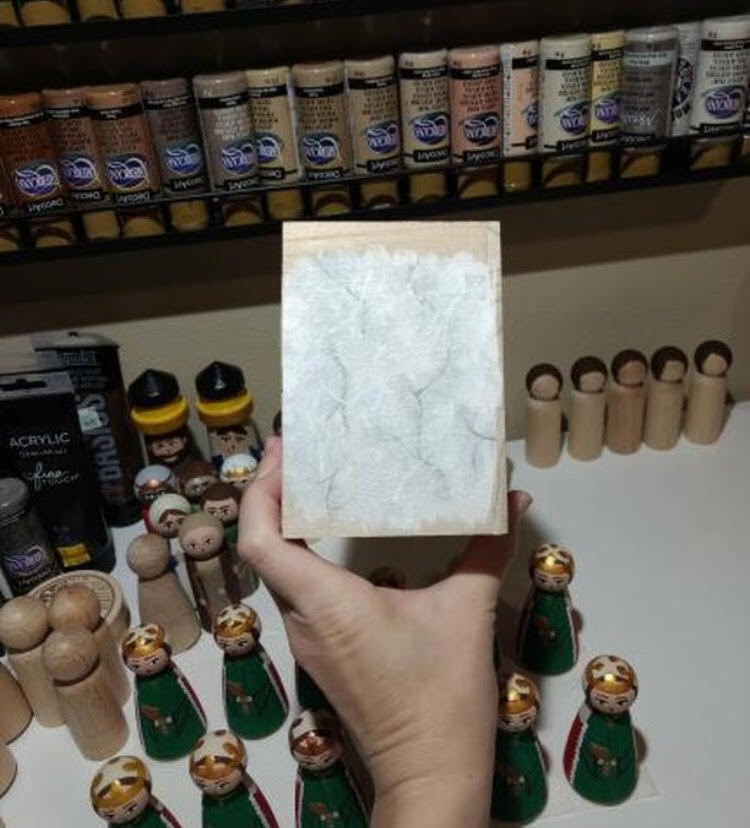 Holy smokes! That was her first try! I was sold, and I ordered immediately. That bold, Rennaisance-looking marble was exactly what I had in mind. 
Then she messages me: "Shaun, what do you want on the inside?"
"The inside?"
"Yes. Some people get altars. Some people get pews. Some people get a crucifix. Did you have anything in mind? Here's a sample." And sends me this: 
How cool. The kids are going to love what I picked out. 
I browsed the site a bit more and found similar items, like a Nativity box. It's a box kids can take all over the house or to grandma's for Christmas vacation.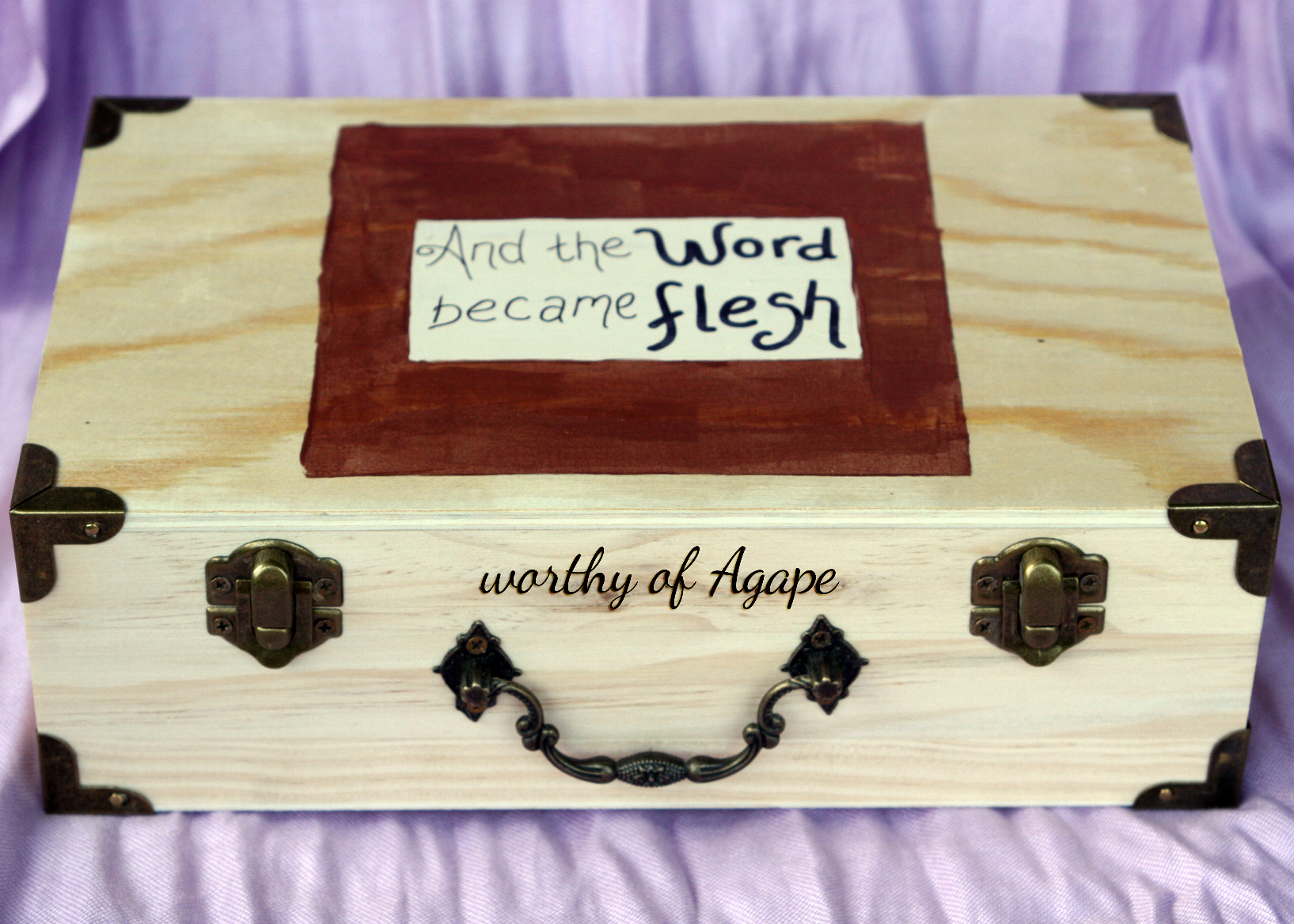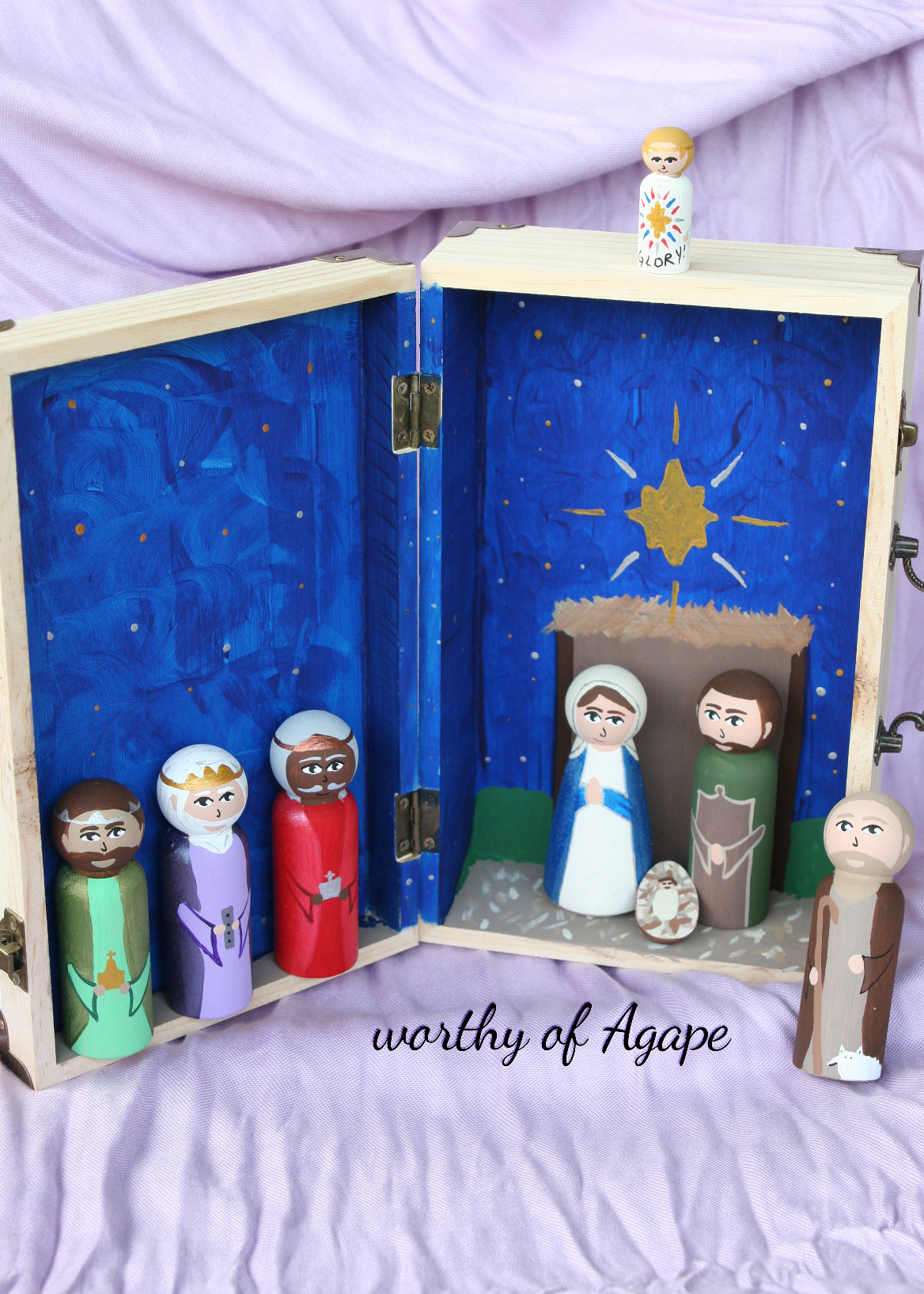 There's much more, and maybe you're considering buying. I want to tell you, I was not paid to write this and received no benefits from making this post. Take a look at my other posts. I rarely ever talk about this sort of thing and I rarely ever hand out recomendations, but I wholeheartedly recommend the Worthy of Agape shop. I really, as a father, just want other kids to enjoy the saints and their growing Catholic faith.
In that effort, I contacted the creator, Amanda Sloan to ask a few questions. 
What got you into making these dolls? 
In our first year as FOCUS missionaries, my husband and I received an anonymous gift of 30 hand-painted saint peg dolls for our children. The gift was so sweet and we were all so thrilled about the dolls. At the time, however, I didn't think I had the skill to make them. After months of watching my kids play with them, I decided to try my hand at painting some for my girls. I've always loved the lives of the saints, their stories, and their miracles. Now, more than a year later, being able to paint them and share their heroic stories with my kids (and even other families) is a great joy for me.
Is there a special story you can share about your experience so far? 
The stories that people have shared with me about how my saint pegs have affected their lives are incredible! There's an Episcopal church in Virginia that ordered over 25 of their patron saint (St. John), and loaned them out to parishioners over the summer. They asked each family to then share photos of the St. John peg on their social media accounts with pictures and details of where he has been. It has been amazing to watch the St. John pegs travel the world and spend all this time with different families. I'm grateful and humbled to think that in some small way my work is helping others to come to better know the saints.
How many peg dolls have you made what are your favorites? 
I've painted over 100 unique peg dolls (mostly saints and bible characters), and painted close to 600 pegs in total so far. My favorites to paint lately are the "Priestly Pegs," which come in all of the liturgical colors of the year. I also love St. Augustine, and any of the Marian-themed pegs (Our Lady of Sorrows, Undoer of Knots, etc.).
You've done so much, made so many peg dolls and play sets, is there anything else on the horizon? 
I keep a list of ideas going at all times, so there are always new things I'm working on and praying about. I just launched monthly subscription sets in July with six different package options (well known saints, 'rarer' saints, Marian peg dolls, etc.), and each package arrives in time for that saint's feast day so that they can be honored and remembered in time for that special day. I'm also due with our third daughter in October, so most of my newer ideas will launch later this year or in the new year, once we adjust and transition to being a family of five!
Amanda Sloan's work is simple, fun, and creative. It's also a holy art. Her business won't cost you a lot. The dolls are inexpensive. They can be customized. And ordered in bulk. And another cool thing she does is her subscription sets. With these, your kid will have their saint before their respective feast day. Choose from popular saints or more obscure saints (hipsters only?). You can check out everything at WorthyofAgape.com and if you'd like to shop now, just click here.