The Catholic Faith and the Beauty of Science and Reason
"The heavens declare the glory of God; the firmament proclaims the work of his hands" (Psalm 19:2)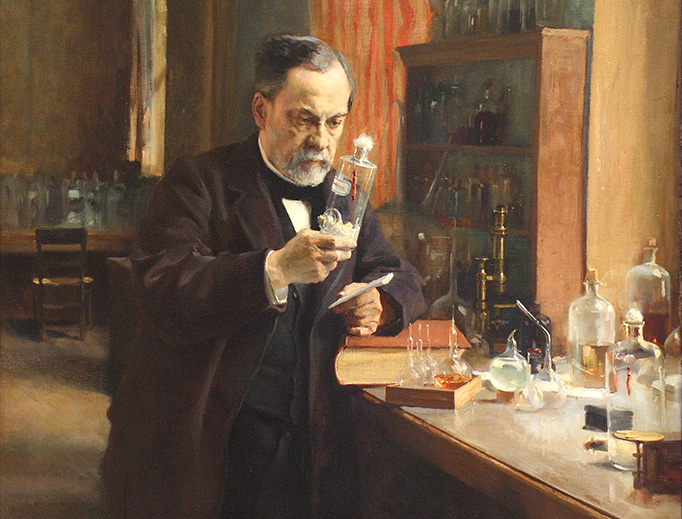 If you were to ask the average passerby (at least beyond the Pontifical Academy of Sciences) about the history of the dynamic between the Catholic Church and science, you would very likely be met with misguidedness at best or outright repugnance at worst.
Figures such as Antoine Lavoisier (who revolutionized the practice of chemistry), Fr. Gregor Mendel (the "father of modern genetics"), and Msgr. Georges Lemaître (who gave us the "Big Bang" theory [which turns out to be even more impressive than the television show]) would probably not be brought to light. Speaking of light and things revolving around it, there would more readily be a mention of the Galileo case – perhaps one of the most misunderstood sequences in history – than of the remarkable work of the Vatican Observatory under the leadership of Br. Guy Consolmagno, S.J.
The Catholic Church has been doing science for the last two thousand years.
When I was younger, I wanted – among numerous other aspirations – to be a veterinarian (to this day, I harbor an affinity for the animal kingdom) or a medical doctor. Many other career projections came and went. In all of them, I wanted to teach, and in all of them, I acquired a greater respect for the comparison between faith and science. I ultimately settled in as a high school theology teacher at my alma mater, in response to God's call to spread the Good News via Catholic education (and to married life [I met my wife there, and the rest is history]). Twelve years later, I remain, because teaching theology to high schoolers provides a vantage point from which I am able to witness the youth beholding the truth of Christ and discerning God's will for the remainder of their lives.
On Thursday, April 19, I had the occasion to attend a daylong conference titled "Science and Religion Institute Day: Teaching at the Interface Between Science and Religion," sponsored by the University of Notre Dame's McGrath Institute for Church Life. This event, held at Saint John's Catholic Prep High School, in Frederick, Maryland, was for high school teachers interested in facilitating and incorporating discussions of the balance between science and faith into our curricula. I am thankful to the staff of the McGrath Institute for Church Life – especially Christopher Baglow, Stephen Barr, Patricia Bellm and Jay Martin – for this endeavor.
This conference occurred in the midst of a couple of curious circumstances.
The first is that two dear friends and fellow parishioners at Sacred Heart Catholic Church in Bowie, Maryland, Santiago and Melissa Solares, were featured in the Archdiocese of Washington's Catholic Standard for their ministry of teaching couples about Natural Family Planning ("NFP"). Both Santiago and Melissa are seasoned scientists (Santiago as an engineer trained in physics, and Melissa as a wildlife biologist), and the work that they do spreading the benefits of NFP is based on science: anatomy, physiology, endocrinology, and so many other scientific considerations.
The second circumstance was the proximity of the Memorial of Saint Gianna Beretta Molla on April 28. Saint Gianna knew very well the balance between science – as a practicing physician – and faith.
Whether it comes to NFP, or the biological reality that the unborn are human beings, or making advances in technology that provide for the more efficient distribution of food to those living in poverty, or the increased use of solar and other clean energy to protect the environment, of which we are custodians, the Catholic Church embraces that which is good and true. As such, the sciences per se are easily able to be aligned with matters of faith. It is only when science has been used at the disservice of humanity throughout history that it has comprised a dilemma. Hence, the concession is that science and faith are not opposed according to Catholicism; after all, faith can inform science and assign it to its employ, while science can consistently manifest God's glory. 
It is indispensable for Catholics in the 21st century to have at the very least a foundational understanding of not only basic scientific principles, but likewise, how Catholicism indicates how the sciences can be at the service of humanity, for God's greater honor. In order to learn more about the remarkable features of science, faith and reason, here are a few print and online resources that I recommend:
The Believing Scientist: Essays on Science and Religionby Stephen Barr (Eerdmans, 2016)
Faith, Science, and Reason: Theology on the Cutting Edgeby Christopher Baglow (Midwest Theological Forum, 2012)
Encyclical Letter Fides et Ratio: On the Relationship Between Faith and Reasonby Pope Saint John Paul (1998 [20 years ago as of this Sept. 14])
Particles of Faith: A Catholic Guide to Navigating Scienceby Stacy Trasancos (Ave Maria Press, 2016)
Thomistic Evolution: A Catholic Approach to Understanding Evolution in the Light of Faithby Fr. Nicanor Austriaco, O.P. (Cluny, 2016)
Pontifical Academy of Sciences: www.pas.va
Society of Catholic Scientists: www.catholicscientists.org
Vatican Observatory: www.vaticanobservatory.va
This reflection did not pretend to be exhaustive; rather, it was simply a brief overview of an important topic within the 21st century. As we reflect on the myriad ways in which the Good News of Jesus Christ enlivens us, and how he showed his authentic nature as true God and true man by way of his miracles that altered the natural world, let us rejoice with the words of the Psalmist from approximately one thousand years before Christ: "The heavens declare the glory of God; the firmament proclaims the work of his hands" (Psalm 19:2). Indeed, as rays of light continue to rocket through the universe from stars millions or even billions of light years away, with some of this light nowhere near reaching the beautifully complex irises and retinas of our eyes, we remain humbled by the grandeur of he who can reach down and offer us the prospect of everlasting redemption.
Calling all Catholic scientists! If you are, or happen to know of, someone who is both a practicing scientist and a faithful Catholic in good standing, please contact me by email at [email protected], and/or Twitter at @McClainJustin. I am compiling multiple testimonials by those professionals who are themselves living and laboring at the intersection of science, faith, and reason, in the 21st century. Your input is crucial, and needs to be shared, so that we can help the general public to reassess the false notion that the Catholic Church and science are somehow at odds. Thank you!