Re-Islamization in Istanbul: Hagia Sophia Next?
Visiting Hagia Sophia (Holy Wisdom), Christianity's first mighty cathedral — now a museum — inaugurated by Byzantine Emperor Justinian in Constantinople in 537, is a mixed blessing.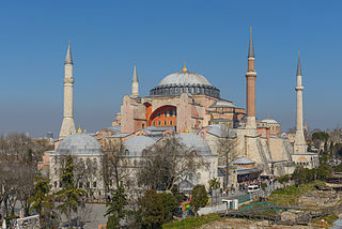 Nothing can undercut the raw power of this huge structure, constructed in less than six years. Nothing can prevent glimmers of its former splendor from piercing my soul.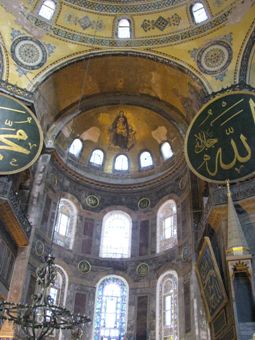 Spying the central mosaic of Mother Mary holding Jesus, high up in the semi-dome above the missing altar, I shiver thinking of all she's survived: earthquakes, invasion, theft, concealment.
But the place is more…dingy than I expected considering its great significance: the building changed the course of sacred construction; it was the world's largest cathedral for almost 1,000 years; it is the finest example of Byzantine architecture on the planet.
Historically, it embodies the displacement of Christianity by Islam in 1453.
When 21-year-old Sultan Mehmet II strode into the cathedral, he suspended slaughter long enough to pray at the altar and order its immediate conversion into a mosque. Minarets were added; mosaics were covered, although not all destroyed.
The Turkish government created the museum in 1934 as part of its intensive secularization campaign.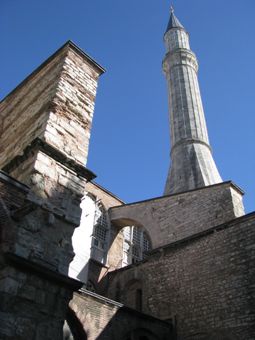 Today, water stains, dirty windows, peeling paint, haphazard scaffolding and amateur lighting are evident. More ominous, it's increasingly a contested political symbol, possibly, the latest evidence that Turkey is secular no more.
Demands for Change
On May 31, thousands of Muslims gathered outside the museum for morning prayer led by a renowned, radical Saudi imam (banned from France), Sheikh Abdullah Basfar—roughly on the 561st anniversary of the Ottoman conquest.
The crowd demanded Ayasofya (its Turkish name) back for Islam. A petition with 15 million signatures backs the demand.
Turkish press reported the lead organizer said, "It is our duty to convert it back to its original state [sic] to show Islam's prevalence in this region and carry out the nation's will."
This movement is more plausible than many imagine for two related reasons.
First, two smaller Hagia Sophias in Turkey already have been converted from museums into mosques since 2011. Second, leaders in the ruling party are behind the changes, and Prime Minister Recep Tayyip Erdoğan, running now for president, has not opposed it.
Bad Precedent
Trabzon is a Turkish port city on the Black Sea. For Catholics it is tragically associated with the murder of Fr. Andrea Santoro in 2006, shot by a 16-year-old extremist in the back of the head while kneeling in prayer.
It's also the site of a disturbing court case over a 13th century Byzantine Church, Hagia Sophia, with implications for its world-famous sister.
Since 1962 (after University of Edinburgh-led archeologists spent years recovering the site), the church has been a museum, protecting important, rare sacred art. Two years ago, a local court ruled the Ministry of Culture was illegally occupying the space.
Siding with a government entity overseeing Turkey's historical sites, the court concluded: since Mehmet II had conquered Trabzon in the name of Islam, including the ancient church, the sultan's legacy requires a mosque.
Within seven months, Erdogan's government covered up Christian artistic treasures and symbolism and reopened it as a mosque. As Al-Monitor reported, most local people oppose the change as hurting tourism when there are plenty of other places of worship.
Art historians express concern that the loss of museum status means the elimination of security to protect the art. As well, as one Turkish academic explained, "What I find most alarming in the recent changes is the fact that most of the discussion is done through a discourse of 'conquest' [fetih]."
The town of Iznik was known as Nicea in early Christianity. It's where the first Ecumenical Council was held in 325.
It's also where the Hagia Sophia of Nicea was transformed from a museum into a mosque in 2011 on the initiative of Deputy Prime Minister Bülent Arınç with responsibility for historic sites, whose hand was seen in Trabzon.
The New York Times found locals unhappy about the moves impact on tourism and dubious about its necessity.
Istanbul
In 2013, 3.3 million visitors toured the big Hagia Sophia, the country's second most popular destination — representing over $67 million in entrance fees and audio tours. The country won't give that up easily.
But Erdogan is using explicit references in speeches to Islam, Allah, Ottoman legacy, and national destiny to frame his political narrative.
Regarding the conversion of Hagia Sophia, Erdogan has countered with a challenge:
"We should first fill Sultanahmet [Blue Mosque] and then, we'll see about doing more," the premier recently told Muslims chanting "Hagia Sophia!" in Istanbul where there are currently over 3,000 mosques.
The US International Commission on Religious Freedom, the German government, and the Ecumenical Patriarch of Constantinople (whose home base was Hagia Sophia some 560 years ago) are taking seriously enough this challenge that they have all issued statements against it.  
"If it is to be re-consecrated, then it should go back to being a Christian church, since it was not built to be a mosque," Ecumenical Patriarch Bartholomew stated, logically.
 Editor's Note: Photos taken by Victor Gaetan, except photo of exterior of Hagia Sophia by Arild Vågen/Wikipedia (top left)