Historical Fiction for Younger Readers
Three books I've enjoyed from Pauline Books and Chesterton Press
My kids enjoy a good novel as much as I do, but I've found there are a few factors beyond good writing that can impact whether they pick the book up. Recently, I've had a chance to dig through a few middle grade and young adult titles from Catholic publishers. 
Overall, it's not a bad collection of historical fiction to share with the whole family!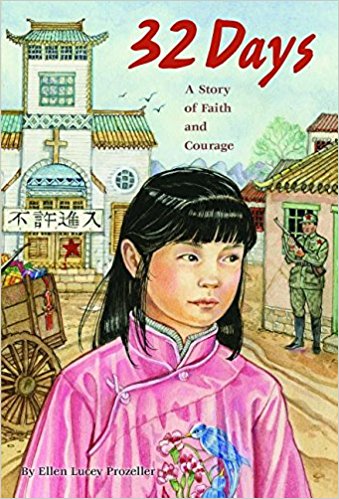 32 Days: A Story of Faith and Courage (2016, Pauline Books), by Ellen Lucey Prozeller, is a captivating story of a Pei, whose family faces the drastic changes to their peasant life when the Communist government takes control of China in the 1920s.
This is written for middle grade readers, and it could serve as a read aloud for early elementary students as well. 
The story's inspired by Archbishop Fulton Sheen's story of a young Chinese girl who inspired his prayer life. The author took the framework provided by Sheen's recounting to a journalist and put together this story.
In about the time Junie B. Jones wreaks havoc and makes my kindergartner laugh uproariously, Pei's family goes from being able to worship openly to being abused. And though the story doesn't hide the violence that the Communists brought to practicing Catholics, it also highlights the bravery and courage children have.
Pei silently snuck in unnoticed by the captain and the other soldiers. She went to the back pew where her grandmother had been seated and hid. Pei could hear everything the Communists were saying.

"If their god is real then he must be tiny to live behind that little door," sneered Captain Chen as he flung open the tabernacle door. "Let's see if their god defends himself!"

With hatred raging in his eyes, the officer turned and fired his pistol into the tabernacle again and again. The sound was deafening. The golden ciborium clattered out and landed on the floor. All the consecrated Hosts spilled out.

O Jesus! They've thrown you on the floor like garbage! Pei though, trembling with fear.

"Men, step on those little with things; this god of theirs has no power." With that, the soldiers began to stomp on the Hosts, laughing.

How can they do that to you, Jesus? Don't they know who you are? Pei thought. In addition to being scared of what the soldiers would to to her if she were found, Pei felt a terrible sadness as she watched. From where she was hiding, Pei could see the Hosts.
When Pei witnesses her parish priest being taken prisoner and the desecration of the consecrated Hosts on the floor of the Church, she knows she has to take action. She can't leave Jesus alone on the floor!
And yet, the way she takes action is a bit terrifying…especially if you're a wimpy mom with kids the same age reading the book! 
The fictionalization of Sheen's inspiration is well done and a story anyone can enjoy. In the face of the promise of persecution, it's a real-life example of the hope we should all have.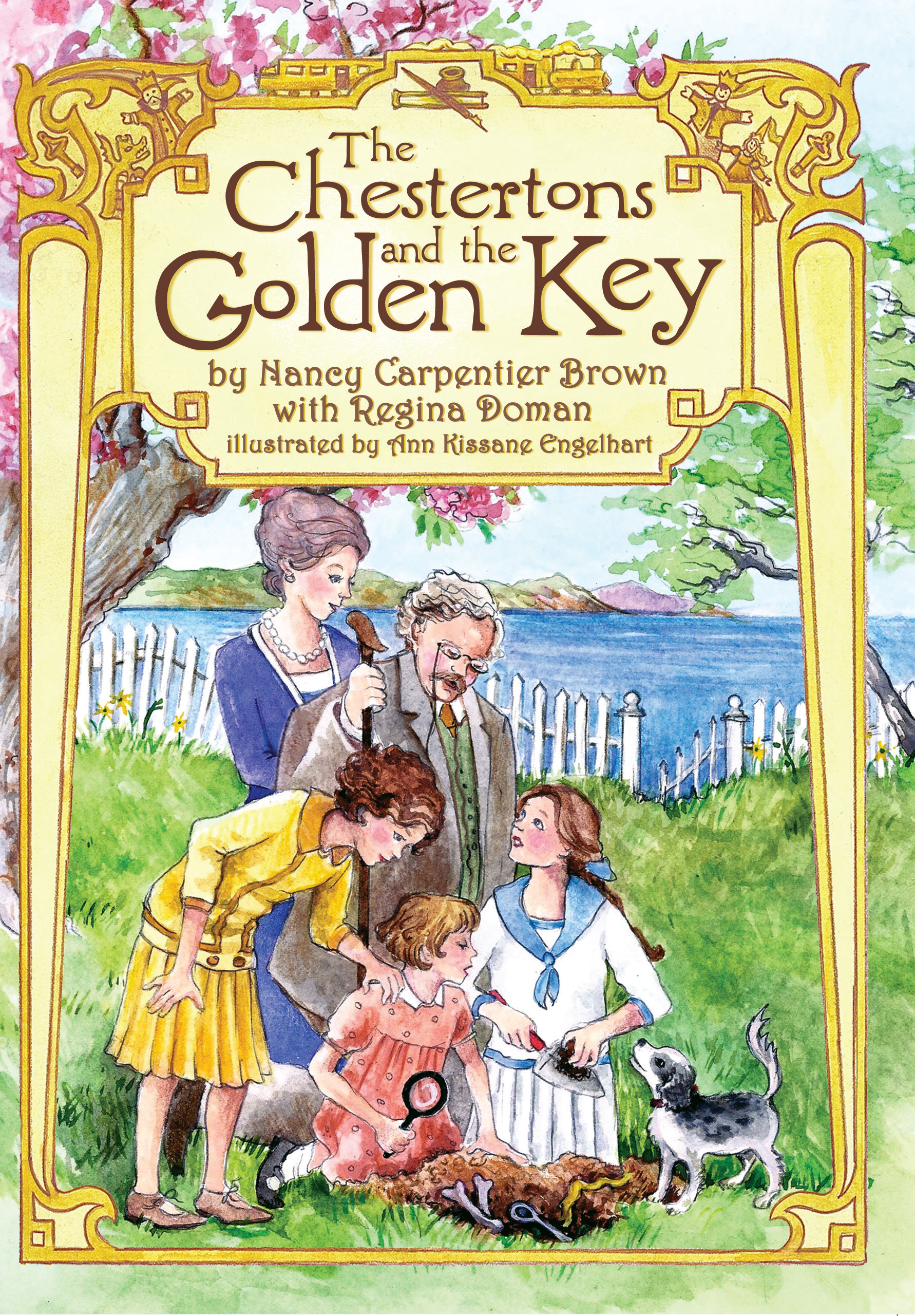 The Chestertons and the Golden Key (2016, Chesterton Press), by Nancy Carpentier Brown with Regina Doman, features delightful pen-and-ink illustrations from Ann Engelhart throughout.
Based on Brown's research into the Chestertons' life and inspired by real-life people, this story expands on how a famous author and his wife touched the lives of people they met, especially children.
Clare Nicholl is an avid fan of Mr. Chesterton, and when she bumps into he and his wife in their seaside town, her mother encourages her to invite them to tea.
Clare's beside herself when they accept, and she and her sisters make life-long friends with the Chestertons, dubbing them "Unclet" and "Auntlet" and writing stories, performing plays, and even solving family mysteries together.
"You can call us Aunt Frances and Uncle Gilbert if you like," said Mrs. Chesterton. "That's what our other young friends do."

"But you are more special than just an aunt or an uncle!" Cece burst out. "We need a special name just for you."

"What about Auntlet and Unclet?" Clare asked, inspired. "Because you're a little bit of our aunt and uncle, in a way."

And Mr. Chesterton burst out laughing, his big voice booming. "I for one have never been called little of anything," he said. "But I am very pleased to become an Unclet—a little bit of an uncle, and all the way a friend."

At the end of the tea, Mrs. Chesterton—or Auntlet, as they were now calling her—shyly said, "Gilbert and I have just decided that we should finish out our holiday here in Lyme Regis. Would you mind that, Pepper?" she asked the dog.

Pepper responded by eagerly licking her hands to see if she was hiding any more cookies. But everyone else cheered. The Nicholls were very glad the Chestertons had decided to stay.
This book unpacks a famous name in the way that good historical fiction can, and it does it in a way that's just as fun to read aloud or to curl up on the couch with. It may be just the inspiration your young reader needs to start writing some plays to perform for you this summer!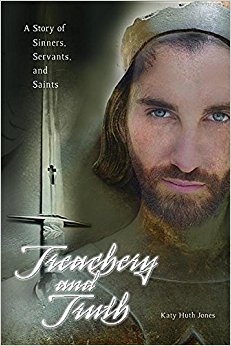 Treachery and Truth: A Story of Sinners, Servants, and Saints (2016, Pauline Books), by Katy Huth Jones, is written for older readers in the teen range. 
In 10th-century Bohemia, Catholicism was still a subset and on the edges. The story is told through the eyes of Poidevin, a slave who finds a friend and master in his mistress's son, Václav, who will become "Good King Wenceslas."
The journey to becoming king, though, is fraught with danger, including betrayal and murder. Poidevin ventures toward the Catholic faith and becomes an undercover spy of sorts as he waits for Václav to inherit the throne from his tyrant mother.
As soon as the revelers left for the bonfires, I rushed through my cleanup chores and hurried to check on my master. I saw when I reached his rooms that there were to be no lessons this night.

"Poidevin." Václav's robe swirled at his feat as he approached me.

"Yes, my lord?" When I knelt before him, he raised me up.

"I am about to ask a hard thing of you."

"What is it, Master?" At that moment I could have gone into the lion's den for him, as Daniel had.

Václav chuckled at my shining enthusiasm. Before he spoke again, his eyes became somber. "I must travel through Bohemia and visit the people. I need to discover who my supporters are, and perhaps win over those who are not."

That seemed a good thing to do, now that he'd proven his mettle as a battle commander.

"I am nearly old enough to claim the crown," he continued, looking away, "yet I fear my mother shall not easily give up the power she wields. I need the approval of as many voyvodes as I can find."
The book moves through the story quickly, and may be an opening for further reading. I couldn't help but notice how the political intrigue mirrors other things I've read in the current news.
While this felt a little young for the other teen fiction I've read, it had all the intrigue that keeps a reader of any age turning the page. Tucked in, too, were plenty of nuggets of Church history.
Without spoiling anything, I can tell you that the ending felt unsatisfying: not only is it not a traditionally happy ending, but it feels sort of…over. 
There's room for further discussion once this book is read, and the discussion questions in the back are a great place to start. I found myself considering them and thinking of ways to tuck them in with my own teen reader.